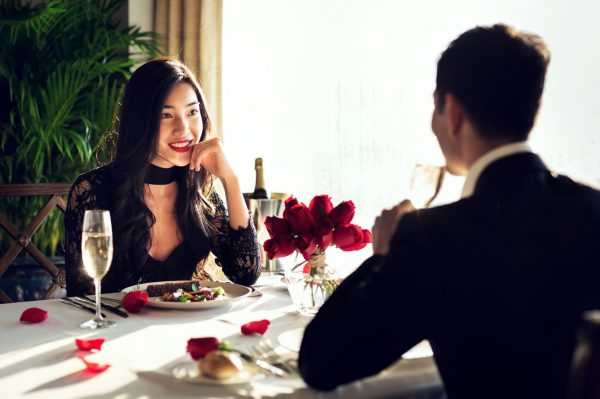 From sweet his and hers moments to all-out couple indulgencies, Valentine's Day celebrations at Anantara Siam are sure to evoke those warm, fuzzy feelings. Dine by candlelight on sumptuous offerings at Shintaro, Madison and Biscotti. Take your sweetheart to Mocha & Muffins for a little slice of heaven on a plate. Hole up in the plush Suite to experience private dining.
The private dining package promises an epicurean adventure featuring homestyle Italian cuisine from Biscotti, prime cuts from Madison, Shintaro's Japanese delicacies and Thai gastronomy from The Spice Market. Choose any of the cuisines to be served in the comfort of your plush suite. The fully personalised experience curated by Italian Maitre'd Fausto starts from THB 2,500++ per person (wine pairing is priced separately), including an overnight stay for two with breakfast in bed, and optional add-ons such as fresh flowers and an Aroma milk bath.

Biscotti's chef Alessio makes exquisite flavours for two available day and night this Valentine's Day. Opening with a selection of antipasti, the buffet-style lunch includes a choice of the main dish, served at the table. Dinner is a four-course affair featuring melt-in-your-mouth scallop tartar, prawn risotto, baked black cod or veal tenderloin and a moreish dessert of Red Velvet, lemon tart and macaroons. 
Lunch: 11.30 am – 2.30 pm; THB 1,720 net per couple, including coffee or tea.
Dinner: 6.00 pm – 10.30 pm; THB 4,990 net per couple, including two glasses of the festive beverage.
Madison's chef Rick Dingen – the winner of Iron Chef Thailand's recent "secret ingredient" challenge – has prepared a five-course menu packed with aphrodisiacs that spotlights premium ingredients. Start with oyster and passion fruit entrée before working your way down the menu to lobster with heirloom tomatoes; foie gras and apple terrine; red mullet with saffron; lamb with Jerusalem artichoke and a complex chocolate and berry dessert. 
From 6.00 pm – 10.30 pm; THB 4,990 net per couple, including coffee and tea.
Find romantic refinement at the Japanese Shintaro where a five-course Valentine's lineup starts with tuna drizzled with finger lime and truffle oil chased down with a sea-tasting trio of scallop, roe and caviar in a charcoal cone. After a sashimi platter, choose gamey Wagyu beef or buttery snow fish before indulging in a chocolate-rich dessert and sake.
From 6.00 pm – 10.30 pm; THB 4,990 net per couple, including coffee or tea.
For a tongue-tingling experience, try Spice Market's four-course menu bursting with tangy, fiery flavours. From chili jam crackers and Hokkaido scallop with red curry to spicy shallot soup with salmon, the chefs promise the highest levels of "Thai hot". Put the fire out with a sweet treat: mixed fruit with ginger, crispy shallots, roasted peanuts and aromatic syrup. 5.00pm – 9.30pm; THB 1,400++ per person, including tea and coffee. Or opt for a family-style dinner centred on traditional Thai dishes: three set menus featuring such favourites as spicy vermicelli noodle salad with minced pork, green pork curry, Thai omelette, spicy cream soup and stir-fried chicken. 5.00 pm – 9.00 pm; THB 390++ per person, including tea or coffee.

When words don't come easy, trust a lovingly crafted sweet creation to deliver your message. This Valentine's Day, the pastry team at Mocha & Muffins presents a range of romance-themed cakes, pralines and other homemade desserts to help you speak your heart. From gorgeously packaged little treats to flamboyant cakes, the choice is yours.
Available 1 – 14 February, 7.00 am – 7.00 pm,
THB 120-680+ for a chocolate box; THB 150+ for an individual cake; THB 890+ for a whole cake.
For more information and reservations, please call +66 (0) 243 143148 or email dining.asia@anantara.com