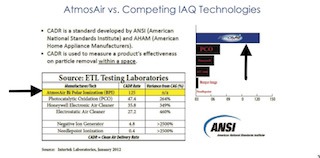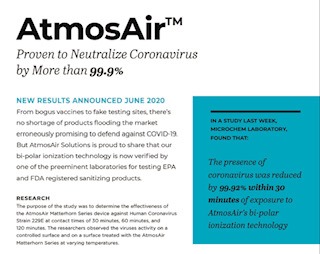 Smart Build Tech is the local distributer of AtmosAir Solutions.
AtmosAir Solutions is the leading manufacturer of air purification systems using bipolar ionization. AtmosAir's patented bipolar ionization technology has been rigorously tested and scientifically proven to be among the most effective solutions for comprehensive air purification of indoor environments. Best of all it is 99.92% effective in killing the Covid19 virus.
Unlike most air purification systems, AtmosAir doesn't wait for pollutants to find their way into a filter via the return of the HVAC system or another air cleaning device. Instead, charged ions actively seek out and neutralize contaminants at their source throughout your indoor environment, mimicking the way nature cleanses the air outdoors.
The Result – AtmosAir removes inhalable particles and pathogens – including dust, allergens, molds, VOCs, odors, airborne and surface bacteria, viruses and germs – to create healthy indoor environments where people thrive, while doing it efficiently and cost effectively.
Please review our effectiveness compared to competitors. Nearly 4 times more effective than traditional air purifiers and kills virus and Microorganisms!!!!
These are normally engineered systems installed in Hospitals, Offices, Airports and Trains but we have created a Consumer model for Australian Chamber Members.
AustCham Special Price – THB35,000 reduced from THB47,000.
Visit the website : https://www.smart-build-tech.com/
Tel. 0985499797
Email. Jon.pickford@smart-build-tech.com