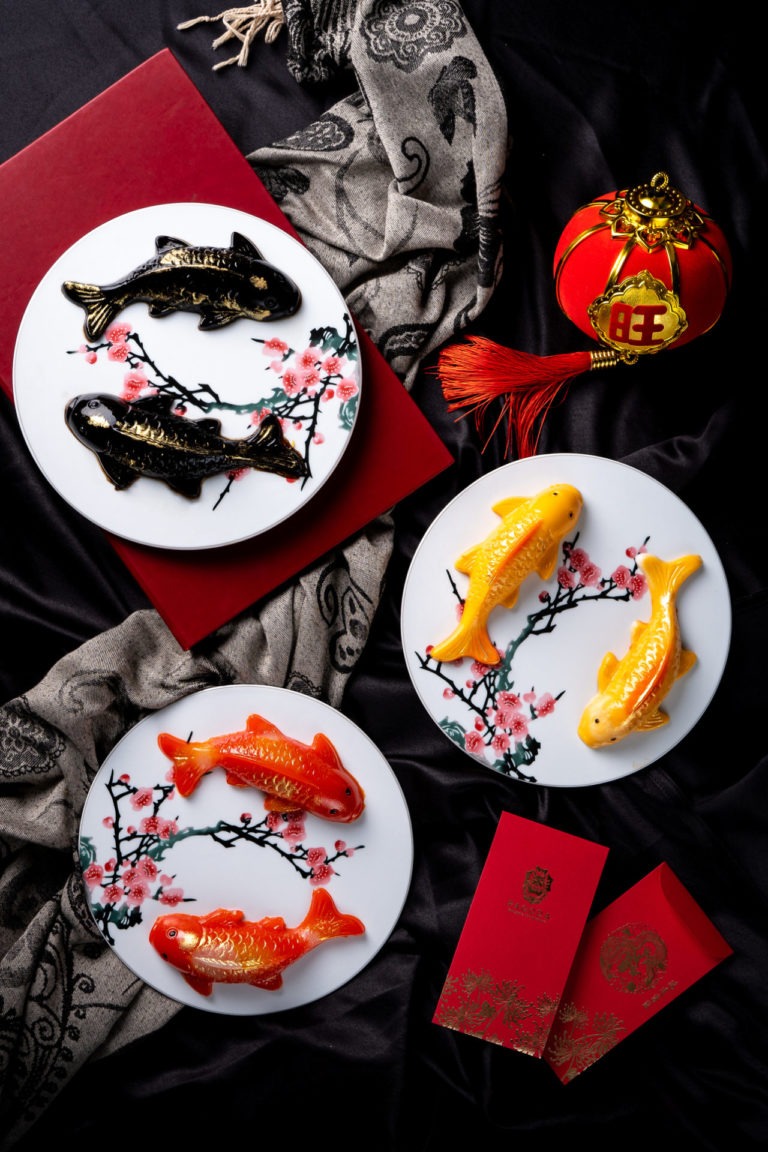 This Chinese New Year, gather your loved ones and welcome the "Year of the Ox" in style at Bangkok Marriott Marquis Queen's Park! To mark this auspicious occasion, the culinary experts at Pagoda Chinese Restaurant have created a choice of dining experiences from 2 to 21 February 2021.
In the traditional celebration known as "Yu Sheng", families and friends gather round the table and toss ingredients in the air using their chopsticks, to mark the start of a prosperous year. The higher you toss, the greater your fortunes will be! The classical Yu Sheng feast features fresh fish, accompanied with vegetables, condiments and a special dressing using plum sauce, rice vinegar and calamansi.
This year, guests at Pagoda Chinese Restaurant can choose from the finest imported salmon and fresh abalone, with small servings for 2-4 guests or large portions for groups of 5-10 people. By blending premium ingredients, rich traditions and a sense of gastronomic theater, everyone can enjoy a truly memorable Chinese New Year.
Salmon Yu Sheng                                                          Abalone Yu Sheng 
Small portion (for 2-4 guests)     THB 1,288++     Small portion (for 2-4 guests)     THB 1,688++
Large portion (for 5-10 guests)  THB 2,388++     Large portion (for 5-10 guests)   THB 2,888++
Alternatively, guests can discover a selection of exquisite à la carte dishes, crafted especially for this occasion. Savor baked sugar bun with barbecued pork (THB 138++), crispy prawn & conpoy steamed rice roll with soy sauce (THB 208++), steamed spotted grouper with egg white and Chinese wine (THB 450++ per 100g), and "Golden Duck", our chef's exclusive take on Peking duck, stuffed with abalone rice and "eight treasures" (THB 2,888++). Then for dessert, diners can choose between crispy sesame balls with custard filling (THB 120++), and two flavors of "Nian Gao", the traditional Chinese New Year cake: chilled mango pudding or herbal black jelly (both THB 150++). Simply sublime!  
To share your love and respect with the most important people of your life, Pagoda Chinese Restaurant is offering a special Nian Gao gift box (THB 588 net per box). Featuring a classically flavored cake packed in a beautiful red box and adorned with an attractive design, this is an auspicious gift on this special occasion.
Join us on Chinese New Year's day for a live lion and dragon dance. Starting at hotel's entrance at 9.20 hrs on Friday 12February 2021, this parade will wind its way through the hotel, entertaining every guest.
Great joy, happiness and prosperity will be served for lunch (11.00-14.30 hrs) and dinner (17.30-21.30 hrs) at Pagoda Chinese Restaurant, Bangkok Marriott Marquis Queen's Park, from 2 to 21 February 2021. For more information and reservations, please call 02 059 5999 or email restaurant-reservations.bkkqp@marriotthotels.com 
Or connect with us via these channels:
Website:                         www.bangkokmarriottmarquisqueenspark.com
Facebook:                      www.facebook.com/PagodaChineseRestaurant/  
Line official account:       @pagoda