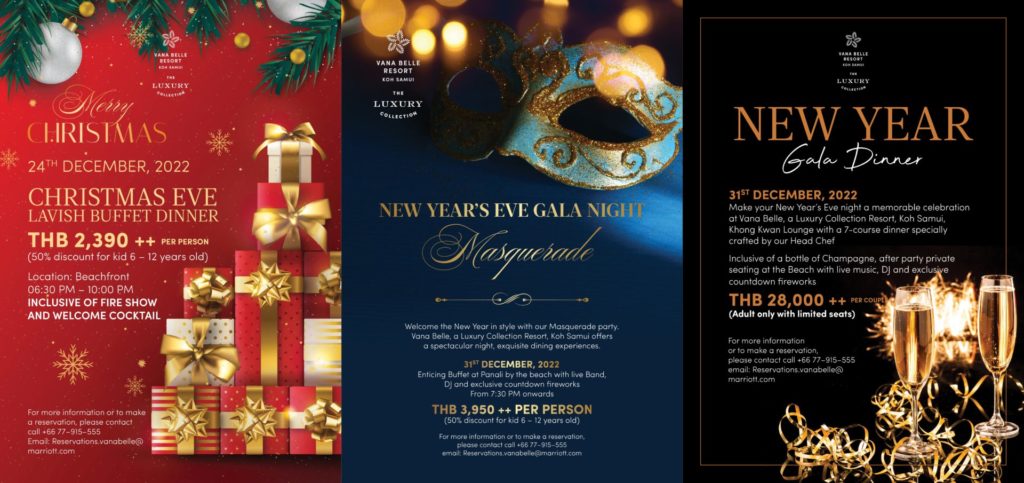 𝑽𝒂𝒏𝒂 𝑩𝒆𝒍𝒍𝒆, 𝒂 𝑳𝒖𝒙𝒖𝒓𝒚 𝑪𝒐𝒍𝒍𝒆𝒄𝒕𝒊𝒐𝒏 𝑹𝒆𝒔𝒐𝒓𝒕, 𝑲𝒐𝒉 𝑺𝒂𝒎𝒖𝒊 is pleased to invite you to celebrate the special occasion of the year with our three tailored festive dining specially for you and your special ones. Join us to make your memorable time more fun and romantic with the beachside location and pleasant meals.
𝑪𝒉𝒓𝒊𝒔𝒕𝒎𝒂𝒔 𝑬𝒗𝒆 𝑳𝒂𝒗𝒊𝒔𝒉 𝑩𝒖𝒇𝒇𝒆𝒕 𝑫𝒊𝒏𝒏𝒆𝒓 offers you a special dinner night with a spectacular buffet by the beach with the exclusive fire show and special welcome cocktail crafted for the event only at THB 2,390++ per person
𝑵𝒆𝒘 𝒀𝒆𝒂𝒓'𝒔 𝑬𝒗𝒆 𝑴𝒂𝒔𝒒𝒖𝒆𝒓𝒂𝒅𝒆 𝑮𝒂𝒍𝒂 𝑵𝒊𝒈𝒉𝒕 offers you a magnificent Masquerade dinner at Panali invites you to enjoy the night with customized theme and exclusive show from live band, DJ, and count down fireworks for only THB 3,950++ per person
𝑵𝒆𝒘 𝒀𝒆𝒂𝒓'𝒔 𝑬𝒗𝒆 𝑮𝒂𝒍𝒂 𝑫𝒊𝒏𝒏𝒆𝒓 given you the perfect dinner to spend fabulous time with your loved ones with the special 7-course dinner from our head chef serves with a bottle of champagne to cheer up your night while enjoying an exclusive show of live band, DJ and countdown fireworks at our beautiful Khong Kwan Lounge only at THB 28,000++ per couple.
Selling period: Now until fully book
Explore more at www.vanabellekohsamui.com
*Terms and Conditions apply
______________________________________
Tel: 077 915 555
E-mail: [email protected]
Visit more on website at www.vanabellekohsamui.com