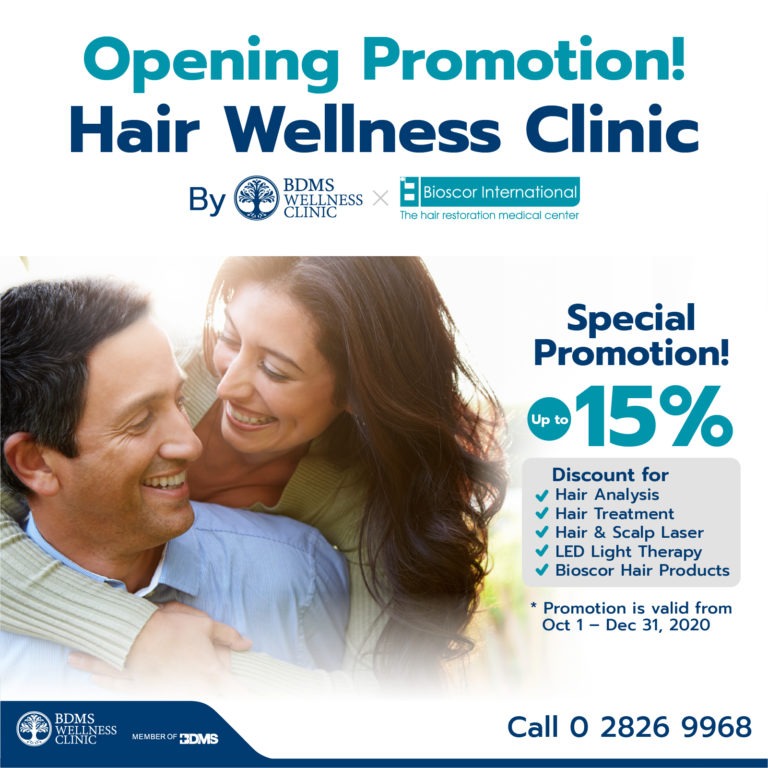 Hair Wellness Clinic by BDMS Wellness Clinic, in cooperation with Bioscor International, the global leader in the fields of Natural Hair Regrowth from Australia, is now open.
We would like to offer up to 15% discount of Hair Regrowth Programs and Bioscor Hair Products
🔸 BWC Hair Analysis THB1,500 (Regular Price THB1,650)
Hair Analysis Equipment helps examine the conditions of the hair and scalp as well as the density of the hair by using an endoscope that can zoom to 800 times to record and analyze the condition of the hair. By analyzing the results, the doctor is able to locate the specific root cause of hair problems for each individual patients and ultimately to determine the most effective treatment approach.
🔸 BWC Bioscor LED Light Therapy THB2,500 (Regular Price THB2,750)
To increase the strength and stimulate new hair regrowth and prevent hair loss. LED light therapy can help treat almost every hair loss problems. The LED light, which consists of the red and yellow light. The red light will motivate the blood circulation in the light-positioned area and stimulate metabolism. The yellow light will stimulate the production of collagen, which helps firming scalp and strengthening nervous system in the scalp cells.
🔸 BWC Bioscor Hair Treatment THB5,000 (Regular Price THB5,500)
The treatment aims to stimulate the circulation of blood at the scalp and promote the re-growth of hair. The scalp and hair are cleaned thoroughly with a specialized hair washing machine used in conjunction with a variety of nourishments such as shampoos, conditioner, lotion, and serums exclusive to Bioscor International
🔸BWC Bioscor Hair&Scalp Laser THB8,250 (Regular Price THB7,500)
The laser therapy is performed on the scalp area with the hair thinness problem. The laser will stimulate hair root cells by boosting existing hair roots to become about 20% healthier and the new hair roots will also grow stronger and healthier.
🔸10 – 15% Discount for Bioscor Hair Product for those who buy BWC Bioscor Hair Treatment + LED 10 and 20 times
* This promotion is valid from Oct 1 – Dec 31, 2020
For more information/ Booking Appointments: