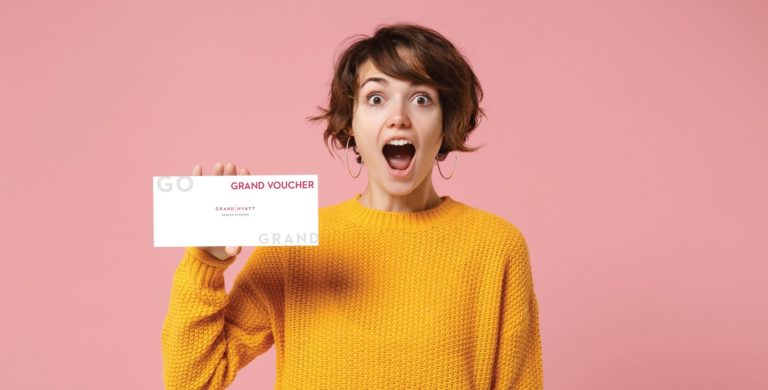 Brings A Grand Experience To Your Door!
Grand Hyatt Erawan Bangkok is delighted to introduce a new online shopping platform, hyatterawanshop.com the gateway to display our entire selection of exclusive products so you can enjoy shopping with us from wherever you are.
Discover our latest offerings via our website, including hotel vouchers for room, dining, laundry services, elegant flower arrangements by our expert team of florists, homemade traditional cabbage or radish kimchi in two different sizes, sweet treat & chocolate items and many more.
Beginning with the first launch of special flash-sale offerings, you can purchase Grand Hotel vouchers and enjoy benefits not offered anywhere else in the heart of Bangkok. The special flash sale starts now with a limited time offer and stay tuned for monthly grand promotions.
Experience either a weekday or a weekend staycation and enjoy club benefits with prices starting at THB 3,990. Experience a "must stay" holiday in the Garden Villa, located in the most serene setting and just a few steps away from the swimming pool. For dining vouchers, our all day live-cooking station is ready to serve you an array of international cuisines at The Dining Room and offer exclusive, specially priced deals for two during the weekdays. All signature menus from every outlet will bring you a fresh selection of dishes, served directly from our culinary chefs.
Celebrate any occasion with our delicate flowers in four arrangement styles for the perfect, timeless gift. Choose an exotic, elegant and fragrant bouquet in different colours to surprise that someone special. All bouquets start at THB 1,390, just pre-order at least 24-hours prior to collection or, optionally, request delivery service. In addition, enjoy a wide variety of fine products from Erawan Bakery such as kimchi, chocolates and shortbread with a price starting from THB 110++, an impeccable gift for all occasions.
Moreover, this is the time to join our Dine@Hyatt to get discounts on rooms, dining and spa treatments. Experience grand dining and discover delicious options and entertaining venues. Discover exclusive DINE@HYATT membership benefits, promotions and special offers up to 30% discount, available for purchase at a nominal annual fee of THB 9,990.
Stay tuned for monthly new items and special flash deals that will surprise you. Sign up now to get THB 100 off your first order!
For more information and to buy now, please visit hyatterawanshop.com or contact the hotel directly at +662 254 1234. Email: bangkok.bangh@hyatt.com