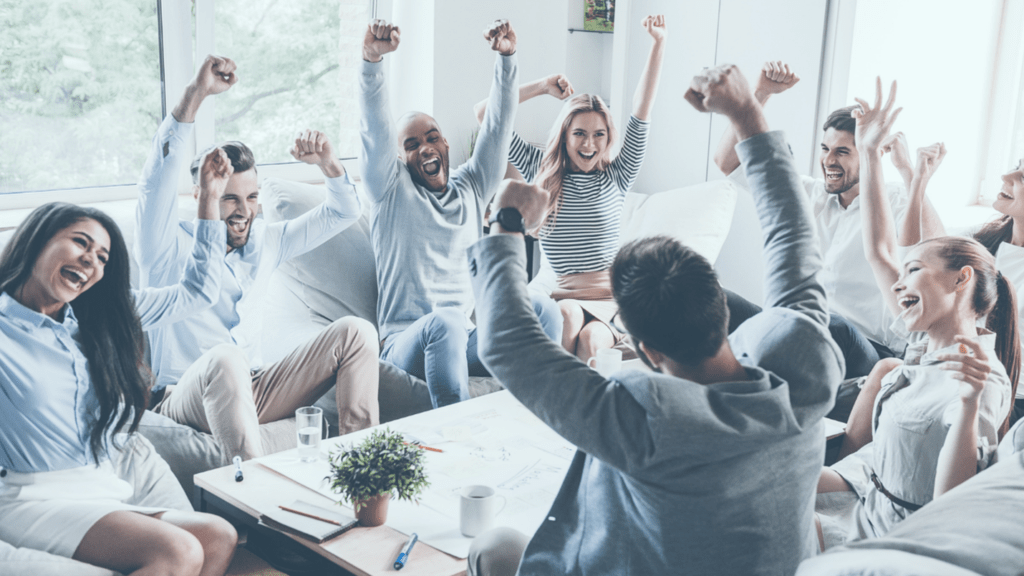 "IN THE MIDST OF EVERY CRISIS, LIES GREAT OPPORTUNITY" – Albert Einstein
A lot has been written about managing your sales team through a crisis in the last 18 months.
And now we are finally starting to see some light at the end of the tunnel.
To catch the boat and be ahead of the game, your sales team needs to shift seamlessly from "crisis mode" to "growth mode". And pronto!
Restrictions are being lifted progressively. Businesses are reopening. International travel resumes for both tourism and business. And while GDP growth has been slightly downgraded and household debt reaches record high levels, countless opportunities remain for businesses to change course from surviving to thriving.
Now is the time to ensure that your sales team are on top of their game, and ready to capitalize on the economic rebound.
In this post, I'm going to share 7 key actions and habits for you, as sales leaders, to adopt and implement within your sales teams, helping them to blossom and grab the opportunities that come their way.
Let's dive in!
BE A PROACTIVE SALES LEADER
There are two types of sales leaders. Proactive and reactive.
Reactive leaders are constantly fighting fires and have the mindset that they are responsible for solving all of the team's problems.
And the end result is that they remain stuck in crisis mode.
On the other hand, proactive leaders spend time coaching their sales force and building the skills which allow them to flourish. And instilling best practices throughout the team prevents 99% of the difficult cases from being dumped in their laps.
Proactive sales leaders work with their sales teams to create a strategy before approaching a new prospect. They tirelessly work to identify crisis-driven opportunities, and then lead their team to take actions upon them.
As Mark Hunter says, "It's not about having the right opportunities. It's about handling the opportunities right."
BUILD AN AGILE SALES TEAM
Nurturing agile sales skills is key to achieving a powerful, flexible, and viable sales force.
Research by the Florida State University Sales Institute identified that top-performing sellers choose their sales approach based on the buying situation they are facing, while average and low performers use the same sales approach regardless of the buying situation.
In other words, you have to be adaptable and responsive to the individual prospect you are dealing with.
What's more, possessing agile sales techniques is crucial to keeping up with quickly changing processes and consumer behaviors.
Consumers are now more savvy than ever. They are adept at finding alternatives to offered products and filtering out the best deals in seconds with the click of a mouse.
So, how can you build an agile sales team to counteract this buyers' savviness?
I love these 3 suggestions ideas put forward by Katja Schultz, in her article for the Digital Marketing Expo and Conference 2022!
Create "Sales Sprints": Consider setting short-term goals and incentives which span 1-2 weeks, and focusing on the daily actions that contribute to hitting your monthly sales goals.
Hold a Daily Scrum: Instead of lengthy weekly or monthly sales meetings, holding a 15-minute

daily scrums

is the perfect opportunity for your team to share successes, daily goals and blockers. Daily scrums are a proven method to build a strong team spirit, boost team morale and find solutions to daily challenges.
Follow the Path to your Goal: Using a CRM system, such as

Pipedrive

, is inherent to being part of being an agile sales team. This is the only way for you to easily track the achievements of individuals and collective goals at all times.
Read: 7 Pipedrive Tips to Get More Sales
Alongside this, sales agility can be trained by following this 3-step approach, as laid out by Selling Power:
Determining the situation: What are the buying factors that matter most to your prospective clients.
Choosing the best sales approach: Aligning the buying situation with the sales objectives and the most impactful sales tactics.
Executing those tactics: Acting with effectiveness and efficiency while assessing buyer reaction and determining if a new choice needs to be made.
You know the expression "every cloud has a silver lining"?
It's fair to say that one of the pandemic's silver linings has been the inescapable need to polish your virtual selling skills.
These virtual selling skills will continue to be essential and add another level of agility to your team's overall sales skills.
Read: Why Sales Teams Must Develop Virtual Selling Skills Now
3. FOSTER A POSITIVE MINDSET
To shift your team from crisis to growth mode needs a complete about-turn in mindset, according to my good friend Thitiwat Thanapornnithinan, Sales Director at IWG in Thailand.
"You have to put your head in the right place. Crisis can affect the market but the key question is "Does it affect YOUR mindset?"
To flip your mindset switch, Khun Thitiwat recommends asking yourself and your team these 3 questions:
What could be an opportunity from this?
What actions are needed so performance level can even exceed normal circumstances?
How would you feel when you can lead the team and prevail in such a situation?
As a leader, your team's eyes are always on you 24/7.
You must set an example, and be the one who is energizing them and leading from the front with positivity.
The daily scrum, which I mentioned earlier, is another way to boost team morale and positivity by sharing daily successes.
BE COURAGEOUS AND TAKE ACTION NOW
Actions change things, so act NOW!
Don't expect different results with the same actions.
Actions that allowed you to survive during the crisis may not be the ones that will take you out of it. Whatever you have identified as the opportunities, have the courage to take action and do it now!
Earlier on I talked about sales leaders needing to be proactive in coaching their teams on how to handle different situations.
And for your teams to be flexible and agile requires constant upskilling.
Microlearning is a highly effective sales training methodology that allows your salespeople to learn in the flow of work.
Read: Empower your team by learning in the flow of work
Be a proactive leader and create a "Sales Playbook" to document and nail down best practices, ensuring your sales team are ready to handle anything that comes their way.
And remember to walk the walk. If you want your team to take learning and development seriously, you have to be the role model.
UNDERSTAND WHAT CONSUMERS WANT FROM SALESPEOPLE
To successfully transition from crisis to growth mode requires a new set of tools and strategies.
What worked prior to the pandemic might not work anymore.
Salesforce recently conducted a survey in which consumers were asked the most important qualities of a salesperson at this time.
Giving the best prices topped the list, but firmly in the top 5 were the need for salespeople to show empathy and be flexible.
It can be easy for sales professionals to forget that many of their customers might be struggling with financial uncertainty or personal issues. Now more than ever these customers need a salesperson to function as an advisor, an anchor, and an ally.
REBUILD A FULL-STRENGTH SALES TEAM
As you will probably be aware, many companies have been forced to lay off staff or reduce the size of their sales team over the last 18 months. These sales teams are now either understrength or have new and less experienced sales people on board.
For that reason, companies must now recruit and/or train new staff in order to have a fully operational and functional Sales Team and catch the boat when the economy bounces back, because it will!
FINAL THOUGHTS
I hope you enjoyed reading this and can take some value from it.
By focusing on these 7 actions, every organization can drive sales growth, even in challenging times.
If you'd like to find out how OPTIMA can support you in transforming your sales team from crisis mode to growth mode, then get in touch with us today and let's start growing your business together!