Demand for Luxury Single Houses and Super Luxury Condominiums Going Strong
Bangkok – March 10, 2022 – CBRE, the leading international property consultant, revealed that total sales of residential properties were over THB 12 billion in 2021 despite the COVID-19 pandemic, with a great response for luxury single detached houses and super luxury houses due to the changes in clients' preferences and purchasing behavior.
Ms. Artitaya Kasemlawan, Head of the Residential Sales – Project at CBRE Thailand, stated that although the real estate market continues to be affected by the economic slowdown and the ongoing pandemic, CBRE Thailand generated total residential property sales of over THB 12 billion, with the key contributions coming from the changes in the clients' demand and behavior, seeking more space at home and higher product quality.
"The total sales were from condominiums at 42%, luxury houses at 39% and resort homes at 19%. Compared to 2020, CBRE found that the sales of luxury housing in 2021 increased by 69%, the third year of consecutive growth. Meanwhile, sales of condominiums have increased 29% Y-o-Y; a good sign when compared to 2020, which had seen a decrease due to concerns from the severity of COVID-19. The sales of resort homes have fallen 4% compared with the previous year, as there weren't many resort home projects and no new projects launched. However, the resort home market in Thailand has already seen substantial growth in sales in the past," Ms. Artitaya commented.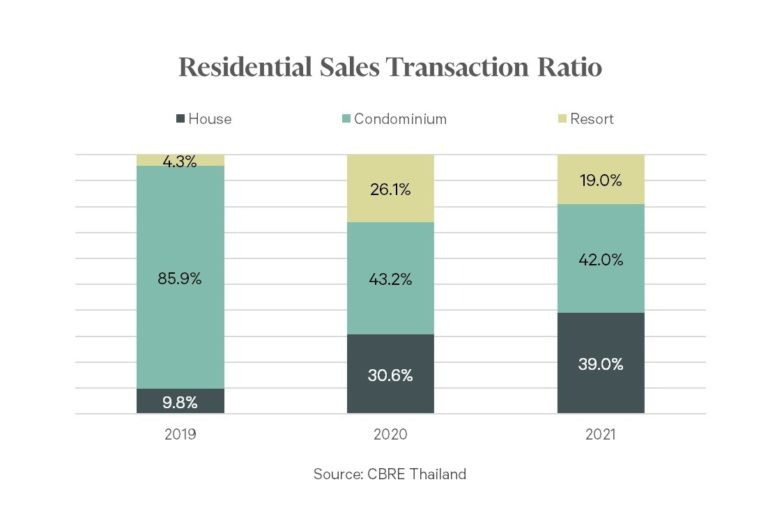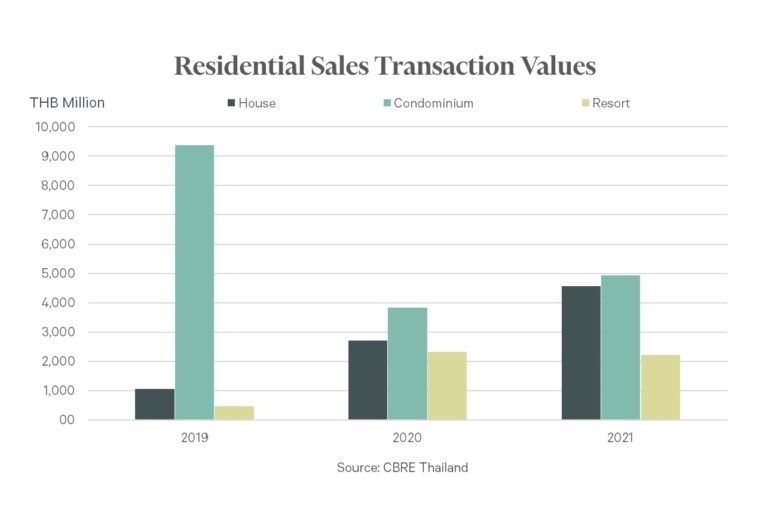 Last year, CBRE found that there was still strong demand for residential properties from Thai end-users, which accorded with the company's strategy to offer high-quality housing and condominium projects in prime locations. Most clients have more time to spend at home to do various activities with their families, and this work-from-home behavior makes them more focused on the importance of usable space. They compare information before making purchasing decisions with more attention to detail than before. This drives developers to be more thorough regarding project quality and standards, and is considered a positive effect from COVID-19. If developers can adapt and stay responsive to the requirement changes, they will be able to generate new business opportunities.
For the downtown single-detached housing market in Bangkok, projects in convenient locations are preferred by buyers, especially in the high-end segment. The cost of land may be higher, but the added value to quality of life and comfort means this market continues to have solid demand. In the previous year, CBRE closed sales of single-detached houses with an average price of THB 56 million per unit, which is considered a high level. This shows the potentiality of the demand and purchasing power of the Bangkok downtown single-detached housing market. The highest price for a single-detached house sold by CBRE was THB 267 million.
"Apart from the local market, there has been demand from Chinese investors who are interested in high-end low-rise real estate in Thailand, and specifically for downtown single detached houses ranging from THB 30 million to THB 150 million, located near business districts with easy access to Suvarnabhumi International Airport. There is also demand for ultra-luxury single houses priced over THB 100 million among Chinese buyers, particularly those who reside or do business in Thailand, and investors who seek business opportunities in Thailand and are looking for low-rise houses for their own use. These Chinese buyers prefer a large land area, spacious garden, open spaces, and high ceiling houses with large rooms. The houses should also have several car parking spaces, a private swimming pool, and be fully furnished and ready to move in," added Ms. Artitaya.
For condominiums, the overall market is not yet thriving due to delayed project launches from developers as a result of COVID-19. However, in the past year CBRE generated 106% in sales from super-luxury condominium projects especially branded residences (prices range THB 350,000 and above per sq.m. and THB 20 million and above per unit). For these projects, buyers have high purchasing power and expect top quality materials with prime downtown locations, preferably serviced and managed by leading hotel brands. The supply of super luxury condominiums is limited while demand continues. In 2021, the highest price per condominium unit for which CBRE sold was THB 220 million while the highest price per sq.m. for a sold condominium was THB 479,000.
Another interesting condominium segment in which CBRE has generated great sales volumes are projects near educational institutions. These condominium units provide reasonable rental yields and have gained interest from investors looking for long-term returns on investment and potential in capital appreciation. Compared to other types of investment with higher volatility during a sluggish economy, investing in properties in good locations with clear target tenants, stable rental returns, and potential for capital appreciation in the future is an attractive investment option.
In 2021, the resort home market in Thailand was less active than 2020 when there was a 388% increase in resort home sales through CBRE, as there were no new project launches in Pattaya, Khao Yai, Chiang Mai or Hua Hin due to developers deciding to delay their new projects.
According to an analysis of CBRE's foreign buyer profiles, it was found that foreign residential buyers have increased to 9% from the previous year. Out of the total units sold, 41% were condominiums, 35% were houses, and 24% were vacation homes. The top three nationalities of foreign buyers were Chinese at 38%, American 18%, and Dutch 14%.
"In 2022, CBRE will continue to focus primarily on single housing and condominium projects in the super luxury segment and on social media marketing. We will continue to strengthen relationships with our existing clients, analyze our extensive database and insights to expand our reach to and target the clients with purchasing power for this market segment, including foreign buyers with demand for downtown housing projects. If the COVID-19 situation is under control this year, CBRE forecasts that the residential market in Thailand will gradually improve and show signs of recovery," concluded Ms. Artitaya.