Bangkok – January 27, 2022 – As Omicron promises another crucial turn for the country's economy, CBRE Thailand, the leading international property consultant, reveals the key trends and risk factors in the residential, office, retail, industrial and logistics, and hotel sectors in Thailand that businesses should keep an eye on in 2022.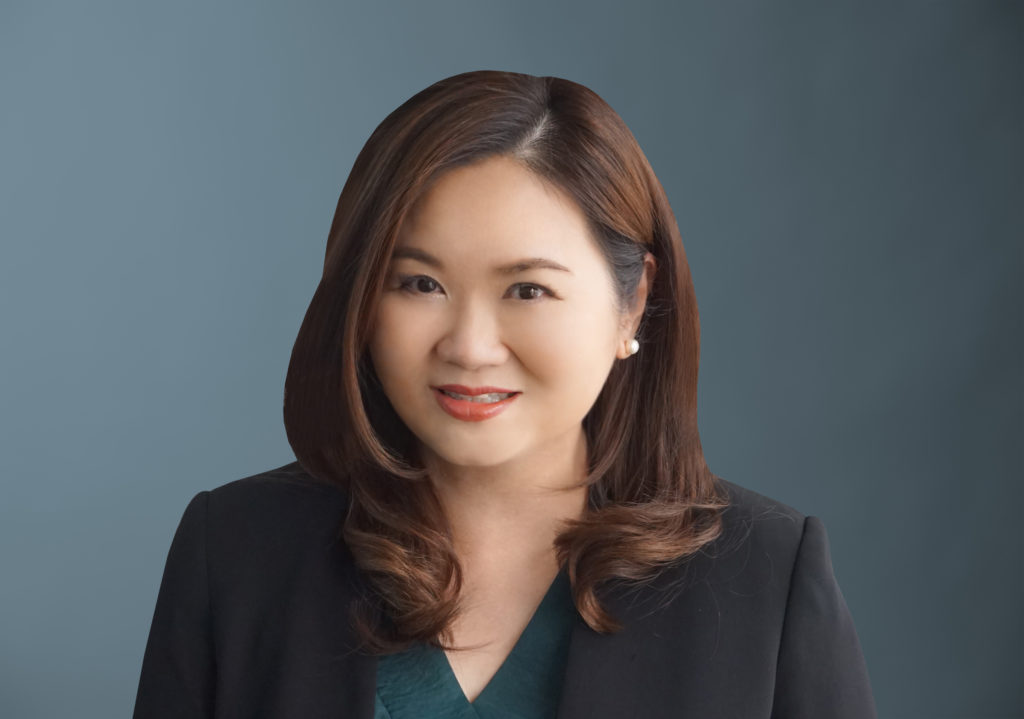 Ms. Roongrat Veeraparkkaroon, Managing Director of CBRE Thailand commented, "The year 2022 started as another year full of challenges, forcing the Thai real estate market to adapt, be more proactive while bracing for the predictable unknown that could emerge. Clients have become more selective and sophisticated while investors and developers are challenged to bring the right product into this constantly evolving market. Thus, it is vital for all stakeholders to be aware of the emerging trends in order to apply the appropriate strategies and actions for their business."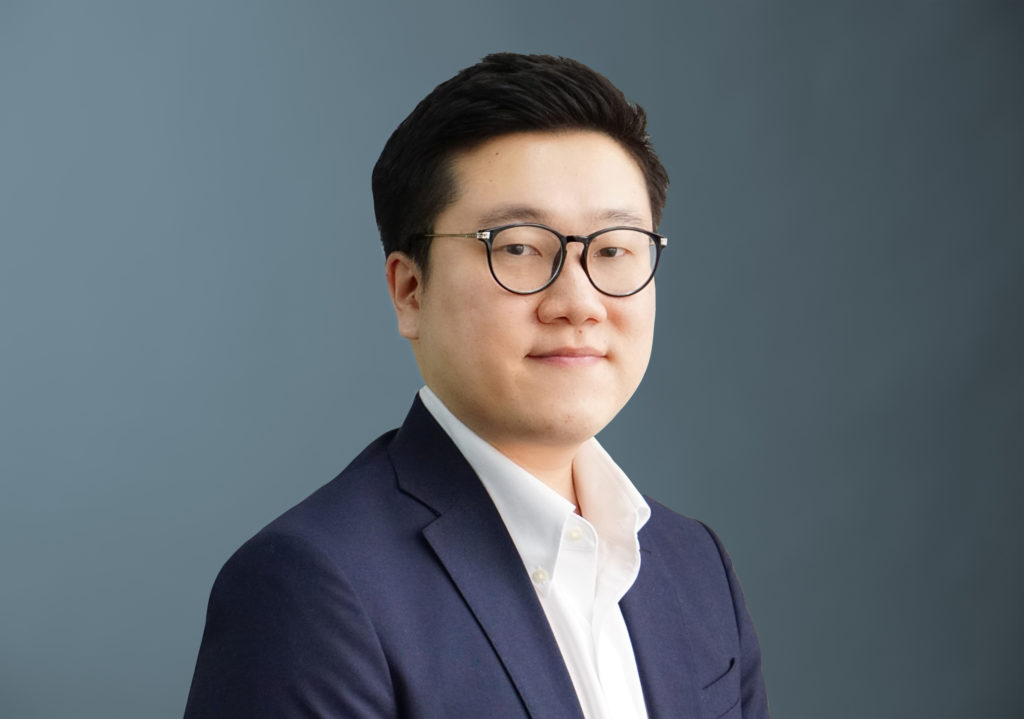 Mr. Rathawat Kuvijitrsuwan, Head of Research and Consulting, CBRE Thailand added, "GDP growth for 2022 by the Bank of Thailand was forecast to be at 3.4% in 2022, increasing from 0.9% in 2021. This prediction will largely depend on the number of inbound tourists and the performance of the exports industry. The government's response to the COVID-19 situation in the first two quarters of 2022 will be crucial as we enter the year with the Omicron variant starting to spread. As we are still in an uncertain period, there are various key risks to watch for this year."
The risk of the emergence of new variants of COVID-19 and how responsive the vaccines are to them will affect business operations and market sentiment. The response at the government level and the reaction at the individual level towards the situation will be key. Government decisions on monetary policy, incentives, restrictions, and other key decisions will dictate market movement. Tourism is a key economic driver for the country, and its disruption, as well as the effects on other businesses two years into COVID-19, have been keenly felt. Combined with the uncertainties ahead, this has tested the disposable income of locals like never before. The recovery of the market will be uneven and will be slowly improved.
Residential
Last year was a quiet year for the Bangkok downtown condominium market, with no new projects launched in almost three quarters for the first time in history, while strong demand for low-rise housing continues as buyers' preferences shift to low density, larger and more adaptable spaces. This year, developers will cautiously consider new projects which have to cater for domestic real demand as speculative buyers have virtually disappeared. CBRE expects to see slower sales rates in the condominium market as end user buyers usually take more time to make buying decisions and are becoming much more selective. Market segments with strong customer foundations, such as projects near universities or branded residences, will continue to perform well. Despite low interest rates and other policies aimed to help boost the property market, affordability is still a major factor. The best deals will continue to be sought after as buyers have a clearer understanding of the position that developers are in.
Newly Launched Condominium Units in Bangkok, Q1 2012 – Q3 2021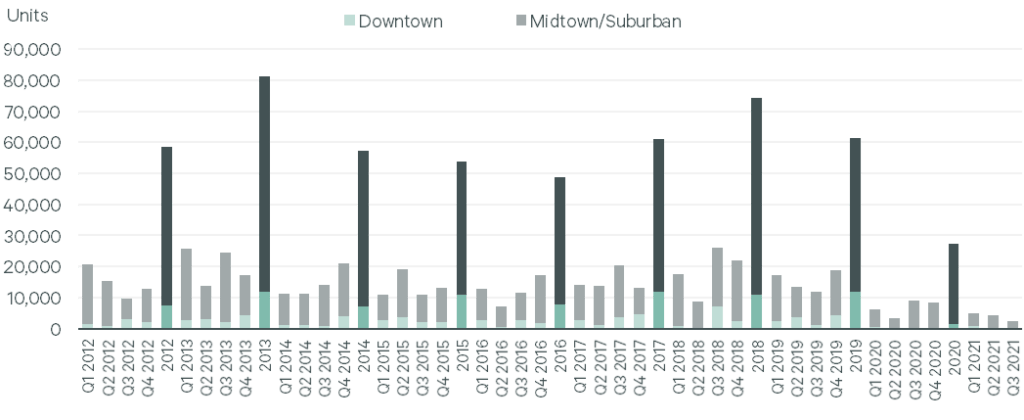 Source: CBRE Research
Ms. Artitaya Kasemlawan, Head of Residential Sales – Project, CBRE Thailand, commented, "This year, the end-users will be much more sophisticated with new demands. Developers will need to take a more proactive approach to clear unsold inventories while differentiating the projects, taking into account the change in requirements from end-user buyers. Product trends will focus on larger space and functions related to post pandemic requirement including multi-purpose family room, open green space, wellness and technology."
"For the resale market, the COVID-19 situation has had some positive effects in terms of allowing rare units that weren't typically found in a normal market to become available for sale again. Demand for overseas properties also continue to rise as factors such as family-wellbeing and lifestyle fulfillment urged unburden Thai buyers to broaden their property investment decisions," added Ms. Praphinleeya Phuengkhuankhan, Head of Residential Sales Ad Hoc.
Key Trends Summary:
Developers catering to local end-user buyers.
Niche markets, like branded residences, will continue to perform well.
Best deals will be sought after as buyer purchasing power continues to feel pressure.
Office
Clearer guidelines that match with the hybrid working model in today's workplaces will have to be put in place to ensure the efficiency, cost control and engagement of employees. The role of the office headquarters will continue to be reassessed to determine how much space is actually needed and how each square meter will be utilized. There will be an increase in focus on Environmental, Social and Governance (ESG) standards as international companies set targets for carbon neutrality from 2030 onwards. The change in office space utilization will mean that many older office buildings will no longer be suitable for the modern workplace and talent retention/attraction. With new office developments entering the market, many old office buildings in Bangkok which have not been renovated or refurbished will become obsolete.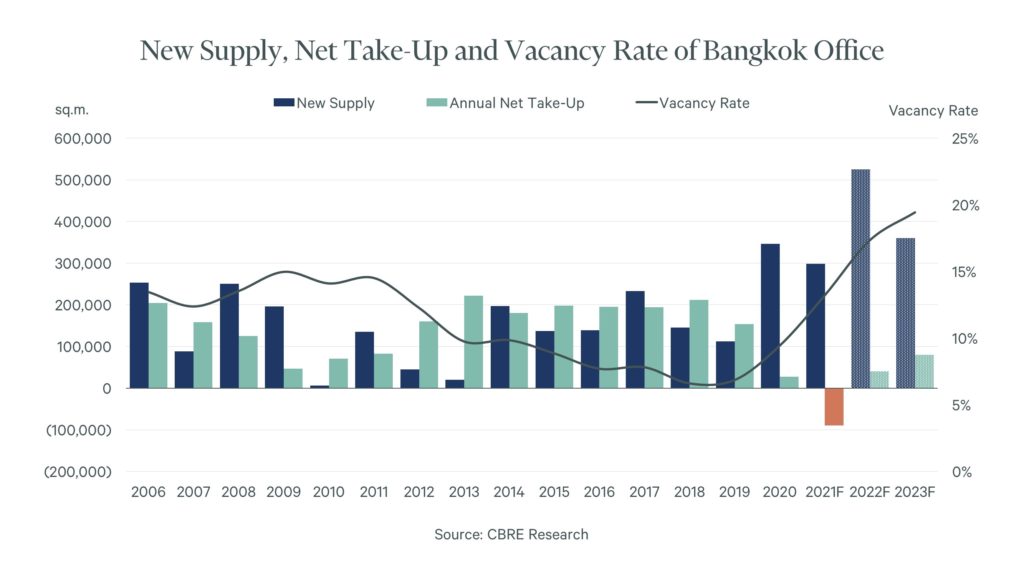 "Tenants will need to explore the options for relocation or expansion in high quality buildings that will be completed in the near future as flight for quality continues. Workplace strategy will also be key for occupiers to match with the future of work. Landlords, entering to the highly competitive market, need to proactively upgraded and incorporate new elements into their projects to meet the ESG requirements. Priority need to be on maintaining the occupancy rate rather than focusing on the achievable price per square meter," added Ms. Roongrat.
Key Trends Summary:
Clearer guidelines around Hybrid Working.
Landlords will implement sustainability policies as ESG is put into focus.
New office buildings drive higher competition as tenants seeks high quality office space.
Retail
Being one of the most affected sectors by COVID-19 and most directly impacted by the restrictions imposed by government, the Thai retail industry will have to continue to evolve together with these constraints. After the government subsidies in 2021, it will be interesting to see what policies they introduce in 2022 to create more confidence. There will be a greater focus on rental structure and clauses relating to flexibility to tackle the uncertainties in the market. Tenants must determine how best to adapt, as omnichannel and the changes that come with it impact their brick-and-mortar strategy. Resilient businesses like F&B still expand cautiously with adaptive strategies including resizing, reformatting and adopting the online platforms. We believe that there will be more investment in technology focuses on customer's experience through the use of advanced AI, virtual reality and automation.
Ms. Jariya Thumtrongkitkul, Head of Retail, CBRE Thailand, commented, "Retailers will also look for collaboration with third-parties to bring in new experience to their brands. The retail landlords will need to work hand-in-hand with the tenants to provide more flexibility in the lease terms while adopting new approaches to bring back footfall into the project."
Key Trends Summary:
Flexibility on rental structure and clauses.
Landlords and retailers will evolve together while dealing with constraints.
In-store promotions, on-site events and new retail experience to attract shoppers.
Industrial & Logistics
In the industrial and logistics sector, the shift in supply chain will continue in 2022 as manufacturers continue to build resilience into their network to protect businesses against future disruptions. Nearshoring of supplier bases could promote growth in both industrial and logistics spaces in Thailand. Logistics facilities will have greater ESG focus on the operational side, such as on-site safety and wellness programs concentrating on employees' welfare. The frequency and complexity of the shift in travel restrictions both in Thailand and other countries will have an adverse effect on site inspections, contract signings and delay decision-making for new site acquisitions and leasing activities relating to inbound investment.
Mr. Adam Bell, Head of Industrial and Logistics, CBRE Thailand, commented, "Occupiers should engage landlords in advance to secure built-to-suit facility to meet the specific business needs. At the same time, landlords will need to cater their facilities to occupier demand for modern features and ESG standards. Data center is an emerging market in Thailand due to the growth of e-commerce and online platforms. Landlord should study their requirements to prepare for the opportunities that could arise."
Key Trends Summary:
Manufacturers to build supply chain resilience into their network to protect business.
Companies will focus on on-site safety, employee's welfare and utility consumption as part of ESG.
International travel could delay decisions for new site acquisition and leasing activities.
Hotel
It will be another year of heavy reliance on domestic tourism as the outlook for inbound international tourist arrivals is consistently fluctuating. Hotels will have to come up with promotions and packages to draw local demand, something that will be even more challenging now that "staycation" is no longer trending. Over 7,400 keys are planned to be completed by the end of 2022 which will increase the supply of hotel keys in Bangkok by 6.7%. The current situation and demand drivers will put a big question mark to developers as to whether it is the right time to fully open, partially open or if the projects should be put on hold. Hotel owners and operators will be focusing on hotel occupancy rates and cost control to meet the breakeven point, at a minimum, while seeking other revenue channels from F&B, and special collaborations and events whenever possible. Average Daily Rate (ADR) will likely continue to be at the same level as in late-2021 with occasional increases during long holiday periods. Government support and understanding from lenders will continue to be required.
Mr. Atakawee Choosang, Head of Hotels, CBRE Thailand, commented "Cost control through proper asset management will be the key to survival this year as hotel industry remains sluggish. Increasing the channels of revenue stream will also be essential as hotels might not be able to be fully operational for the rest of 2022."
Key Trends Summary:
Hotels to introduce new promotions and packages to draw in local demand for the second year.
New projects debate whether to be fully open, partially open or put on hold.
Owners and operators will prioritize hotel occupancy rate and cost control.
Capital Markets
As mismatch in price expectations between buyers and sellers have been the main reason for the low volume of investment transactions over the last two years, CBRE expects to see a narrowing of the pricing gap and more potential for investment transactions, helped by the expectation that 2022 will be the start of the recovery. As price expectations change, we also believe there will be an increased interest from overseas investors. Developers will look for joint venture partners to help finance their new projects has local banks remain cautious lenders during the current property cycle. While the residential condominium sector has been the preferred sector for joint venture, it is expected that this year, other sectors may have greater focus than before, particularly offices and the industrial and logistics market.
Mr. Barnaby Swainson, Head of Investment and Land, CBRE Thailand, added, "Investors should consider properties with value-added potential in both the hotel and office sectors where required renovation and asset improvements may create buying opportunities from passive owners. New projects either under development or in planning phase may seek new sources of capital as conventional domestic lenders are expected to remain cautious."
Key Trends Summary:
The narrower pricing gap to create more potential for investment after two years of low transactions.
International investors still have eyes on income producing assets.
Credit tightening will lead to more joint ventures.
Follow us on
Facebook: CBRE Thailand                                        LINE: @cbrethailand and @cbreland
LinkedIn: CBRE Thailand                                         YouTube: CBRE Thailand
Twitter: CBRE Thailand                                           Spotify: CBRE Thailand
Instagram: CBRE Residential Thailand