Bangkok – February 21, 2022 – Thailand begins 2023 with a positive outlook both economically and for the real estate sector in general. CBRE Thailand, the leading international property consultant, highlights the key trends to watch in the residential, office, retail, industrial and logistics, and hotels sectors in Thailand.
Ms. Roongrat Veeraparkkaroon, Managing Director of CBRE Thailand, stated, "The year 2023 started with much more optimism than in previous years, on the back of significant improvements in sentiment in the final quarter of 2022. Individual and corporate clients have a greater degree of confidence about prospects for the year ahead. People have a clearer understanding of how they will manage their home and work life, and developers and investors have more confidence that their projects directly address the new requirements of their customers. Stakeholders have taken time to understand emerging residential and commercial real estate trends and adapted by applying appropriate strategies and policies for their businesses."
"The Bank of Thailand forecast GDP growth of 3.6% in 2023, increasing from 3.2% in 2022. This prediction will largely depend on the number of tourists and the performance of the export industry. Of additional importance is how the Government balances the need to reduce fiscal stimulus without impacting overall consumption growth given the persistently high levels of personal debt," added Ms. Chotika Tungsirisurp, Head of Research and Consulting, CBRE Thailand
However, the most positive trend is that we are no longer preoccupied and distracted by COVID-19; rather we enter the year knowing we have weathered the storm and now approach life with different expectations of where and how we live, work, and play.
Residential
2022 was another quiet year for the Bangkok downtown condominium sector, with over 95% of new units located in the midtown and suburban areas targeting the low- to mid-end market. Domestic buyers showed a preference for low-rise housing, preferring lower density, larger and more adaptable spaces. This year, developers will be even more active in launching low-rise housing projects that target domestic real demand.
In the downtown condominium market, CBRE expects developers to continue concentrating on clearing their ready-to-move-in inventory before assessing the potential to launch new projects in downtown Bangkok in the second half of the year. There will be a gradual recovery in terms of new launches in the downtown area, but that this will take time, and we still may only see a relatively modest number of launches in the downtown area in 2023. CBRE expects developers to continue launching condominium projects in the midtown and suburban areas, and a trend to watch is residential developers combining residential and commercial elements in mixed use projects.
Newly Launched Condominiums in Downtown and Midtown/Suburban Areas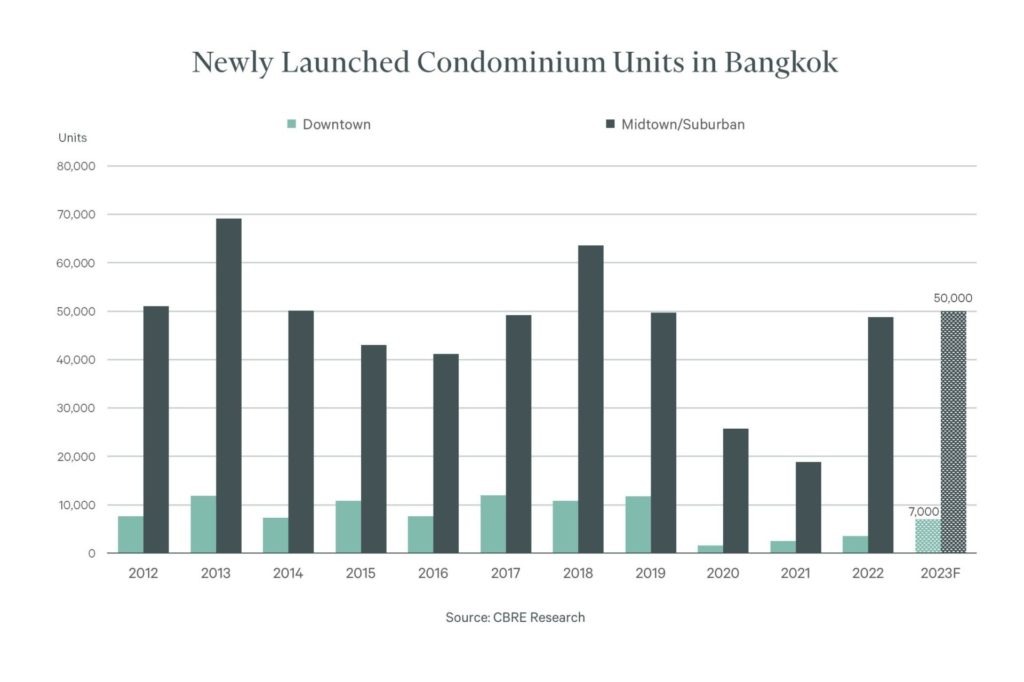 Source: CBRE Research
Ms. Artitaya Kasemlawan, Head of Residential Sales – Project, CBRE Thailand, commented, "End-users have clear expectations and requirements that developers must meet to generate sales. Buyers continue to place great importance on space, functionality, privacy, open green spaces, wellness, and technology. Developers of luxury and super luxury housing projects will need to provide adaptable spaces to allow for multiple family members to work from home, space to facilitate multiple generations living under one roof, as well as allocate sufficient car parking with EV charging."
"For the resale condominium market, buyers are more willing to buy older, larger units requiring renovation, as they often provide a unit size not typically found in more recent developments. These units generally sell for lower prices on a square meter basis, allowing buyers to invest in a renovation suited to their family requirements. Thai demand for overseas properties continues to favor the UK and Australia, often for family education purposes, as well as for investment, family wellbeing, and lifestyle fulfillment in locations such as Japan and the Maldives," added Ms. Praphinleeya Phuengkhuankhan, Head of Residential Sales – Ad Hoc, CBRE Thailand.
Key Trends Summary:
Developers focusing mostly on launching new low-rise housing projects
Inventory clearance priority over launching new downtown condominiums
Domestic end user demand still the key focus for developers
Office
While much of 2022 saw a continuing trend for domestic companies to renew their existing leases, particularly in the case of large space occupiers, multinational companies (MNCs) in Bangkok have made significant progress in reviewing their future office needs, and some have already committed to relocating to new premium grade A office space.
Against a backdrop of significant increase to international standards and green office buildings, MNCs that have established new office workplace policies, particularly hybrid working, are capitalizing on the opportunity to upgrade the quality of their workplace to meet their corporate ESG requirements and address the war on retaining and attracting talent and providing a workplace environment that will encourage time spent at the office.
CBRE expects more leasing activity in 2023, with Thai companies committing to relocate from buildings they have occupied for over 20 years to embrace hybrid working in office buildings that set a new standard for Bangkok.
New Supply, Net Take-Up and Vacancy Rate of Bangkok Office Market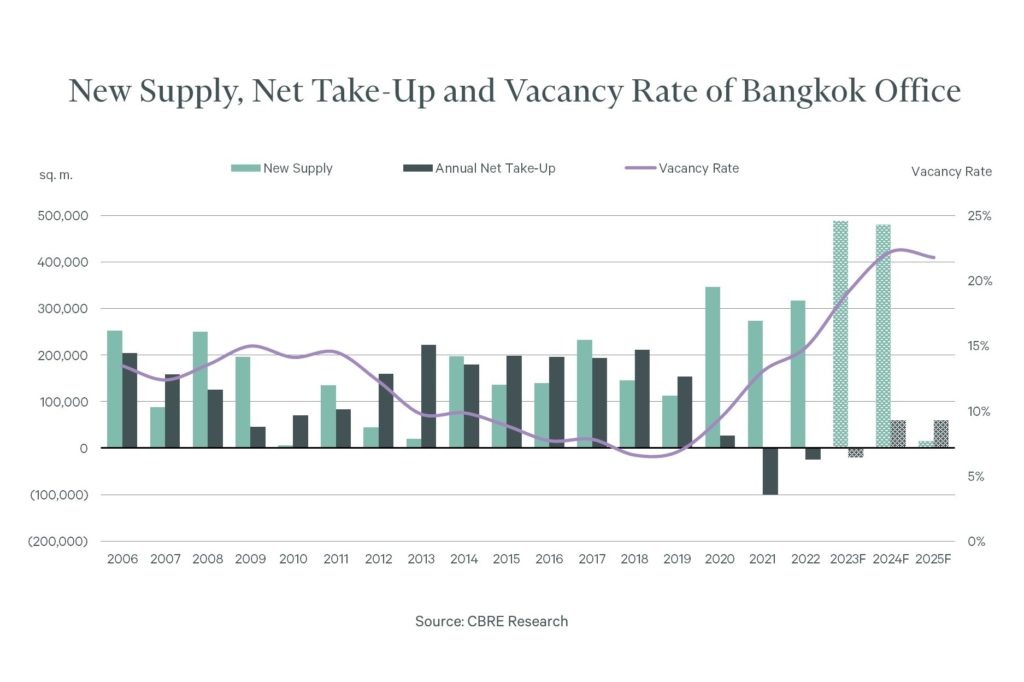 Source: CBRE Research
"Engaging with staff and implementing workplace strategy will be key for occupiers to embrace the future of work. While rising fit-out costs will also be a key consideration for occupiers, landlords will be motivated to offer highly competitive leasing packages in attempts to persuade large scale business to relocate. These new developments will incorporate dedicated agile workplaces and offer an array of services addressing the needs for the modern workplace to encompass wellness and lifestyle facilities," added Mr. Sarut Virakul, Director of Office, CBRE Thailand.
Key Trends Summary:
Completion of new international standard buildings will mean greater opportunities to relocate
Landlords will offer competitive leasing packages to secure tenants
ESG considerations and hybrid working will heavily influence relocation decision-making
Retail
The retail sector witnessed a greater degree of cooperation between landlord and tenant during the COVID-19 years than in most other sectors. This level of understanding benefits both sides as the sector never stops evolving. While the importance of incorporating technology, particularly in the online arena, has never been more evident, CBRE expects that customers will continue to demonstrate the importance of bricks and mortar and offline retailing.
There are six large retail development projects under construction and another seven projects announced, but the trend to watch will be the development of mid-scale retail developments to fit the needs and lifestyles of suburban residents.
Ms. Jariya Thumtrongkitkul, Head of Retail, CBRE Thailand, commented, "Although the importance of online shopping, payment and fulfillment will continue to grow, landlords will continue to invest in their bricks and mortar real estate to re-attract footfall. While online retailing offers convenience and offline offers experience, both are equally important and need a seamless integration. "
Key Trends Summary:
Landlords renovating older centers to create fresher, more modern environments
Landlords and retailers will find new ways to collaborate for mutual benefit
In-store promotions, on-site events, and new retail experiences to attract shopper.
Industrial & Logistics
Demand for industrial land will continue in 2023 as developers rush to expand existing industrial estates and develop new ones to keep pace with demand due to the continuation of the China Plus One policy.
Renewed and refreshed incentives from the BOI will be needed to keep pace with competing countries in the region for FDI investment.
With continued investment in key infrastructure, particularly in the EEC and professionally managed industrial estates, Thailand is well placed to capitalize on the demand that was suppressed during the last few years.
Mr. Adam Bell, Head of Industrial and Logistics, CBRE Thailand, commented, "We expect that data center operators, semiconductor, and vehicle manufacturers – both traditional and electric – will continue to view Thailand as a very viable option to locate their businesses. Thailand is strategically very well placed to attract more FDI in support of these growing industries"
Key Trends Summary:
Accelerated expansion of serviced industrial land plots
More FDI from key growth industries in technology and manufacturing
Further adoption of robotics and modern technology in manufacturing and logistics
Hotel
The tourism sector ended 2022 on a very positive note and enters 2023 with optimism that it can build on the improved hotel performance and inbound international arrivals, boosted by the knowledge that Chinese tourists will be able to return to Thailand sooner than previously anticipated.
While the focus will inevitably return to international tourists, it is worth remembering the vital role domestic tourists played while Thai borders were closed and arrivals restricted. Hotels will have to continue to up their game as existing hotels reopen in the knowledge that over 10,000 keys are planned to be completed by the end of 2025, which will increase the supply of hotel keys in Bangkok by 12%, according o CBRE research.
ADR and Occupancy Rate of Bangkok Hotel Market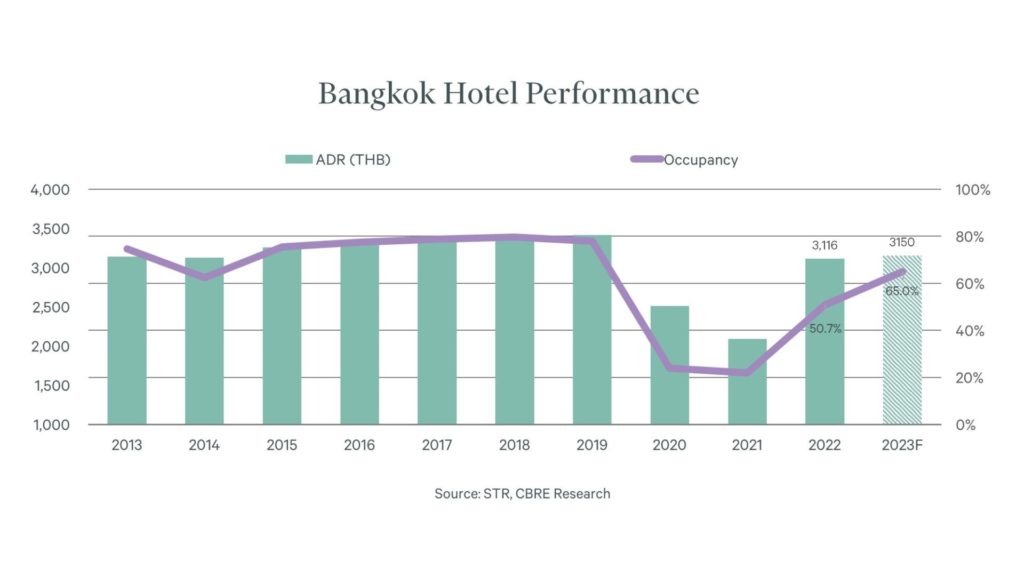 Source: STR, CBRE Research
Although many hotels experienced higher Average Daily Rate (ADR) performance in December 2022 compared with that of December 2019, occupancy rates were still lower and overall performance for 2022 was, unsurprisingly, well down versus 2019 given the significant difference in international tourist arrivals. Hotel owners and operators will be focusing on hotel cost controls, particularly those that incorporate long term ESG strategies, as well investments in technology and staff retention, with so many of those that lost their jobs being reluctant to return to the industry.
Mr. Atakawee Choosang, Head of Hotels, CBRE Thailand, commented "Owners and operators will dedicate time and resources to ensure they are best placed to capitalize on the expected increase in international arrivals to improve the bottom line after suffering losses in recent years. There may be opportunities for investors to acquire properties, as we have seen the price gap between sellers' and buyers' expectations narrowing as market sentiment improves."
Key Trends Summary:
Improved performance in economy and midscale hotels as tour groups and corporate travel returns
ADR pressure as renovations and new openings in 2023 add more competition
Operators focusing on incorporating further ESG processes and technology to improve guest experience
Capital Markets
Rising interest rates and a cautious lending environment will continue to limit capital markets transactions in 2023, but with improved sentiment overall a greater volume of land transactions can be expected.
Developers will also be open to joint venture partnerships, with Japanese groups continuing to have a positive outlook towards Thailand. While the residential condominium sector has been the preferred sector for joint venture, it is expected that this year other sectors may have greater focus than before, particularly offices and the industrial and logistics market.
Mr. Barnaby Swainson, Head of Investment and Land, CBRE Thailand, added, "Large-scale mixed-use projects either under development or in the planning phase may seek joint ventures or new sources of capital as conventional domestic lenders are expected to remain cautious. Landowners are also advised to explore options to lease their land if they are unwilling to development themselves or sell, as the tax burden of holding vacant land will continue to increase."
Key Trends Summary:
The narrower pricing gap to create more potential for investment after three years of low transactions
International investors still have eyes on added value opportunities
Credit tightening will lead to more joint ventures
Follow us on
Facebook: CBRE Thailand                                        LINE: @cbrethailand and @cbreland
LinkedIn: CBRE Thailand                                         YouTube: CBRE Thailand
Twitter: CBRE Thailand                                           Spotify: CBRE Thailand
Instagram: CBRE Residential Thailand