Source: CLC asia
---
The Thai government officially launched its new 'Smart Visa' programme at the start of this month. The launch had been anticipated with some excitement in the later stages of 2017, as the government announced their intention to make it easier to attract workers and investment into the rapidly expanding digital economy sector.
Further details about the visa are outlined on the Board of Investments website here. Our initial thoughts on the new scheme are outlined in the next section.
CLC Asia Analysis
The Thai government spent much of 2017 consulting industry representatives on how better to attract investment into the digital economy sector. The focus of these discussions was how to facilitate easier access to the sector by foreign workers as well as investment, both in established businesses, but also critically, start-ups.
During the consultations, which CLC Asia was part of, industry representatives made clear Thailand's digital economy sector was growing rapidly, but risked falling behind competitors both in the region and globally due to outdated laws and some non-cooperative government agencies.
One of the major hurdles identified was Thailand's antiquated work permit system which saw many workers simply fly under the radar, working illegally, rather than grapple with a system which often presented no formal way for them to legalize their status in Thailand. Restrictive ownership laws too, made it difficult for foreign investors to invest in nascent Thai start-ups and SME's.
As a result of this feedback, the government announced in January 2018 the broad framework of the programme, which will target foreign experts, executives, entrepreneurs and investors to work or invest in the governments nominated ten 'S-Curve" industries. These are:
Next-Generation Automotive
Smart Electronics
Affluent, Medical and Wellness Tourism
Agriculture and Biotechnology
Food for the Future
Automation and Robotics
Aviation and Logistics
Biofuels and Biochemicals
Digital
Medical Hub
We attended a special closed-door briefing held prior to the 1st Feb 2018 launch of the Smart Visa programme. The briefing was conducted by Mr Korbsak Pootrakool, Minister attached to the Prime Minister's office, as well as Mrs Duangchai Atsawachintachit, the Director General of the Board of Investment.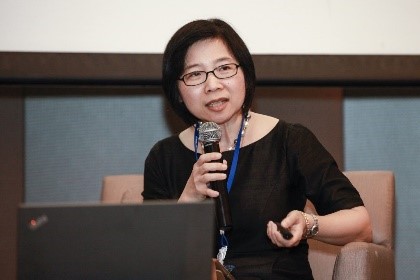 Given this is a new approach for the Thai government, it is still too early to assess how the actual implementation of the visa will work. However, based on the briefing, we have come to some preliminary conclusions on what this visa may mean for investors and professionals interested in the programme.
Minimised bureaucracy
Applicants for the new Smart Visa, will be able to apply through a single window run by Thailand's Board of Investment ('BOI'), who will then liaise with counterpart science and technology based agencies (NSTDA, NRTC, TISTR and DEPA), primarily to verify that either the applicant, or the company they are looking to work for or invest in, meets the definition of 'S' Curve industries.
The briefing also revealed that the Prime Minister had recently signed off on a waiver so that the visa, once granted, will include automatic work rights.
Traditionally foreign workers in Thailand needed to have their authorization to stay and work processed separately by the Immigration Department and then the Labor Department. Coordinating this process for applicants was often cumbersome and duplicated processes. Additionally, spouses and other dependents were not allowed to work in Thailand, unless they also applied for a work permit themselves. Except for larger BOI endorsed businesses, work permit issuance also required a 4 to1 ratio of Thais for every one foreigner employed.  Together, these requirements acted as a major disincentive, particularly SME's and start-ups, to hire foreign talent.
Longer stays, family work rights, less post-grant bureaucracy
For most applicants, the visa will be issued for the length of their contract, with a maximum of four years. Two other bureaucratic distractions have also been abolished for these particular visa holders. These are the archaic 90-day confirmation of stay reporting system (replaced with an annual reporting) as well as the need for visa holders to get a re-entry permit for each departure from the country, lest their visa is canceled on departure.
As well, their immediate dependents will be able to work without work permit authorization usually needed from the Ministry of Labour.
A new visa, but not a replacement of the mainstream system
Officials at the meeting made clear that the 'Smart Visa' programme is not a replacement for the existing work permit system.
Rather it is an attempt to attract high end talent or investment, particularly in growth areas such as the tech sector, which under the existing system, provided little or no options for coming to Thailand legally. Nevertheless, people who are already in Thailand on existing visas, are welcome to apply under the new system, so long as they qualify.
Applicants will be issued entry under a new visa class which was recently approved by the government.  This will be separate from the normal 'Non-immigrant' visas, on which all foreign workers currently enter Thailand.
Angel investors welcome

The new system provides greater flexibility for foreign angel investors particularly under the 'Smart I' category.  This will allow an investor to invest in a number of companies or projects, and be granted a visa under this category, so long as the cumulative total investment amounts to 20 million baht (approx US $640,000) and the investments are approved by related agencies as being 'S-Curve' projects.
Investors will also be free to work for or with any of the companies they have invested in during the life of their visa.
Who qualifies, who doesn't (and digital nomads…)
The new regime looks to provide a suitable gateway for companies to bring in talent, and for foreign investors to better work with start-ups and SME's.
There was some hope that the start-up entrepreneur 'Smart S' visa would help facilitate the burgeoning group of the so-called 'digital nomads' who have made Bangkok, Chiang Mai and Ko Samui some of the most popular places in the world to live and work.
While officials have made clear that they aren't looking to attract 'anyone with a laptop', they have adopted a carrot and stick approach to ensure that people with ideas do have a pathway to better establishing themselves here.
The carrot provided is a low barrier to entry.  The applicant, as long as they can show proof of a fixed deposit of 600,000 baht (approx $19,000) as well as health insurance will be considered for an application for an initial one-year visa. During this first year, applicants are expected to support themselves, but the government has not stipulated the source of funds, nor any minimum amount.
The stick however, is that the entrepreneur will have to participate in an endorsed National Innovation Agency ('NIA') endorsed incubator programme or an accelerator programme of the Digital Economy Promotion Agency ('DEPA'). The applicant also must set up a company in the approved field within the first year, so as to gain an extension to the visa.
Conclusion
Overall, this is a welcomed initiative by the Thai government and represents a long awaited, as well as major liberalization, of the work permit and visas regime. The project has been sponsored from the highest levels of the Prime Minister's office and has been supported by many of the major foreign chambers of commerce as well as industry groups.
What is less clear is how many people and companies will utilize the system and whether the requirements and vetting from departments such as the National Innovation Agency and Digital Economy Promotion Agency will be flexible enough to attract the people it hopes.
The government itself is keeping its expectations low in terms of the number of people they expect to apply, and we sense that this is being done for pragmatic reasons to see if there is a genuine demand for such an initiative. Given that the lead agency for running the programme is the Board of Investment, a well regarded pro-investment facilitator, we expect that this programme will see further refinement, should it be warranted.