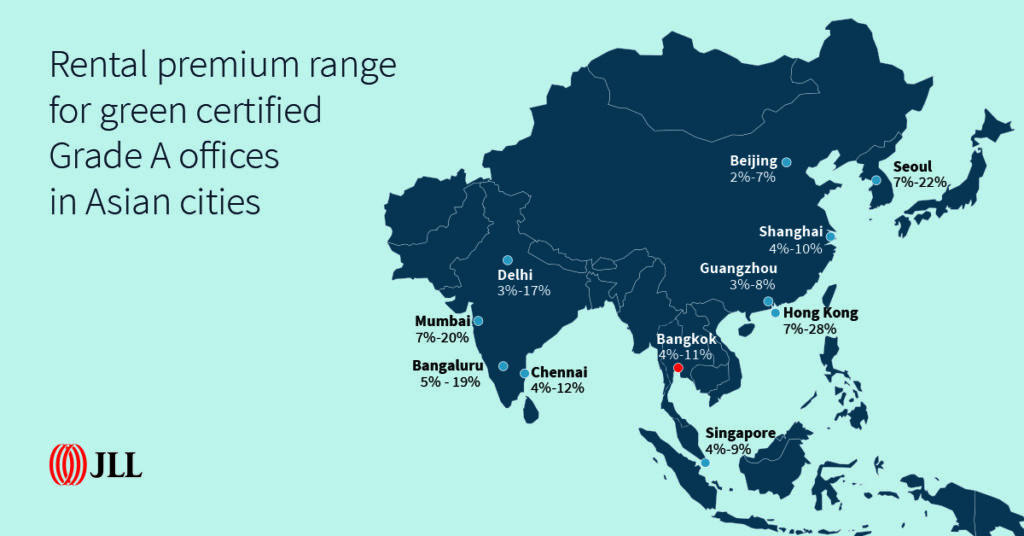 Bangkok, 13 December 2022 – Occupiers in Asia are paying a rental premium of up to 28% for green certified offices in 11 major Asia cities, according to new proprietary research from JLL (NYSE: JLL), as corporations look to meet ambitious net zero targets. JLL analysis shows that the range of green premiums are correlated to the uneven supply-demand gap of green certified versus non-green certified buildings across many cities which is insufficient to meet the occupier demand for sustainable buildings.
According to analysis in JLL's report, The Value of Sustainability: Evidence for a Green Premium in Asia, when location, building age, and amenity factors are held constant, assets with green credentials generate more occupier demand and achieve rental premiums. In Asia, green certification activity gained momentum in the last decade and 75% of the existing green certified Grade A office stock was added post-2015 with the adoption of the Paris Agreement on climate change.
However, demand for green certified assets continues to outpace supply, with JLL research showing that, if possible, occupiers in the region would like to get almost half of their portfolios accredited by 2025.
"Over 70% of new leases in Bangkok's Prime office market were signed to buildings with green credentials in the past 12 months, whilst these buildings only account for 39% of gross floor area. These buildings are achieving in the range of a 4%-11% premium, compared to non-certified buildings. It is now irrefutable that buildings that resilient and sustainable buildings in Bangkok enjoy a distinct premium, against their non-certified contemporaries," said Jeremy O'Sullivan, Head of Research & Consulting at JLL in Thailand.
According to JLL research, 42% of Grade A office stock is green certified across 14 cities. In Hong Kong, where only 29% of Grade A office stock is green certified, JLL research found the rental premium for LEED Platinum buildings is 28%, the highest in the region. Seoul, with 37% of offices green certified, is commanding a rental premium between 7% to 22%.
Meanwhile, in Singapore, where 90% of the Grade A office stock is green certified, rental premiums stood stand between 4% and 9%, with the highest rental premium commanded by buildings certified with BCA Green Mark Gold, Gold Plus or Platinum levels. Among Indian cities, despite high availability of green certified Grade A office stock, the green premium is highest in Mumbai (up to 20%) and lowest in Chennai (up to 12%).
Amornrut Det-Udomsap, Head of Sustainability Services at JLLThailand, said "Retrofitting existing buildings in Bangkok to achieve green certification has become increasingly sought after by landlords, who are concerned about remaining competitive in the market that has seen increases in both supply and demand for certified buildings. The business case for retrofitting is strong, not only is it cost-effective, but it is the quickest way to accelerate decarbonization in the built environment."
According to JLL research, organisations in Asia Pacific are already prioritising efficient heating, ventilation and air conditioning systems (70%), smart and efficient lighting systems (66%) as well as low energy appliances (63%) as part of their retrofitting agenda – with one in two businesses planning to retrofit and refurbish their workplace by 2025.
Methodology
JLL compiled data from 3089 Grade A office buildings in 14 cities across Asia to assess regional and market-specific indicators related to supply and rents in green certified versus non-certified assets. The analysis considered 10 green building certifications, comprising both international and national standards. Other parameters which are part of the dataset include the asset's vintage, location, gross floor area, rental values, vacancy rates, and net absorption. Out of the 14 cities, JLL modelled the city-specific datasets for 11 key cities in Asia using a Hedoic Pricing Model to determine the rental premium
between two identical buildings, green and nongreen certified, when location, age, and amenity factors are held constant.
About JLL
JLL (NYSE: JLL) is a leading professional services firm that specializes in real estate and investment management. We shape the future of real estate for a better world by using the most advanced technology to create rewarding opportunities, amazing spaces and sustainable real estate solutions for our clients, our people and our communities. A Fortune 500 company with annual revenue of $19.4 billion, JLL operates in over 80 countries with a global workforce of 102,000 as of September 30, 2022. JLL is the brand name, and a registered trademark, of Jones Lang LaSalle Incorporated. For further information, visit jll.com