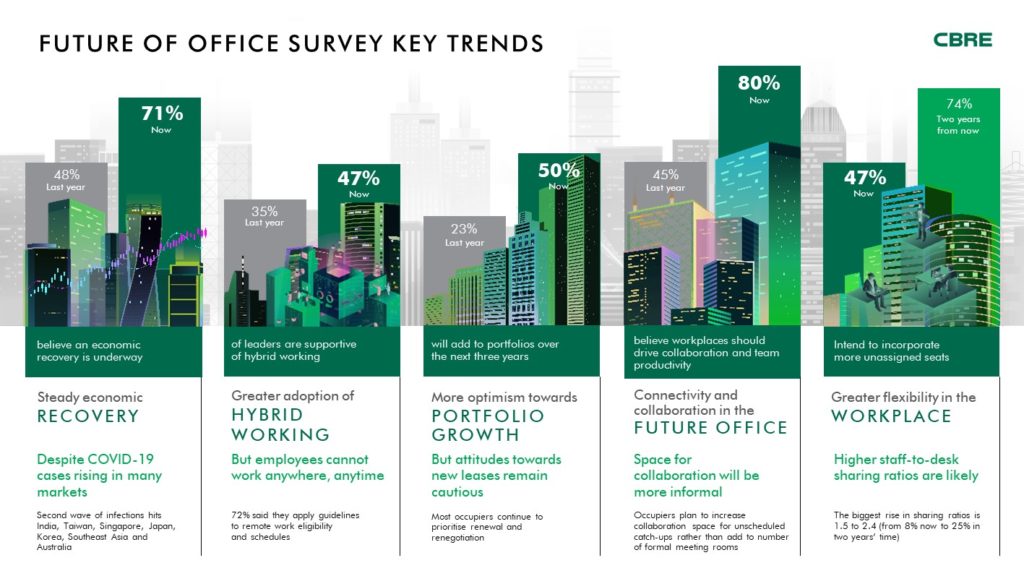 Latest CBRE survey reveals regional occupier sentiment around expansion plans, a shift toward hybrid working, and workplace design trends that drive engagement, innovation and collaboration.
A growing number ofcorporate occupiers plan to extend their Asia Pacific office footprint in the long-term while adopting strategies featuring greater flexibility and new hybrid working models, according to the findings of CBRE's 2021 Asia Pacific Future of Office Survey, published today.
The survey of occupiers across industries and geographies in Asia Pacific saw about 50% of respondents signal their intention to increase the size of their real estate portfolios over the next three years, a substantial increase from just 23% in October 2020.
Leading the charge are Asian companies that are displaying a stronger appetite for expansion, particularly tech companies and some investment and insurance firms. Among multinational companies, while consolidation and flight-to-quality remains a focus, some still possess a healthy long-term appetite for expansion, such as tech firms.
Figure 1: How do you expect your corporation's real estate portfolio to change over the next three years?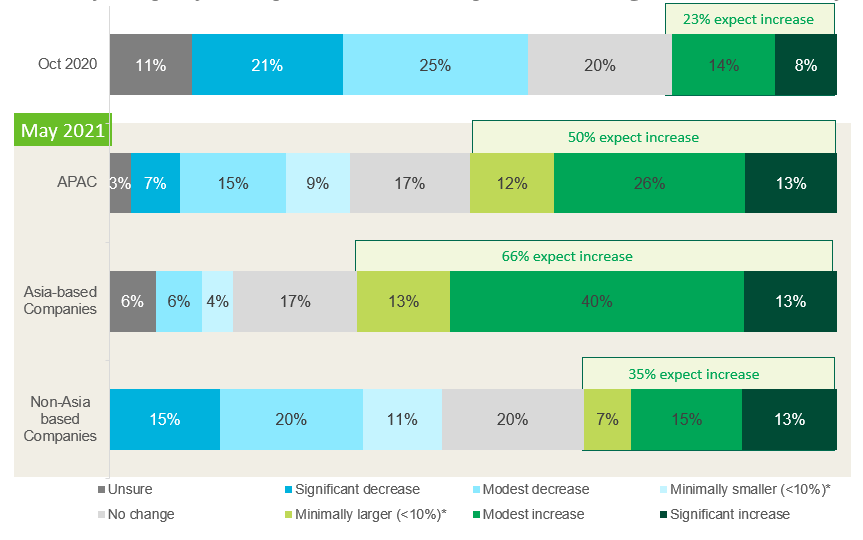 Fuelling occupiers' expansion plans is a significant improvement in business sentiment across the region. A significant majority, or 71% of survey respondents believe current business conditions are getting better, marking a substantial improvement from the 22% and 48% of respondents who expressed this sentiment in April 2020 and October 2020, respectively. Confidence was highest in Greater China and the Pacific, while India and Southeast Asia were the least optimistic.
While the unpredictability of infection rates will continue to weigh on the pace of regional recovery for the foreseeable future, growing momentum in vaccination programmes across the region are strengthening corporate confidence.
Figure 2: How would you describe your company's current business conditions?

As recovery accelerates and rising vaccination rates support improving confidence among corporate occupiers, companies are keen to bring employees back to the office while offering a greater degree of flexibility and choice.
Once the pandemic is fully under control, respondents expect employees to work from the office more frequently than they work from home, with hybrid working becoming a norm. At the same time, organisations have also begun to establish remote work policies which are subject to guidelines or company approval, enabling managers to determine their employees' work schedules and eligibility for remote work. CBRE believes such a change in working patterns indicates that hybrid working will only have a limited impact on future office demand.
Ms. Roongrat Veeraparkkaroon, Head of Commercial Transaction Services, CBRE Thailand said, "For Thailand, the experiment with remote working during the lockdown has yielded encouraging results, and several companies intend to continue allowing employees to do so. In turn, it is prompting a reevaluation of their workforce strategy with a focus on cost savings on office space. But rather than putting a damper on office demand as a result of the anticipated shift to more remote working, CBRE believes occupiers will continue to demand a physical workplace, albeit a digitally enhanced one that provides a variety of settings to facilitate different working styles and is more effective in supporting collaboration, teamwork, engagement, and innovation."
Figure 3: Rate the following aspects of your office workplace compared to remote working?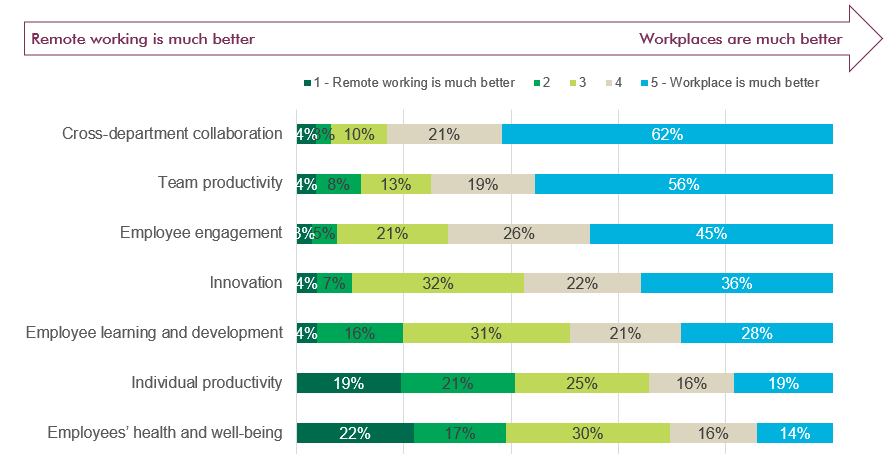 "Offices are set to drive collaboration and connectivity more than ever, and workplace design will need to be adjusted and recalibrated accordingly. CBRE expects demand for space allocated to unscheduled catch-ups and communal space to increase. As a result of hybrid working, companies will consider reducing the number of large meeting rooms as employees do individual work and conduct small project team meetings more frequently. At the same time, occupiers are likely to increase expectation on landlords to provide on-demand solutions and services for large meetings and events," said Ms. Ada Choi, CBRE's Asia Pacific Head of Occupier Research, Data Intelligence and Management.
The findings also have far-reaching implications for real estate investors, many of whom are closely monitoring the recovery in office demand and seeking to recalibrate their investment strategies to capitalise on the occupier trends identified in the survey.
"Quality office assets in Asia Pacific currently present an attractive counter-cyclical opportunity for investors. They should take note of the strong occupier intentions to expand over the medium term, particularly among Asian companies. Assets with a good tenant profile catering to market segments benefitting from growth, such as the technology, media and telecommunications (TMT) sector and Asia-based companies are well-placed to outperform. These should be prioritised, as those properties are likely to attract stronger flight-to-quality demand. CBRE also advises investors to track growing occupier demand for assets offering wellness, technology and flexibility, and consider a service offering featuring flexible offices and meeting space on demand," said Dr. Henry Chin, Global Head of Investor Thought Leadership, and Head of Research, Asia Pacific, for CBRE.
To download the 2021 Asia Pacific Future of Office Survey report, click here.