Papua New Guinea's ('PNG') efforts to join ASEAN for nearly four decades have borne little fruit. Despite having observer status since 1976, its quiet overtures to become a member of the grouping have met with little success.
However, dynamics are changing. Long seen as dependent on Australia, its former colonial master, Papua New Guinea is quickly transforming into a nation that 15 years ago many people could never have imagined – a regional energy powerhouse.
The country, by virtue of two mega projects from ExxonMobil and Total, is positioning itself as an important regional LNG supplier. By 2030, it is estimated that the country is likely to be the second largest LNG exporter in the South-East Asian region.
Key regional powers, including China, Japan and Korea are seriously courting PNG both economically and diplomatically, keen to lock in long term LNG supplies from PNG. And as the capacity of ASEAN's own indigenous natural gas supplies decline, is it possible that Papua New Guinea, a country once viewed as being on the fringes of the 'real' Asia, could finally be accepted as a fully-fledged ASEAN member?
PNG's little known LNG story…
While global attention was focused on developments in the LNG powerhouses of Australia, Qatar and Russia, in 2014, Papua New Guinea switched on its first LNG export terminal, piping natural gas from the highlands many hundreds of kilometers away. Operated by ExxonMobil, the US$19 billion project is known as 'PNG LNG'.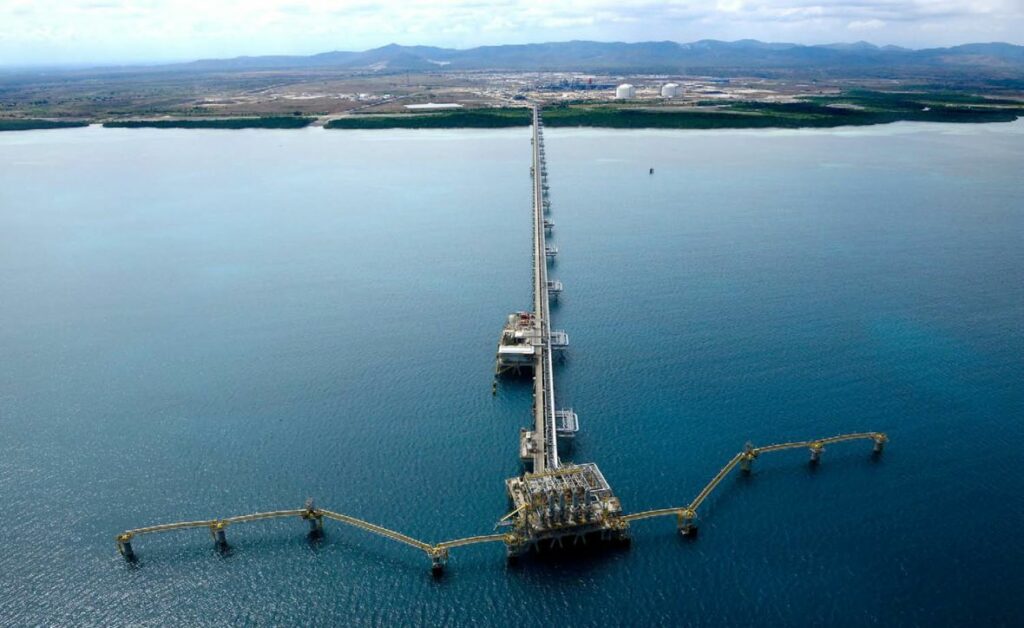 PNG LNG's' success at largely avoiding disruption has been a game changer in a country where volatile local and national politics have often impacted the operation of other natural resource projects.
Having a world class operator, combined with the huge importance the project has to the economy, have been key factors in this success and stability. Though there are ongoing concerns about about promised benefits from 'PNG LNG' not being fully distributed to local stakeholders, according to the Lowy Institute's East Asia Forum the 'PNG LNG' project contributed significantly to the country's GDP — about 5.25 per cent of total GDP in 2019.
A heady mix of stakeholders, including traditional landowners and local NGOs, combined with successive governments maneuvering for a larger share of resource projects – both in equity terms and royalties – has meant that newer investments following on from 'PNG LNG' have been slower than planned. But it does appear these decisions are now finally being made.
The new 'Papua LNG' project, operated by France's Total, has faced challenges balancing these different stakeholders. The project is currently going through technical, commercial, regulatory, social, and environmental consultation, hoping to avoid many of the legacy issues around landowner compensation that has plagued the PNG LNG. The project is expected to move to the 'FEED' (front-end engineering and design) phase shortly, with the Final Investment Decision (FID) due in the latter half of 2023.
The US$12 billion 'Papua LNG' project will boost national LNG production, almost doubling exports from 8.5 million tonnes per annum (MTPA) – or approximately 380 billion cubic feet per year (Bcf) to 14 to 15 MTPA (667 to 715 bcf/year) when the project begins production in late 2027 or early 2028.
Adding in ExxonMobil's P'nyang Gas project, penciled in to commence around 2032, will deliver further 2 to 3 MTPA (85 to 143 Bcf/year). Further opportunities also lie offshore with Twinza Oil's planned 'Pasca A' Development Project which is seeking initial government approvals.
Even only taking into account Total's 'Papua LNG' project, PNG will be on track to become the second largest LNG exporter amongst its ASEAN neighbors by 2030 and knocking on the door of the top-10 exporters globally.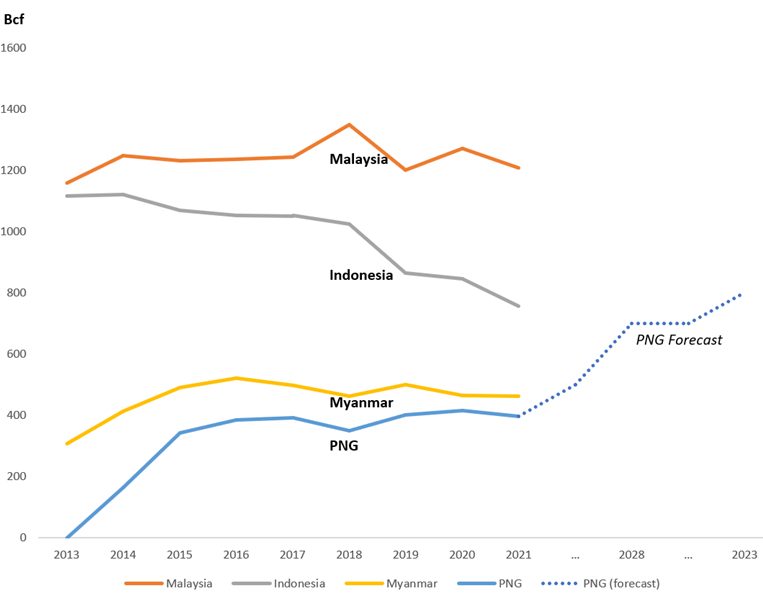 ASEAN membership – a bridge too far?
The original logic of PNG's membership overtures in the early 1980's was that by joining ASEAN, the country would be able to hitch its economic fortunes to the so called 'tiger economies'. The potential of accessing lower effective ASEAN tariff rates would help diversify its exports, as well alleviate an over reliance on imports from Australia.
From ASEAN's perspective, one of the key – stated – obstacles to PNG's accession was the relative economic disparity between PNG and the original members at the time: Singapore, Malaysia, Indonesia, Thailand and the Philippines. The argument went that PNG's very low levels of economic development – along with safety and security concerns – would make it difficult to achieve economic integration with the then booming 'tiger' economies.
There were questions too amongst some member states as to whether PNG was 'really' a part of Southeast Asia, despite it sharing an island and a land border with ASEAN's largest member, Indonesia. Skepticism existed too about the country's geopolitical orientation, based on PNG's historical relationships towards the Pacific and Australia.
In reality, most of these excuses were flimsy.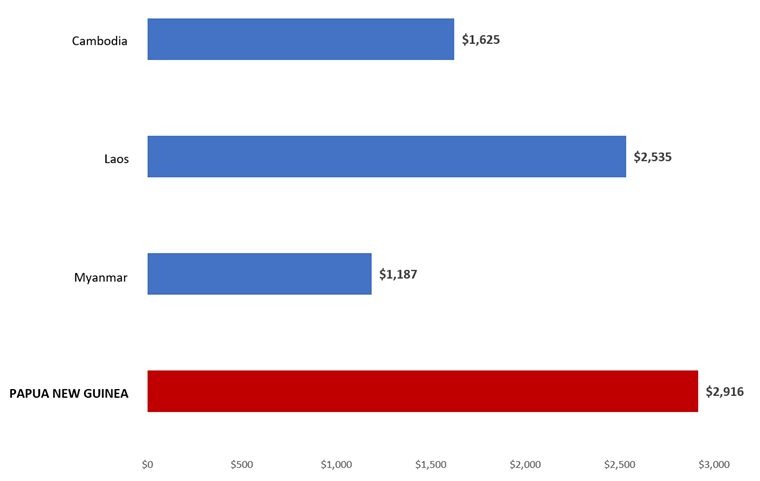 Fast forward to the late 1990's: Myanmar, Laos and Cambodia are now ASEAN members. While it was true that the three countries along the Mekong were more economically integrated and culturally similar, sharing land borders with Thailand – after two decades of membership their GDP per capita figures stood at $1187, $2535 and $1625 respectively, all behind PNG's 2021 GDP of $2916 per person.
While violence and safety in PNG remain ongoing concerns, Myanmar once again finds itself in destructive cycles of political turmoil and associated violence, all of which ASEAN itself has shown little willingness to intervene on.
Declining ASEAN energy security is a strategic issue
Natural gas supplies are dwindling across much of ASEAN, increasing reliance on LNG imports. The Malampaya gas field, which the Philippines relies on to fuel at least 20% of its power generation, is depleting. Options to develop new fields are limited, given territorial disputes the country faces in the South China Sea.
In Thailand, domestic production is unable to keep up with demand, and the country increasingly relies on imports of natural gas from an unstable Myanmar, and LNG imports from around the globe.
The situation is becoming increasingly acute, with the country even considering resuming talks with Cambodia over finally settling their long running territorial dispute in the Overlapping Claims Area in the Gulf of Thailand.
At the time of writing, PetroVietnam's first LNG terminal in Ba Ria-Vung Tau is shortly due to start operation, one of the nearly 10 LNG terminals planned for the country. Overall, Southeast Asia will account for nearly 13% of total LNG global demand by 2030, up from 5% in 2020.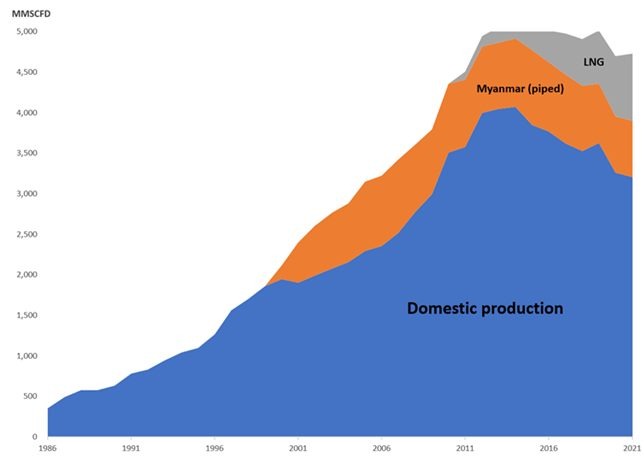 Will LNG be enough of a 'Raw Strategic Benefit' for ASEAN?
Objections to Papua New Guinea's entry into ASEAN have been well documented over the years. The well-respected East Asia Forum highlighted many of them in 2012, observing that "PNG's raw strategic benefit to ASEAN… appears slim". Indeed, many reading this article will still probably be rating PNG's chances of joining at close to zero.
At the end of 2022, CLC Asia spoke on an off-the-record basis with a former ASEAN foreign minister who is highly familiar with Papua New Guinea.
Many of these concerns were repeated in our interview with the former foreign minister, who while supportive of PNG's membership of ASEAN, reflected on the hard work that PNG needs to do to improve its image and overcome suspicions in ASEAN capitals.
Safety, political stability and bringing Indonesia on-side were important, with Port Moresby needing to convince Indonesia that it didn't have any ambitions in West Papua, territorial or otherwise. PNG's well know safety and security problems were also a key sticking point, with the former minister telling us that it would be difficult for ASEAN countries to set up substantive embassies in Port Moresby if the government there didn't address the issue of safety for its diplomats and representatives.
These long-standing issues aside, he made it very clear that if PNG was serious about its stalled ASEAN ambitions, it's new role as an energy supplier would be key to opening doors in ASEAN capitals.
"PNG could make a case about supplying oil and gas, helping shore up ASEAN energy security".
He also pointed to the fact that ASEAN oil and gas giants, such as PTT, PERTAMINA and Petronas would be highly interested in Papua New Guinea, in particular because these firms are already looking for opportunities internationally and had operational experience in challenging environments.
We won't call you, but you should call us…
Still, PNG shouldn't expect ASEAN to be too proactive. The former minister suggested that the initiative needed to come from the Papua New Guineans themselves, requiring "their foreign office to promote the possibilities in industry and trade" with "roving ambassadors" across ASEAN capitals, rather than just being passive "once-a-year" observers at annual ASEAN meetings.
From regional balance perspective, having South-East Asian partners investing in PNG would offer the country diversification away from the reliance on a narrow base of North Asian, US and Australian investment, given the region is also being contested geopolitically by many of the same players.
No doubt, the opportunity for ASEAN nations to more fully secure their energy supply chains would be attractive, and PNG will be increasingly able to supply it.
The question remains, will this be enough of a 'raw strategic benefit' that ASEAN needs to finally let PNG join the ASEAN club? Potentially. And if PNG is actually serious about finally joining, then now is likely to be the best time to make the case for membership.
This article was first published at www.clc-asia.com where it is available for download in PDF format.