News
Newly confirmed cases
Total Cases
Death toll
Hospitalised/ intensive care patients

21,232

Domestic +21,064 Abroad+168

2,770,793 ( since January 2021)
                         39
173,605  
Total vaccination
1st dose vaccine recipients (28 Jan -22 Feb)
2nd dose vaccine recipients (28 Jan -22 Feb)
3rd dose vaccine recipients (28 Jan -22 Feb)
122,185,472 (+141,661)
53,221,513 (+57,958  yesterday)   76.5 %
49,539,848 (+42,977 yesterday)   71.2 %
19,424,111 (+168,538 yesterday)   27.9%
  Sources : Centre for COVID-19 Situation Administration (CCSA) and Department of Control 
Covid situation/ Change regulation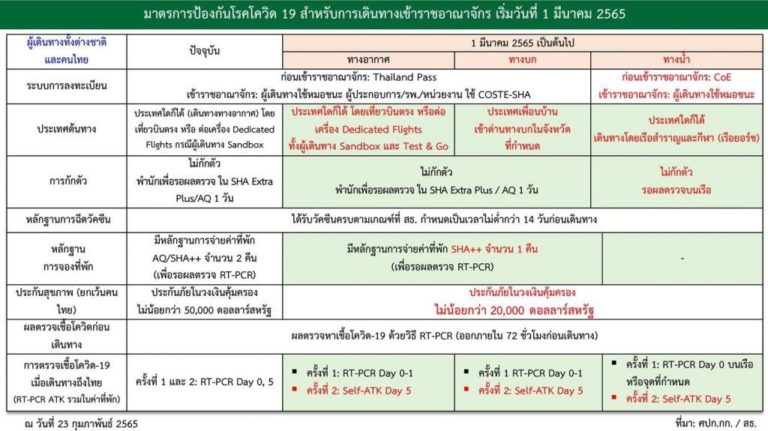 [LATEST UPDATE at 2.30 pm ] Starting Mar. 1, the second RT-PCR test will no longer be required for travellers arriving in Thailand, the CCSA announces today .Only  a self-ATK test will be required on the 5th day upon arriving instead. So they don't need to book an accommodation on this day ( 5th)  . Insurance coverage requirement will also be reduced from $50,000 to $20,000. Travelers will also be allowed to enter Thailand through dedicated land and sea checkpoints, but they must stay at an approved hotel or on vessel for one night while awaiting their RT-PCR results upon arrival KhaosodEnglish  ThaiEnquirer  
Politics
Organic laws on electoral system
Prime Minister Gen Prayut Chan-o-cha yesterday called for a meeting with core members of the coalition parties to seek their reassurance for votes in support of 2 organic laws on the election of MPs and the political parties.
It is said that Gen Prayut's move came following rumors that swirled that some groups of government MPs are planning to vote down 1 organic law.  
In addition, Bhumjai Thai MPs proposed to amend the organic law to restore the 1-ballot electoral system. However, it is said the party has not reached an unanimous agreement on the issue.
So far, Bhumjai Thai MPs were told to vote in support of the Palang Pracharat Party (PPRP)-version of the amendment draft in the 1st reading.
Other news
Thailand's pro-democracy movement raised more than 10 million baht (US$308,000) in less than five hours to help post bail for two prominent protest leaders ; Arnon Nampa and Parit "Penguin" Chiwarak  who have been jailed since last year through ' Ratsadon Presong fund ' . This fund  is a bank account that was set up by the pro-democracy movement to be used as funding to bail out protesters who have been arrested by the state. ThaiEnquirer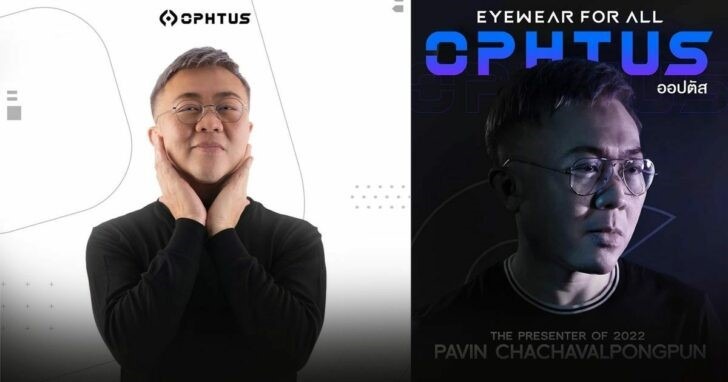 Pavin Chachavalpongpun, a well-known political critic of the Thai establishment becomes a new brand ambassador of a Thai gaming eyewear company named ' Optus' . He posted on his personal Facebook that having him as the brand ambassador for the products mainly target to young people has showed that the political landscape in Thailand has changed as democracy is marketable.   Pavin left Thailand not long after the military seized power in May 2014 fleeing lese-majeste charges.   Mathichon
Economic News
Cabinet's decisions, 22 February 2022 
Approved a draft ministerial announcement that reduces customs duty and excise tax for Completely-Built-Up (CBU) units of Battery Electric Vehicles (BEVs).  BEVs of varying retail prices (from 2 million – 7 million Baht) are entitled to lower import duty ranging from 60 to 40 percent.  
These tax incentives apply to 27 models of vehicles comprising 6 types of EV cars and pickup trucks; as well as 21 types of motorcycles and cars.  The 6 types of EV cars and pick-up trucks include plug-in pickups; EVs with 10 seats or less; eco-cars with 10 seats or less; plug-in 4-door passenger pickups; electric pickups and hydrogen fuel cell-powered trucks.
This is expected to cost the government 60 billion Baht in revenue.  The import of various components for the production of EVs and BEVs is also exempted from tariff, such as battery, traction motor and compressor. 
The package is launched to support Thailand's endeavour in reducing Co2 emission and to make Thailand the hub in EV and motorcycle in ASEAN.  Sources:  Prachachart Turakij Prachachart Turakij  Post Today Bangkok Post 
Approved of exempting personal income tax on 3 groups of Long Term Resident visa holders including, high income earners; retirees and those who want to work remotely from Thailand.  The exemption is because the income earned from their businesses and properties are generated from abroad.  For the fourth group of LTR visa holder, the highly-skilled professionals who will work in the target industries, they must pay personal income tax but at a lower rate of 17 percent.  NESDC expects the LTR visa to attract 1 million arrivals.  Sources:  Thai PBS Post Today  Thai PBS World
 Others
The escalating conflict between Russia and Ukraine is affecting global oil, gold, wheat and share prices.  With the US and EU set to sanction Russia, the Thai economy will be inadvertently affected.  This might lead to massive outflow of foreign fund, causing the Baht to depreciate.  Experts expect prices of meat and Ukrainian wheat, which is an important raw material for animal feed, to skyrocket and add to the already high inflation.  Thai Chamber of Commerce urge the government to continue capping diesel price to keep consumer prices low.   Business leaders and concerned, with Federation of Thai Industries raising the topic at the APEC Business Advisory meeting last week.  Sources:  Prachachart Turakij  Bangkok Post
Thailand Country Private Sector Diagnostic (CPSD), a joint report by the World Bank and International Finance Corporation (IFC), revealed that accelerating the adoption of digital and disruptive technology could bring in USD1.8 billion to Thailand annually.  The implementation of circular economy will also generate revenue worth 1.6 billion USD for the country by 2026, with major contributions from emerging sectors such as electronics, food and construction.  The report also recommends Thailand to address key investment and sector-specific constraints impacting the private sector.  Sources: Krungthep Turakij  Bangkok Post