News
Updates related to COVID-19:

Today, Thailand reports 10 newly confirmed cases, a total of 3,279 cases. Out of the total number, 3,107 have been discharged from hospital; 114 are being hospitalised (at 96.75%). The death toll is at 58. The newly confirmed case Thai nationals returned from Sudan, Pakistan, Germany, the Netherlands and the US (6, all of which are Thai military who returned from the military exercise in Hawi"i), and have been in state quarantine since. This is the 60th consecutive day that there is no local transmission in Thailand.
Mr Suwannachai, director-general of the Disease Control Department has affirmed that Thailand will be able to handle and curb a second wave of Covid-19 as lessons have been learned from the first outbreak.—Bangkok Post

Thai media quoted CNN saying that the Criminal charges in Thailand have been dropped against the heir to the Red Bull energy drink fortune who was accused in a 2012 hit-and-run that killed a police officer. Deputy head of Thonglor police station told Reuters that arrest warrant has also been withdrawn.—all media outlet

The Police spokesperson has made a news conference confirms the media report and will inform the International Police to revoke the arrest warrant and the heir to the top 5 richest person in the country can return to Thailand. The Police said they follow the recommendation made by the Office of Public Prosecution.

Students from Faculty of Political Science, Chulalongkorn University are campaigning to sign a petition to oust Associate Prof Panitarn from being lecturer at the faculty. The student club cited conflict of interest, power harassment, lack of punctuality, and the grading style is not compatible with the 21st Century learning style.–Prachatai
Politics
The Army Chief has returned to the news bulletin as he has invited Mr Satish Sehgal, a key person of the now defunct People's Democratic Reform Committee to the army headquarter to discuss on some protestors' comments regarding the monarchy. The Army Chief will hold a press conference after the discussion.
The possibility of local election is looming large as the permanent-secretary of Interior Minister has issued an order asking local authorities to prepare the budget allocated for local elections. The order said that with suggestion from the Election Commission, local election can be held as soon as the cabinet approved so.—Manager Online
The issue of cabinet reshuffle is still on agenda:

Yesterday, the MPs of Action Coalition for Thailand Party handed over the CVs of Prof. Anek Laothamatas to be vetted for portfolio. The MPs and children of the academia said that it is up to the PM to decide which position their father will be working on, the party has no preference.—all media outlet
A report said that despite early speculations Mr Palin will be the nominated for Energy Minister, he has not agreed to the offer and may not join the cabinet. This allows the government spokesperson Prof. Narumon to be back on a race and will be nominated for the newly assigned Deputy Labour Minister.—Krungthep Turakij
PTT Global Chemical has announced that Mr. Supattanapong Punmeechaow has resigned from the company's Board of Directors, effective from 23 July. Earlier reports expect that he will be nominated for Energy Minister.—Krungthep Turakij
The cabinet's line-up, according to the Krungthep Turakij is as followed: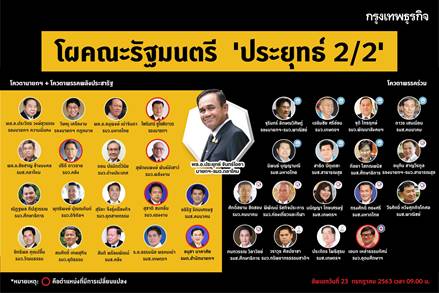 Deputy national police chief Pol Gen Wirachai Songmetta who was transferred to an inactive post at the Government House in January as he generated a negative image of the Royal Thai Police has returned to the post by an order penned by the PM. The deputy police chief is reported to be too "proactive" in probing into the case of shots fired at Pol Lt Gen Surachate Hakparn. Media expects that should the Pol Gen Wirachai returned and to become the prominent candidate for the Police Chief this October; moreover, that would mean Pol Lt Gen Surachate who is very close to Deputy PM Prawit might be able to return to the his police post.—Inside Thailand
Today, there will more flash mobs in provinces, including in Bangkok's Triam Udom high school and Kasetsart University's Bang Khen campus. A student movement mobilised in front of the Government House this morning, burning the PM and Deputy PM Prawit's portraits.
Business:
Trade Data and FTA
Thailand's June 2020 export dropped by 23.2 percent (USD 16.4 billion) and import by 18.1 percent (USD 14.8 billion), leaving a trade surplus of USD 1.6 billion. Performing well were exports of food products, ie: canned and frozen seafood, fruits and vegetables. Major industrial products also saw expansion, such as semi-conductor devices, transistors, computer and parts as well as PPE items such as rubber products. However, these increases are bogged down by a drastic drop in the export of rubber and sugar (over -50 percent decline) due to the drought. Export of automobile, jewellery (excluding gold) and oil continues to drop, corresponding with the global economic slump. Export to China continued to increase for the third consecutive months, followed by the US, Europe and UAE.
For the first half of 2020, Thai export decreased by- 7.1 percent (USD 114.3 billion), and import contracted by -12.6 percent (USD 103.6 billion) with a trade surplus of USD 10.7 billion. Source: Commerce Ministry Press Release June 2020 Trade Data
In the first 5 months of this year, Thailand's export of agricultural and processed agricultural products to 18 FTA partner countries, including Australia, expanded by 2.26 percent, valued at 11.3 billion USD. This accounts for two-third of Thailand's total agricultural export and has cemented Thailand's position as the world's 9th agricultural exporter, advancing from the its 11th ranking in 2019. The most notable expansion in agricultural export was to Hong Kong (20 percent) and China (16 percent). Commerce Ministry attributes the export expansion to the preferential tariff offered by FTAs, which have helped Thai products remain competitive in the wake of the pandemic.
Overall, Thailand's top agricultural and processed agricultural product exports to the global markets are fresh pork which saw a 693 percent increase, followed by fresh Durian (66.5 percent expansion), fresh fish (29 percent) and fresh chicken 27.9 percent. Source: Matichon Weekly
Others
A UBS Group report suggested that Thailand and Taiwan could be added to the US watch list for currency manipulation after meeting all the criteria set out by the Treasury Department. The Bank of Thailand dismissed the claim, saying that it has to manage foreign exchange rate when offshore flows immediately move into Thailand's financial market and not to distort the Baht's value to gain trade advantage. Source: Bangkok Post
Government Savings Bank has extended its debt moratorium period for customers affected by the pandemic for another 3 months, from September to December 2020. The bank's debt moratorium covers 3.1 million customers, equivalent to 1.14 trillion baht worth of loans due this September. Source: Bangkok Post
Federation Thai Industries expects that the pandemic could leave up to 8 million people unemployed by year-end since unemployment in the first six months already stands at 3.3 million people. FTI calls for the government to launch new assistance measures for the unemployed.
FTI also revealed that the Thailand Industrial Sentiment Index in June rose to 80 from 78.4 points in May due to the easing of the lockdown. However, SMEs remain fragile as they face liquidity issues, higher operating costs and lack of access to finance. Source: Bangkok Post Krungthep Turakij Thansettakij The Nation
Thailand's total car production in the first half of 2020 fell by 43.1 percent YoY to 606,132 units, largely due to the lockdown measures, the closure of factories and weak purchasing power. Car production for domestic sale in the same period fell 48.9 percent (259,754 units), while manufacture for export fell 37.8 percent (346,378 units). Car sales have declined accordingly, but in June it reported an increase of 43.5 percent compared to May, reflecting signs of recovery. Source: Bangkok Post
Thailand's major companies such as Central Pattana, Italian-Thai Development and Minor International are socking cash away instead of paying big dividends to shareholders in the first half of 2020, as they brace for more financial turbulence from the pandemic. Thailand's central bank has advised commercial banks to withhold interim dividends and suspend stock buybacks to preserve their capital. Nonetheless, retail investors are undeterred and are actively hunting for stocks that were depressed by the pandemic. Since the beginning of the year, more than 100,000 new retail trading accounts have registered with the Thai stock market. Source: Asia Nikkei
In reviewing his 1-year performance, Commerce Minister Jurin revealed that Commerce Ministry has driven 16 projects. His top priorities are price guarantee for farmers, export stimulus, cost-of-living supervision and trade talks, including concluding RCEP. He noted that a joint public and private sector consultative committee on commerce was established for the first time to drive exports and promote cooperation between state officials and the private sector to tackle trade-related obstacles. Source: Bangkok Post
Despite the pandemic, international film crews will visit Thailand and are anticipated to bring in 1.7 billion Baht. Tourism and Sports Ministry expects the arrival of film crews and three other groups (medical tourists, Thailand Elite card members and exhibitors) in August to be a test run for the country before leisure tourists are welcomed back in September. Source: Bangkok Post
Opinion
An opinion on the younger generation flashmobs, as "tensions mount, Thailand will either find a new constitutional balance that subsumes the military, monarchy and judiciary within it or end up with longer-term authoritarian rule and economic stagnation. Listening to these young voices and making concessions and compromises with them is better than putting everything on the line with a winner-takes-all response."—Bangkok Post
An interview with the former student activist Sirawith "Ja New" Seritiwat. He commented on the latest wave of flash mobs and recommended the organisers to see the big picture and keep hold of the shared mission.–Prachatai