Bangkok, 13 February 2023 – Data from property consulting firm JLL reveals that Thailand saw 14 investment-grade hotel transactions totaling THB11 billion in 2022, dropping from THB12.3 billion in 2021 due largely to a slippage of some transactions that did not close before the end of 2022. However, with continued investor interest and availability of investment-grade assets, JLL expects hotel investment activity in Thailand to grow to THB12 billion this year.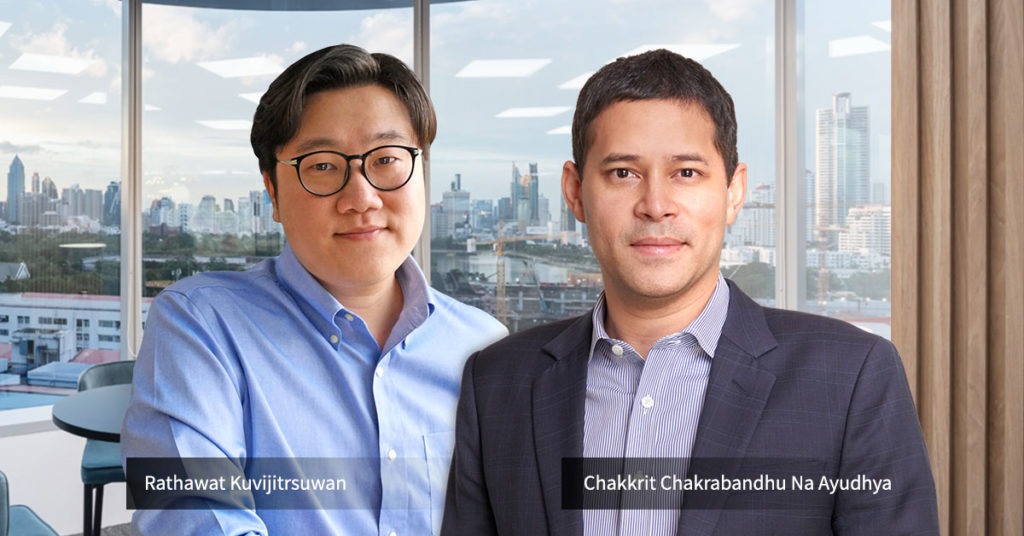 Chakkrit Chakrabandhu Na Ayudhya, Executive Vice President, Investment Sales, Asia Pacific, JLL Hotels & Hospitality Group, said "The total hotel investment volume in 2022 could have made a new high post-COVID, if a number of transactions with exchanged contracts had not seen a delay in completion. With combined value of approximately THB4 billion, these deferred transactions have been rescheduled for completion in the first half of 2023."
"Despite a 10.6% decline, 2022 represents another strong year in terms of hotel investment activity post-COVID, with the total transaction volume seeing a nearly fivefold increase from just THB1.9 billion in 2020 when Thailand's tourism market started feeling a severe impact of the pandemic," he added.
The hotel transactions in 2022 spread across Bangkok, Phuket, Koh Samui, Koh Pha Ngan, Krabi, Hua Hin, and Chiang Mai, according to JLL. Bangkok, Phuket and Koh Samui remained the top three hotel investment destinations accounting for nearly 70% of the countrywide total transaction volume recorded last year. Bangkok led the pack, witnessing two notable hotels sold with a combined transaction value that accounted for nearly 40% of the total volume. These include Oakwood Studios Sukhumvit Bangkok and Grand Mercure Bangkok Windsor that were sold to Singapore-based Worldwide Hotels Pte Ltd (WWH) and a leading Thai real estate group, Asset World Corporation (AWC), respectively. JLL represented the sellers on both transactions.
"While all of the hotels sold in 2022 belonged to Thai corporations or families, 80% of the investment capital was from domestic investors. This marks a major shift from 2021 when foreign capital accounted for 60% of the total hotel investment volume in Thailand," commented Chakkrit.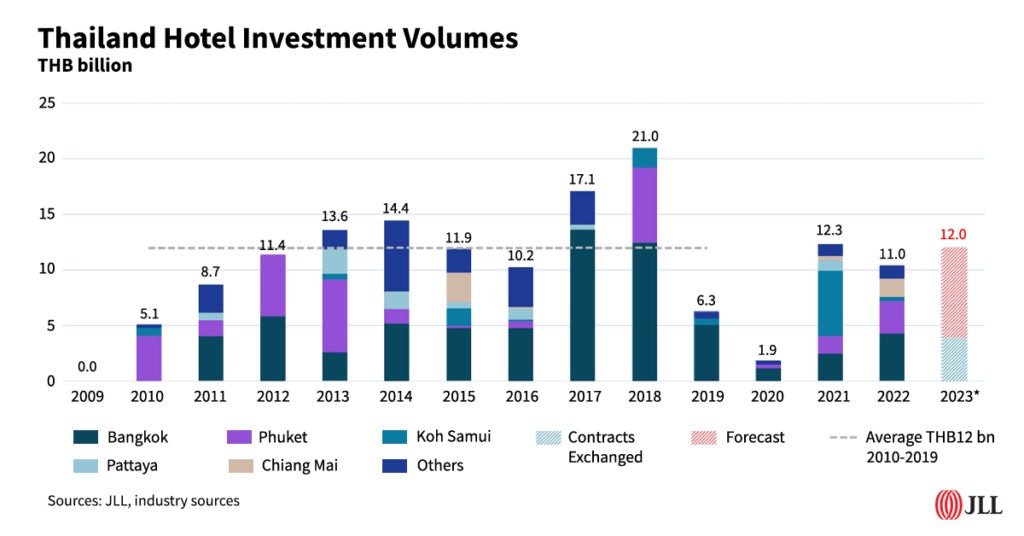 AWC was the most active buyer in Thailand's hotel investment market last year, according to JLL. Apart from Grand Mercure Bangkok Windsor, the group also acquired Westin Siray Bay in Phuket for approximately THB2.5 billion and dusitD2 Chiang Mai. The latter has exchanged contracts in 2021 but it was not until last year when the transaction was complete.
"Looking ahead, we expect 2023 to be a bullish year for hotel investment activities in Thailand. Continued investor interest and a strong pipeline of ongoing hotel investment deals are likely to push hotel investment volume this year to THB12 billion, the pre-COVID annual average volume witnessed between 2010 and 2019," said Chakkrit.
Supporting Chakkrit's forecast, Rathawat Kuvijitrsuwan, Senior Vice President of Advisory & Asset Management, JLL Hotels & Hospitality Group, said "There are a number of factors that will drive investment activity in Thailand's hotel market this year. Many owners have struggled hard to hold their hotel assets over the past 3-4 years. Whilst some of these owners are experiencing more challenges including lenders' less compromising credit terms and interest rate hikes, the clear path to full recovery of Thailand's tourism, supported by the reopening of China, is giving them a confidence that they are now in a better position to dispose of their hotels."
"On the demand side, we have continued to see strong interest from both local and foreign investors in investment-grade hotels in Thailand. Findings from JLL's Investors' Sentiment Survey 2H2022 show that Thailand ranked the third most attractive hotel investment destination in Asia Pacific, after Japan and Australia/New Zealand," said Rathawat.
About JLL
JLL (NYSE: JLL) is a leading professional services firm that specializes in real estate and investment management. JLL shapes the future of real estate for a better world by using the most advanced technology to create rewarding opportunities, amazing spaces and sustainable real estate solutions for our clients, our people and our communities. JLL is a Fortune 500 company with annual revenue of $19.4 billion, operations in over 80 countries and a global workforce of more than 102,000 as of September 30, 2022. JLL is the brand name, and a registered trademark, of Jones Lang LaSalle Incorporated. For further information, visit jll.co.th