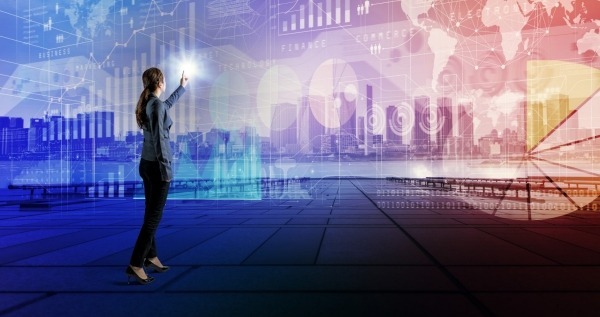 How Leaders Can Be Effective in Meeting the Challenges and Demands of Today and Tomorrow by Isabel Valle
Over the last year, there has been a noticeable change in the need for coaching I do with leaders worldwide. What used to be mainly focused around leadership development in terms of confidence and effectiveness, has now become a much bigger conversation, in helping leaders path new ways amid uncharted territories. Our coaching sessions are now mainly focused on discovering what they need to feel comfortable in the space they are living in right now, whilst helping them navigate the uncertainty of the changing horizon.
In coaching, one of the most critical aspects relating to the success of the engagement is closely related to the precise picture the leader has of the desired outcome, or at least a clear direction of where the conversation is heading to ensure progress is made in the end, and the desired results are achieved. Today however, the ongoing daily adjustments and erratic predictions about the future make it challenging to see through the fog. Under our current circumstances, being able to define a compelling vision or direction with undue uncertainty seems illogical and misguided. Leaders views are further blurred by their anxiety and fatigue.
As much as I want to support leaders to make them feel more engaged to handle their challenges and take positive steps forward, I am aware that pushing them too hard could cause more harm than good.
One of the best ways I found to encourage others to be resilient and stay engaged is to help them determine what they need right now. Do they want you to help them see what possibilities they may pursue in the future, or do they need peace of mind with not knowing how the future will unfold? Listening with no attachment to the outcome allows us to hear what they need from me. And only then there will be an opening to explore what steps could lead to change.
One of the Most Critical Leadership Competencies in Today's World: Strategic Foresight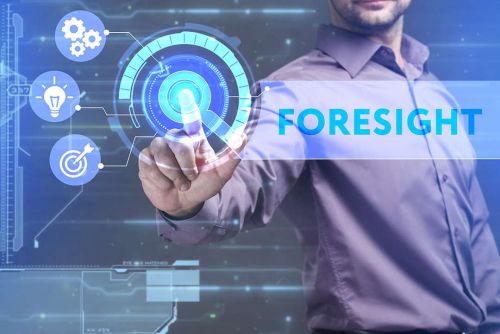 One of the areas most visited with my clients since the onset of the pandemic has been that of strategic foresight. With so much uncertainty and volatility around, adopting this ability is now more critical than ever before.
As a leader, how do you think about the future when things are uncertain? How do you set direction when we ourselves are unclear? We can't just make things up. So, what to do?
What you need is strategic foresight. The aim is to imagine multiple possible futures in creative ways that heighten your ability to sense, shape and adapt to what happens in the years ahead. In other words, it helps us how to think about the future.
Developing the skill of foresight enables organizations to build a view of the future to drive breakthrough innovation, in the presence of ambiguity. It allows leaders to anticipate changes and minimize surprises, aligning the right mindset with methodologies that actively seek new business opportunities.
Looking ahead in a strategic way offers many tangible and intangible benefits to long-term efforts. From guiding the ongoing development of innovation platforms to meeting the market as it evolves at the right time with the right product, to being able to identify markets that do not yet exist, overall improving the odds of long-term success.
Strategic foresight, while unable to predict the future, enables higher incremental moves, by providing an ongoing way for companies to act in uncertainty, and safely taking greater risks over time through innovation, despite risk and uncertainty.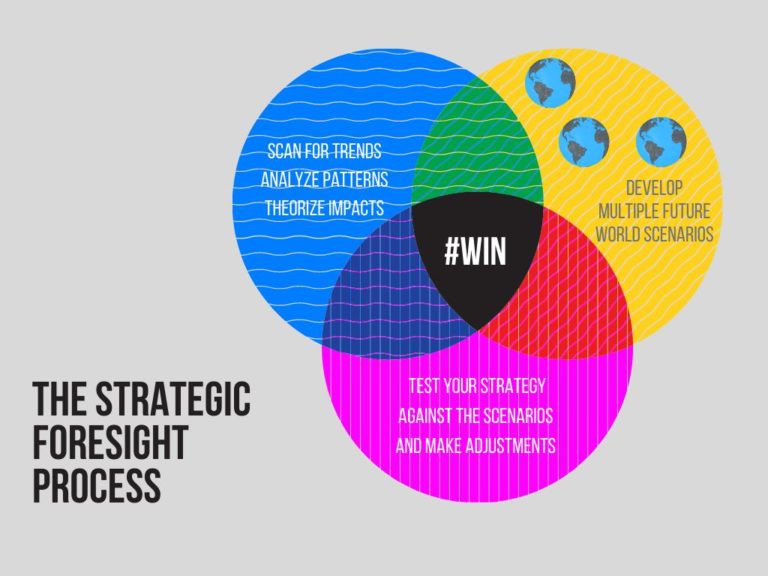 It is important to emphasize the fact that foresight does not predict the future. It is a methodology that allows us to weigh up pros and cons, to evaluate different courses of action and to invest into possible futures.
What makes this competency so critical at a time like this, is that it encompasses broadening our perceptions of what future possibilities may unfold, so we are able to consider various situations beyond our normal line of sight. Simply put, without foresight, we are blindly steering into the future, unable to visualize the total picture and the possible consequences of our actions – or lack of.

A great way to start developing this skill is to engage in dialogue with people that have vision and are open to possibilities, whether in your company, your industry, or any other fields. Explore and discover what potential futures could look like, and what those may mean for you. After that, follow the process below to help you extract the right strategies for your company and your team: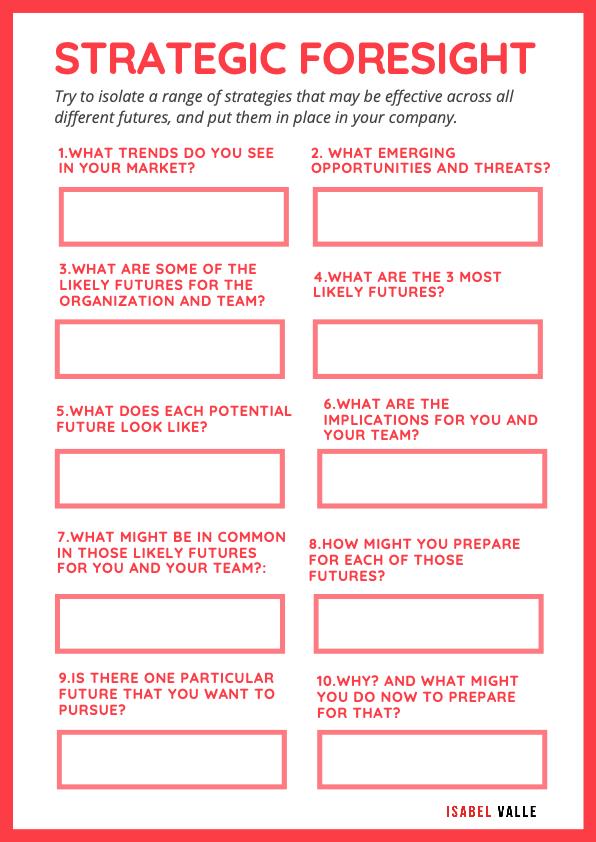 Even without clear direction, you are going to have to manage through uncertainty by mastering environmental complexities and moving forward with confidence and determination.
Having coached hundreds of leaders worldwide, I can say confidently that there are more people focused on producing short-term results than visionary strategists. Many companies do well today, what they really need is the capacity to understand what they need to do well tomorrow, and that's what I find missing the most in organizations all over.
In the absence of being able to anticipate what the future may unfold, leaders may find themselves unprepared to deal with the future they've led their organizations toward.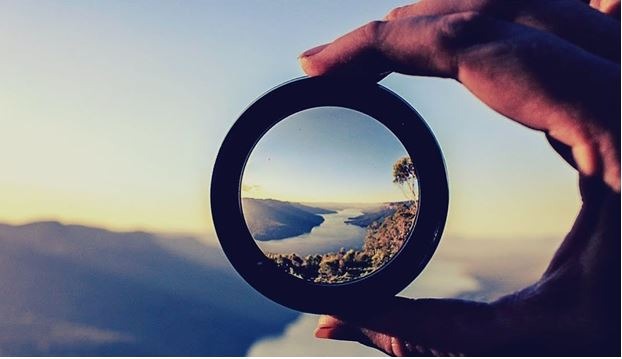 There are many well-functioning leadership teams well versed in strategic planning. But too little time is spent making pre-active plans for large scale, large impact, and far distant events (pandemics, terror attacks, climate change impacts, market failure, etc).
Good scenario plans can reveal the actions required to get into a position to avoid unnecessary wounds. Instead, you will experience positive stories of preparedness, graceful adaptation and perhaps even prosperity in the face of adverse conditions.
Foresight is more than just a process: it is a mindset. A mindset that realizes that the future can be different than the present or the past, but also recognizes that leaders who leverage foresight take seriously the past and the present in order to inform the future. 
As uncertain as it may seem, the future is not inevitable. You can and must shape it yourself. Don't wait for it to happen to you. Don't become a victim of change. The future is yours to shape.
With social and economic disruption now the order of the day, it is time for leaders to look within and ask: Are we really living up to the title of leader? Are we leading towards a successful future, or just caught up reacting to today's complex environment? And have we fully considered ALL options for crafting our best innovative strategies to see us thrive into the future?
If you're interested in continuing the conversation to help you reflect and clarify during the current unprecedented times, please reach out to me directly at contact@isabelvalle.com
Stay safe and let's keep taking care of each other.