Employers around the world have used the Predictive Index cloud software to create over 20,000 Job Targets for the human resources manager role alone.
When we look at those Job Targets, we see that a few Reference Profiles show up time and again. These three most successful HR profiles are outgoing and well-liked, they have influence and are enthusiastic in their communications.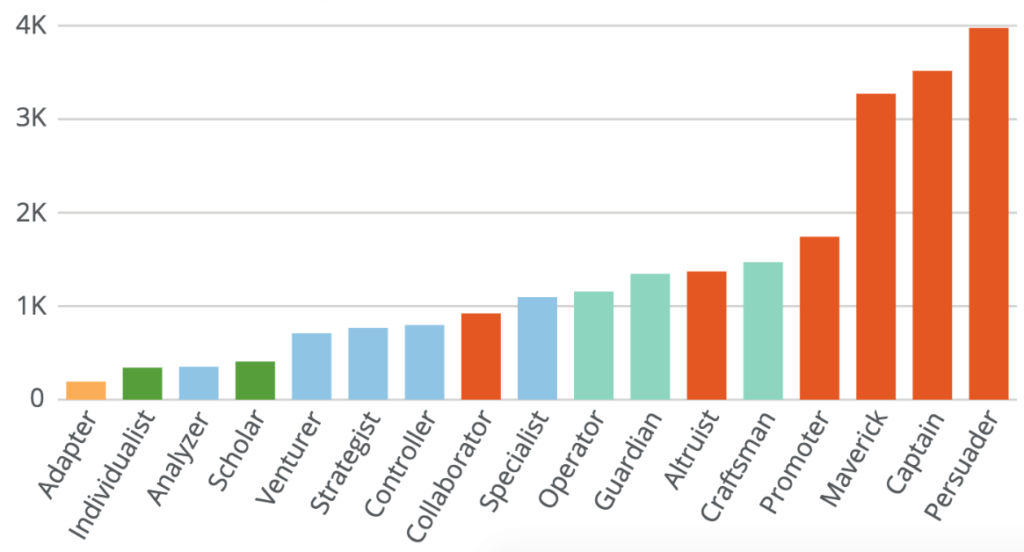 Persuader profile
Sociable, empathetic, and confident in their decision-making, Persuaders are a natural fit for a human resources manager role. Persuaders are naturally suited to drive change and motivate others. This, coupled with a results-oriented nature, allows them to successfully innovate and implement strategic initiatives.
Captain profile
Captains thrive on connection with others and the ability to make a difference. Human resources managers are positioned to make a significant impact on the company's success and culture, making the role a perfect fit for a Captain's personality. This Reference Profile loves challenges and has a natural ability to lead,
Maverick profile
Mavericks are big-picture thinkers who work through people to achieve objectives. Outgoing and inspirational, they excel at educating and rallying a crowd. Driven by goals and vision, Mavericks are skilled at identifying opportunities for growth within the organization and putting the measures in place to reach those goals through appointing and mobilizing the right people.
1. If 20,000+ companies agree, why not use this knowledge?
If more than 20,000 companies, from all over the world and in different industries, agree on what is the most wanted HR Manager profile, would it not be nice and incredibly relevant to access your HR candidates against these profiles?
I mean, if thousands of company leaders seek these HR Manager profiles, would it be fair to suggest that your company should learn from this Artificial Intelligence?
Erin Balsa, Content Marketing Manager at The Predictive Index, writes in her article on this subject that a good HR Manager is strategic, a superb communicator, a proficient problem solver, an expert in the company's industry, and a strong leader.
With a list of attributes like that, finding a qualified candidate isn't easy. This is why hiring managers often choose candidates based on their qualifications and gut feeling.
But while trusting your gut might seem like a decent way to make a hiring decision when you have several candidates who seem to be well-qualified, this is a risky strategy and quite frankly totally unnecessary.
Don't leave hiring to a gut feeling!
Your gut is not reliable for hiring: As experienced communicators, human resources manager applicants are skilled at navigating difficult conversations and making all parties feel good about the outcome.
But the ability to navigate these conversations in an interview is not an indicator that they'll excel at the other aspects of the job, such as managing a team and helping to make strategic business decisions.
2.Put the focus on behavioral traits
Examining a candidate's behavioral drives and traits will ultimately help you to determine whether or not they are a good fit for the job at hand. That's because while skills and experience can be gained, behaviors and traits tend to stay mostly the same over the course of a career.
Human resources managers are commonly:
• Extroverted
• Persuasive
• Driven
• Task-oriented
• Innovative
• Influential
3.Use science and smart hiring practices
The PI Behavioral Assessment™ identifies candidates' natural behavioral drives. After someone takes the assessment, PI assigns them one of 17 Reference Profiles.These show what drives the person's workplace behaviors and help ensure job fit.
The PI Cognitive Assessment™ measures a person's ability to learn new things. If someone's cognitive score doesn't fall within the range you set in your Job Target, they'll likely struggle to succeed. And when someone isn't successful in a role, they disengage and can even become toxic.
4.About The Predictive Index™
The Predictive Index offers talent optimization software, workshops, and expert consulting.
The Psychometric and Cognitive Assessment tools from PI come from The Predictive Index® that was founded more than 60 years ago in Boston, USA. The PI head office is still located there.
Some 8,000+ organizations have used The Predictive Index® in nearly every job and industry around the world.
With more than 25 million people assessed since the launch, a validity vault of 350+ studies, and EEOC adherence, PI® assessments add scientifically validated objectivity to your subjective judgement.
Tom Sorensen is an Associate Partner of Humanostics, a PI Certified Partner
authorised to use the science and assessment software of The Predictive Index®.