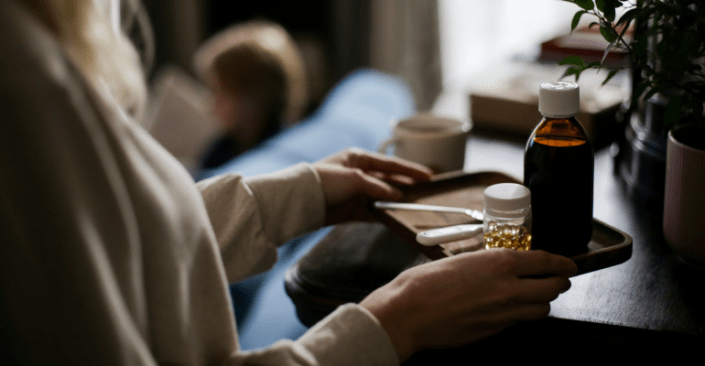 The impact of COVID-19 on Asia's immune health industry, and ways to boost the immune system the natural way.
The dynamics of the business environment since the pandemic has shifted drastically and so in the immune health category. There has been an increasingly positive shift in mindset, where more people are placing importance on their health, immunity, and conscious lifestyle change. Globally and within Asia, it has been perceived as favourable for the health and immunity areas as this has led to the increased growth in the commercial sector and in investment opportunities.
Asia's health and wellness landscape, in countries such as Singapore, Thailand, Malaysia and Vietnam, consumers in general are more aware about immune health due to more readily available options and the access to resources for healthcare and wellness. There is still untapped potential, and room for growth in Asia as greater education and awareness can be brought to prevention and preventative health platforms.
In Singapore for example, where medical healthcare and treatments are top notch in terms of law and regulation, there is still progress that can be looked at in the arena of preventive health treatments. In developing countries such as Laos, Myanmar and Cambodia, there is still a need to improve wellness and healthcare facilities, in order to drive greater awareness of the different types of immunity care and treatments available.
As this takes time and continued learning from consumers as well as the industry, the way forward would be for the immune health category to encourage the setting up of immune clinics—making prices and locations of preventive health products and treatments more accessible. Beyond that, we have to look at immune health as an overall lifestyle commitment. This lifestyle change requires not only consumers but also organisations to think out the box—rethinking models where such immune and preventative health facilities can be integrated into spaces like retail and commercial properties, hotels and resorts.
But what is immune health? Immunity is still the primary foundation of what makes us stay healthy prevents us from falling sick. Today, the general population is concerned about when they will receive the COVID-19 vaccine, and taking measures such as wearing a mask and washing hands, but there are issues beyond that. Although the former mentioned is important, in my opinion, when we look at preventative health, we need to consider habits of daily life. As prevention is always better than cure, immune health identifies solutions such as natural herb supplements (traditional and complementary supplements like curcumin), hormone replacement, Th cells (CD4+ cells) play an important role in immunity, gut health and Interleukin-6 levels, which help to regulate immune responses. There are various ways to boost immunity through means of supplementation, diet and nutrition and intravenous therapy, to name a few.
Today, these solutions are not only available in hospitals or traditional healthcare systems but are increasingly be found in lifestyle community developments, retail spaces, and malls as it becomes more of a norm, especially amongst developed countries. The hospitality industry is also shifting to this paradigm. Hotels and resorts are increasing value for guests through improved fitness, food, spa and wellness programs that integrate treatments and offerings that enhance immunity and health.
AJT has more than 180 medical protocols under its belt, and vitamins that lead medical director, Dr. Mark L. Gordon, recommends to boost immune system in the fight against COVID-19 specifically are quercetin, zinc, vitamin D3, vitamin C, colloidal minerals and DHEA. Such solutions fall under functional medicine, which is a huge trend assessing an individual's amino acids, vitamin and mineral levels—essential in an age where the average individual does not receive sufficient amounts due to environment and food quality.
On a personal level, using food as medicine resonates with me as there is growing data that supports a diet high in bioactive compounds from herbs and spices having the ability to reduce the risk of chronic diseases, including cancer, inflammatory diseases, and diabetes. Several studies demonstrate therapeutic, anti-inflammatory and anti-bacterial effects of phytochemicals from herbs and spices such as turmeric, ginger, lemongrass, chilies, and cinnamon.
In order for the immune health category in Asia to elevate its importance and credibility, there has to be continued education coming from industry players such as biotech, nutraceutical and pharmaceutical companies, as well as doctors, therapists and physicians. Simple tests such as checking patients' nitric levels and blood work will go a long way in educating people about their body, including where deficits may lie. With many differing understandings of what health and immunity is, the industry needs to come together to create one or two standardised models that industry stakeholders, practitioners and consumers can adopt. Ideally, we need the World Health Organization, government bodies and industry associations to set unbiased guidelines for the public to have a better understanding of immune health and put resources in place that offer practical daily solutions; impartial education is vital to deliver accurate content including cutting edge research and the latest trends within the health, wellness and nutrition space to consumers.
Commercial prospects in the immune health category within this region are immense as the global health emergency highlights the need for health-related quality of life improvements, especially in preventive practices. Especially in Thailand, as the country has always been geared towards healthcare, in addition to people being more conscious about their health, the Tourism Authority of Thailand also aims to utilise the country's advantage in standardising the public health system and technology. This is a great step forward as preventative health should not be a luxury, but more accessible to everyone.
SOURCE: Vitafoods Insights