As part of its efforts to revamp its promotion policies for digital businesses, Thailand's Board of Investment (BOI) announced on 16 September 2021 that it will cancel individual promotional categories for software development, e-commerce, and digital services to combine them under Category 5.10. According to the BOI, these changes are aimed towards a greater focus on improving technical knowledge and skillsets among Thai IT specialists by ensuring they are able to adapt and work according to international best practices.
According to the Announcement of the Board of Investment No. Sor. 4/2564, promoted businesses under the new promotional category will be eligible for activity-based incentive level A2. This level provides benefits such as an eight-year corporate income tax exemption (with cap), as well as those for import duties on raw materials used for producing goods for exports, on top of other non-tax incentives.
In order to qualify for the new promotional Category 5.10, applicants must meet the following requirements and conditions: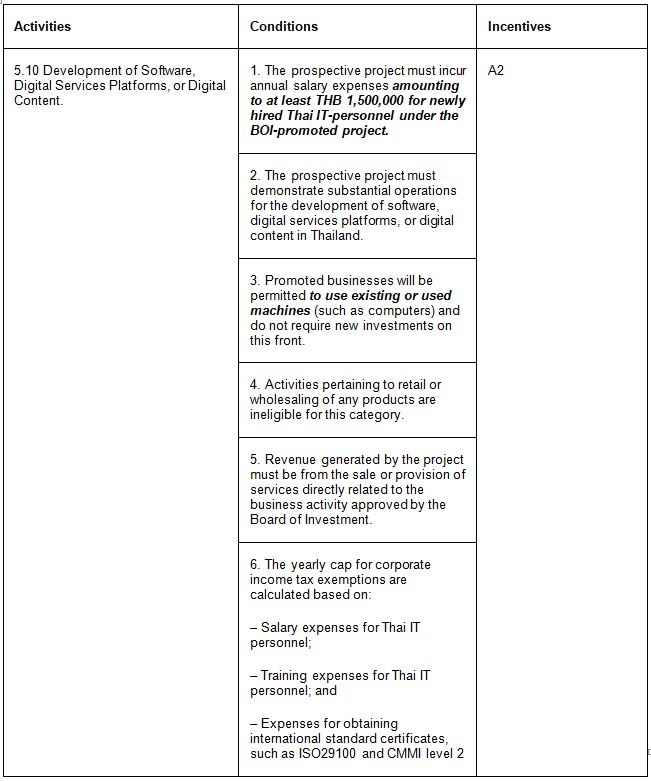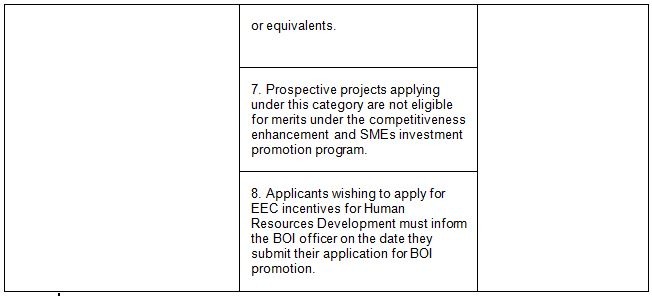 What differences does this latest announcement entail?
Prior to these changes, activities related to providing or creating digital services and platforms were eligible for different incentive categories depending on the nature of the promoted business's activity. These included activity-based incentive levels B2, A3, and A1 which are applicable to the e-commerce, digital services, and embedded software categories, respectively. Following the recent announcement, all promoted businesses pertaining to activities related to the development of software, digital platforms, or digital content will be placed under activity Category 5.10. Activities under this category are eligible for A2 incentives, regardless of whether they relate to e-commerce, digital services, or embedded software.
In addition, the recent announcement states that applicants under Category 5.10 will be required to incur salary expenses of at least THB 1.5 million specifically for newly hired Thai IT personnel. This contrasts the more liberal requirement under the now-defunct Category 5.7 for Software Development which gave applicants the liberty of hiring either Thai or foreign IT personnel, as long as the total salary expenses amount to THB 1.5 million. This essentially restricts the investor's desired investment activities compared to what was available to them previously. However, the BOI stated in its announcement the previous restriction of requiring approval from relevant departments prior to applying for BOI promotion is no longer required.
Moreover, the recent announcement also allows projects under the e-commerce category to be eligible for merit-based incentives, which was not the case prior to the amendments.
For further information about the new BOI promotional category, and to determine whether your business is eligible for the incentives under this category, please contact us at info@silklegal.com or using the contact form provided.