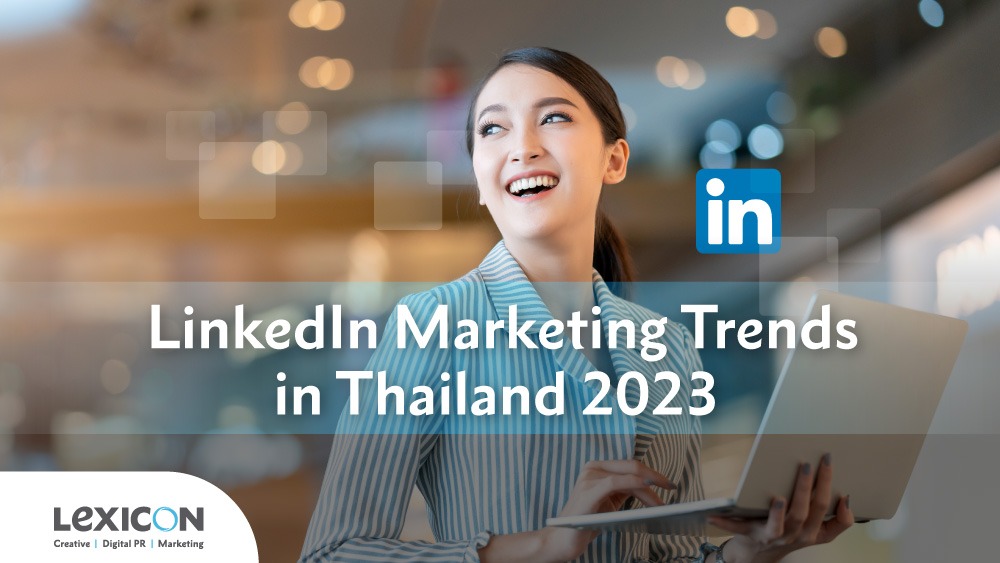 LinkedIn Business Pages
LinkedIn's business pages offer a range of powerful B2B marketing opportunities. Whether you're looking to establish thought leadership, promote sustainability initiatives, attract top talent, or strengthen your internal brand, LinkedIn provides unparalleled reach to B2B audiences.
Despite having a smaller user base in Thailand, with 3.6 million active users in 2022, LinkedIn's strength lies in the quality of its audience. These users are often decision-makers within their organisations, making them an ideal target for most B2B businesses.
Unlike Facebook/Meta, LinkedIn offers precise targeting options for B2B advertising. You can filter ads based on company, industry, job title, location, company size, and other meaningful B2B indicators.
While LinkedIn advertising may be relatively expensive, well-defined and ROI-driven acquisition campaigns can yield significant returns. However, for brand awareness campaigns, there are more cost-effective approaches available.
A recent addition to the platform is the ability to invite up to 250 of your connections to follow your organisation's business page each month. This feature presents a valuable opportunity for companies with long-term growth strategies, as it can result in 3,000 new followers annually, free of charge.
To succeed on LinkedIn, it is essential to have a predictable content calendar, a clear strategy with defined objectives and KPIs, and a deep understanding of your audience's questions and interests.
Given that thought leadership plays a central role on LinkedIn, encompassing white papers, blogs, and increasingly, podcast production, it is essential to repurpose this long-form content into smaller pieces so you can tell a cohesive story from multiple angles.
In summary, here are a few off-the-shelf tactics you can start implementing today to achieve success on LinkedIn:
Post thought leadership content: Share informative and valuable content that resonates with your audience, encouraging engagement and sharing.
Use eye-catching visuals: Incorporate images, videos, and infographics to make your posts visually appealing and attention-grabbing.
Post at the right time: Timing is crucial on LinkedIn. Identify the most active periods for your audience and schedule your content accordingly. Generally, posting during work hours, such as 9 a.m., tends to yield positive results.
Engage with your audience: Respond to comments, messages, and feedback, actively participating in conversations to show your audience that their input is valued.
Use hashtags: Include relevant hashtags in your posts to increase visibility and reach a broader audience.
Share authentic experiences: Showcase real people, including customers and staff, to build a sense of community and encourage engagement.
Optimise your profile: Ensure your LinkedIn business page is fully optimised with a clear description, relevant keywords, and professional profile and banner images.
LinkedIn Personal Accounts
While LinkedIn business accounts have their merits, personal accounts hold the key to unlocking true success on the platform.
Individual LinkedIn accounts offer greater reach and engagement potential due to their ability to foster personal and authentic connections with other users. Furthermore, LinkedIn's algorithm prioritises content from individuals over company pages, meaning personal account content is more likely to appear in the news feeds of connections and generate higher visibility.
To leverage the power of individual accounts, it's crucial to grow your relevant connections. Personal accounts allow direct connections with your target audience, filtering them by job title, industry, and location. This approach has gained traction among business leaders, with 80% of marketing executives actively developing their personal brands around this function.
The data supporting the use of personal accounts is compelling. Studies show that thought leadership content provides proof of an organisation's understanding and ability to solve specific business challenges, as acknowledged by 64% of B2B decision leaders. Additionally, 76.9% of B2B marketers believe that an executive's social media presence contributes to organisational sales growth.
What's more, personal LinkedIn accounts offer a more diverse content strategy, allowing individuals to share not only business-related thought leadership but also personal insights, industry news, and other interests. Moreover, a well-rounded profile attracts engagement from a wider range of LinkedIn users.
Video content holds increasing importance on LinkedIn, with videos being shared 20 times more frequently than other content formats. It has also been revealed that brands that publish video content generate revenue 49% faster than those that don't. If you need help, we know a good video production company.
In conclusion, personal LinkedIn accounts enable personalised and authentic engagement, resulting in increased visibility, stronger relationships, and more diversified content strategies. This is why personal accounts surpass business accounts in terms of reach and engagement on LinkedIn.
Stay tuned for our next instalment, where we'll delve into key social media platforms to watch. If you're eager to explore further, you can download the complete 4,500-word white paper by entering your email address below.