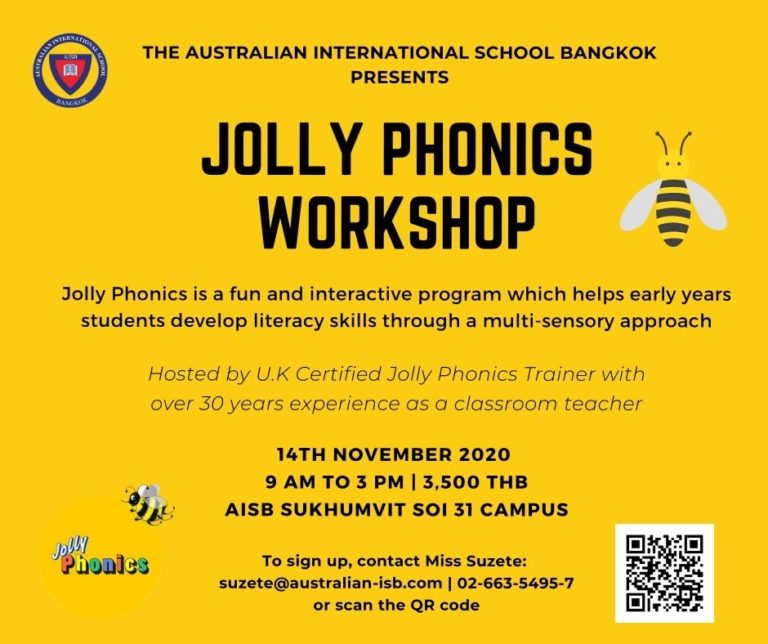 𝐉𝐎𝐋𝐋𝐘 𝐏𝐇𝐎𝐍𝐈𝐂𝐒 𝐖𝐎𝐑𝐊𝐒𝐇𝐎𝐏
The Australian International School Bangkok would like to invite teachers and parents to our Jolly Phonics Workshop. Anyone is welcomed to join the workshop, including teachers and parents outside the AISB community.
𝐎𝐯𝐞𝐫𝐯𝐢𝐞𝐰:
Jolly Phonics is a fun and interactive program which helps early years students develop literacy skills through a multi-sensory approach. Join our workshop to learn more about effective methods for teaching Jolly Phonics, hosted by Mr John Chambers – a U.K Certified Jolly Phonics Trainer with over 30 years of experience as a classroom teacher.
𝐖𝐨𝐫𝐤𝐬𝐡𝐨𝐩 𝐩𝐚𝐫𝐭𝐢𝐜𝐢𝐩𝐚𝐧𝐭𝐬 𝐰𝐢𝐥𝐥 𝐥𝐞𝐚𝐫𝐧:
The five main components of Jolly Phonics
Tips and tricks to keep students motivated
How to teach Jolly Phonics with minimal resources
For more details about the workshop, please read page 2 of the flyer attached.
𝐃𝐞𝐭𝐚𝐢𝐥𝐬:
Date: Saturday 14th November
Time: 9am – 3pm (morning tea and lunch provided)
Cost: 3,500THB
*10% Discounts for Austcham members
Register here: CLICK
For further information or questions, contact Miss Suzete: suzete@australian-isb.com | 02-663-5495-7