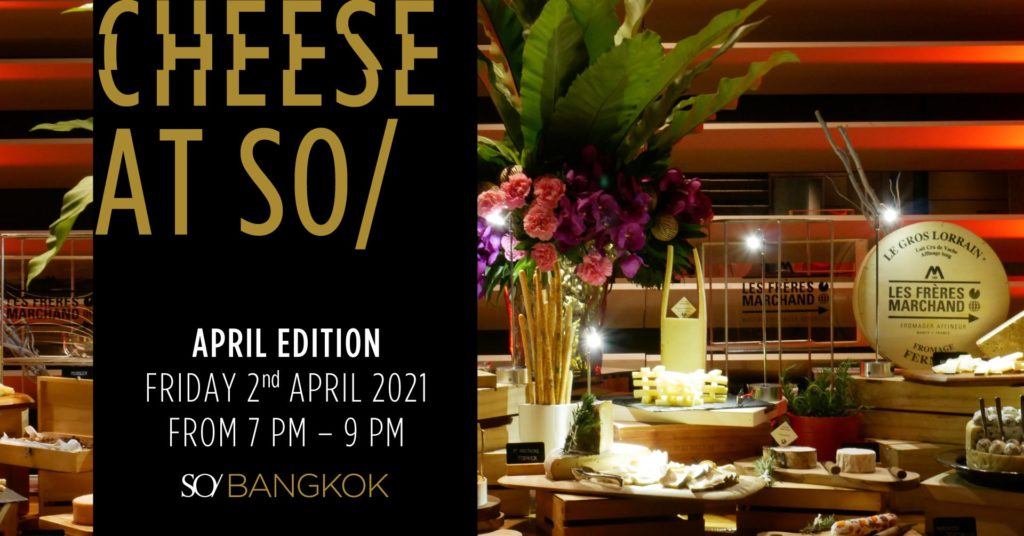 Enjoy two full hours of 30 types of cheese nibbles alongside artisan breads, cold cuts, charcuterie, trimmings, plus live music from DJ and saxophonist.This month, cheese lovers will be able to experience 𝐂𝐨𝐦𝐭𝐞́ 𝐜𝐡𝐞𝐞𝐬𝐞, the first cheese that our acclaimed Red Oven Chef Hugo tried when he was a young boy …bringing back childhood memories we decided to dedicate this month's cheese in honor of Chef Hugo. Please be sure to come and say hi to him when you pop by for this month's cheese night.

𝐂𝐡𝐞𝐞𝐬𝐞 𝐚𝐭 𝐒𝐎/ 𝐀𝐩𝐫𝐢𝐥 𝐄𝐝𝐢𝐭𝐢𝐨𝐧
Friday, April 2, 2021
From 7pm – 9pm
MIXO Bar, 9th floor, SO/ Bangkok
Advance bookings are highly recommended!
See offers http://bit.ly/3tlUM3G
Early-bird price is available only until 5 PM of 1 April 2021
– THB 765 net for unlimited cheese
– THB 1,115 net for for unlimited cheese and wine
– THB 1,715 net for for unlimited cheese and Sommelier recommended wine
Save your seat call : 02 624 0000