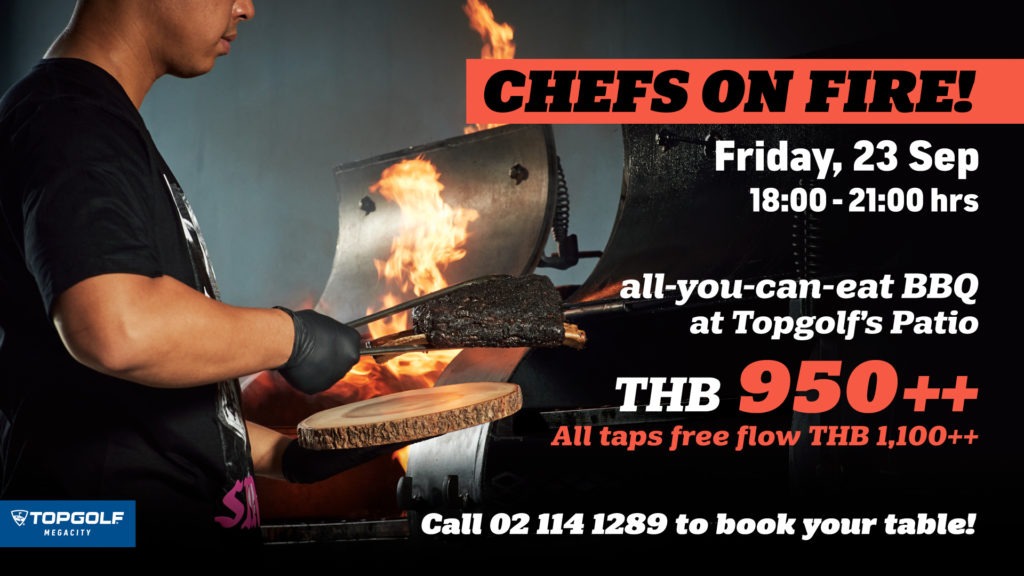 Topgolf's chefs cook up a storm on Friday, 23 September with a premium all-you-can eat barbecue offer.
For just THB 950++, guests can enjoy a variety of high-quality meat and fish dishes:
On offer:
BBQ brisket, 12-hour smoked Australian 100-day grain fed beef brisket
BBQ Pork Spareribs with Thai spiced BBQ rub
BBQ chicken, spatchcocked, marinated and rubbed, smoked
Seabass parcel, lemon butter, courgettes and dill
Beef hanger steak (Stanbroke Australian Angus Diamantina)
Joe Sloane's American candied bacon sausage
Unlimited side dishes, including garlic bread, baked beans with burnt ends, mac'n'cheese, charred corn on the cob, Caesar salad
This is not your typical do-it-yourself barbecue night; each high-quality meat or fishdish is expertly prepared by Topgolf's pitmasters on a huge Lang smoker. Known as the Rolls Royce among barbecues, the competition-grade smoker was imported from Georgia, USA. A mix of lychee and mango wood adds a unique, tasty flavor to each dish.
Seating is at Topgolf's Patio, a cozy area set among a green area. The outdoor area has a beer garden feel with sight on BUSTED!, Topgolf's 12-meter long food bus. Indoor, guests can enjoy comfortable seats and air-conditioning. Kids (and parents) can enjoy 18 holes of minigolf at adjacent The Puttyard, Bangkok's best putting green.
Kids below 7 years old eat at half price. Indoor and outdoor seating available.
Drinks can be ordered a la carte. Topgolf offers 10 different taps at THB 1,100++.
Friday, 23 September 2022 from 18.00 – 21.00 hrs. at Topgolf's Patio, Topgolf Megacity – right next to Megabangna. Table bookings through 02-114-1289.
For more information: www.topgolfthailand.com/chefsonfire