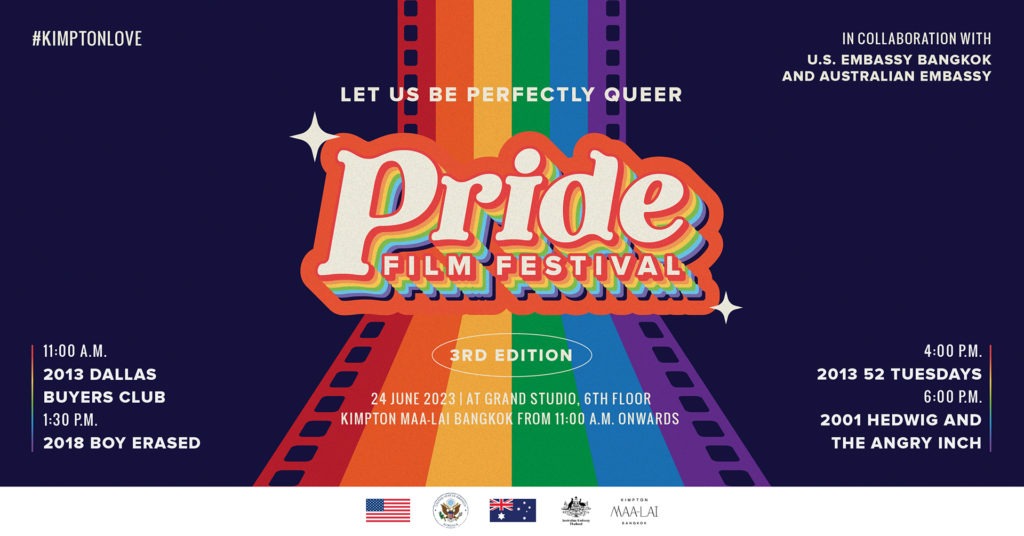 (8 June 2023 – Bangkok, Thailand) – For the third year in a row, Kimpton Maa-Lai Bangkok presents the PRIDE Film Festival to celebrate PRIDE Month in June, showcasing films that are hand-picked to celebrate all things queer and everything in between and beyond. Saturday, 24 June's "Let Us Be Perfectly Queer" screenings are open to the public with free admission upon advance reservation. The festival is presented in collaboration with the U.S Embassy Bangkok and Australian Embassy in Thailand.
"We're proud to fly the rainbow flag in support of PRIDE and its dedication to rights, equality and inclusivity," says Patrick Both, General Manager of Kimpton Maa-Lai Bangkok and Area General Manager IHG Luxury & Lifestyle Thailand. "We're outspoken supporters of the LGBTQIA+ community and we host this film festival every year to honour its members — it's a celebration of life."
The festival features four films that have played iconic roles in the LGBTQIA+ movement, from 11:00 a.m. to 8:00 p.m. on 24 June 2023, at the Grand Studio situated on the sixth floor of Kimpton Maa-Lai Bangkok. All films are in English.
Showtimes:
Dallas Buyers Club (2013), 11:00 a.m.-1:00 p.m.
Ron, a skilled rodeo cowboy diagnosed with AIDS, stumbles upon a prohibited medication that holds the potential to extend the lifespan of patients. Determined to overcome the limitations imposed by the system, he embarks on an audacious mission to covertly deliver the much-needed medicine to those who require it the most.
Boy Erased (2018),1:30-3:30 p.m.
A biographical drama film based on Garrard Conley's 2016 memoir. A coming-of-age story of Jared who realizes he is gay, but his family sends him away to conversion therapy.
52 Tuesdays (2013), 4:00-6:00 p.m.
This award-winning Australian film centres around a teenage girl, Billie, who deals with the confusing period of a parent gender transition.
Hedwig and the Angry Inch (2001), 6:00-8:00 p.m.
Based on the 1998 stage show hit, this rock musical follows Hedwig Robinson, a gay East German rock singer, and her search for stardom and love.
Festival patrons can enjoy the hotel's signature food and beverages available to purchase on-site during the screening, including movie munchies such as breakfast burritos, roasted chicken Caesar wraps, Croque Monsieur, Kimpton muffins, Kimpton corn dogs, vegan pancakes, popcorn in assorted flavours and so much more. Refreshments include, but are not limited to, pink lady slushies, botanical slushies, Betty in the Yard cocktail, all partnered with Botanist Dry Gin. Other beverages include fruit juices, soft drinks and mocktails such as Bar.Yard's popular Pineapple Just Kidding.
Limited seats are available on a first-come, first-served basis so if you snooze, you lose — don't say we didn't warn you! Advance reservation is required and each person is limited to one movie viewing session only.
To reserve your seat, please visit https://bit.ly/PRPrideFilmFestival2023EN. For more information, please call +66 2 056 9999 or email [email protected]
Bar.Yard's after-party flies the rainbow flag
For those looking for a festival after-party, Bar.Yard's "Proud & Loud" shindig features a full LGBTQIA+ DJ line-up that paints this 40th floor rooftop with all the colours of the rainbow. DJ headliners include DJ Prague from BEAM & Soho House starting the party from 5:00 p.m. until 8:00 p.m. DJ Tannix adds the drum and bass from 8:00 p.m. until 11:00 p.m., ending up with DJ SoShine, guest DJ from Stranger Bar, who drops the beats from 11:00 p.m. until late.
Bar.Yard's "Proud & Loud" on Saturday, 24 June 2023 runs from 4:00 p.m. until late. For reservations, please contact 02 056 9999 or email [email protected].