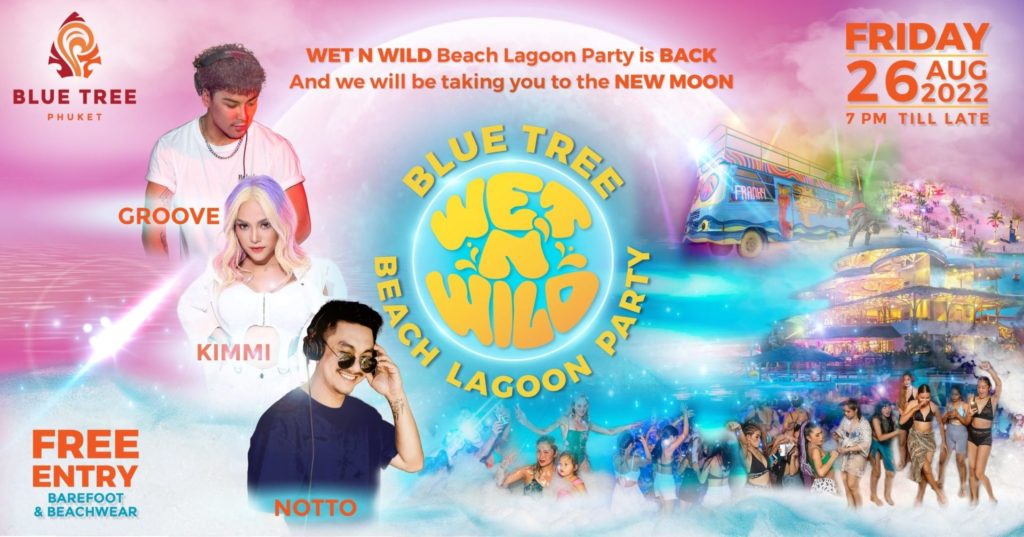 𝗪𝗲𝘁 "𝗡' 𝗪𝗶𝗹𝗱 𝗕𝗲𝗮𝗰𝗵 𝗟𝗮𝗴𝗼𝗼𝗻 𝗣𝗮𝗿𝘁𝘆 𝗶𝘀 𝗕𝗔𝗖𝗞 and we will be taking you to the Moon!
The Ultimate UV Beach Lagoon Party
Join us on Friday 26th August for Phuket's ONLY Beach Lagoon Party.
Dance the night away in the foam and "put your hands in the air" to some of Phuket's BEST DJs, and don't forget to dress in Barefoot & Beachwear.
"Moonlight drowns out all but the brightest stars."
LINE-UP:

Groove

Kimmi

Notto
Happy Hours: 7-8PM on all local beers
7PM onwards

Blue Tree Beach Lagoon

076-602436