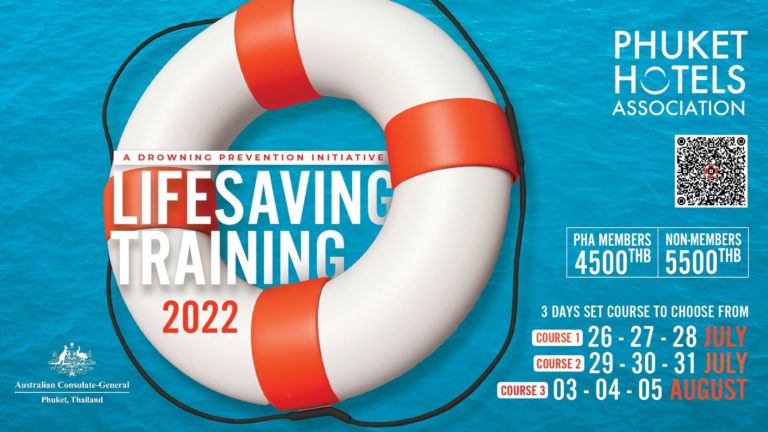 World Drowning Prevention Day- Anyone Can Drown- No one should
World Drowning Prevention Day, declared by the UN in April 2021, is held annually on 25 July. This global advocacy event serves as an opportunity to highlight the tragic and profound impact of drowning on families and communities and to offer life-saving solutions to prevent it.
Get skilled up and prevent drowning – Lifesaving Training initiative by Phuket Hotels Association and supported by Australia Consulate General Phuket from 26 July – 5 August 2022, at Graceland Hotel Resort, Patong Beach.
• This event is to draw attention to the issue of drowning prevention and galvanize action to save more lives.
• Globally, an estimated 236,000 lives lost to drowning every year, according to WHO estimates. Almost 650 every day, 26 every hour. A silent epidemic of preventable deaths.
• Drowning is an issue that affects every nation of the world.
• Anyone can drown, no one should.
• Every drowning is preventable.
• We can all take action to end drowning.
We can all do something to prevent drowning. Wherever we are. From raising awareness of the scale of the problem; recognizing and promoting knowledge and awareness that tested solutions exist to prevent drowning; working with local or national government to develop drowning prevention plans and policy, volunteering with drowning prevention, lifesaving or search and rescue organization, knowing how to keep ourselves and our families safe when we are in, around or on the water. To mark this first World Drowning Prevention Day, we can all make a commitment to keep ourselves, our family, and friends safe around water