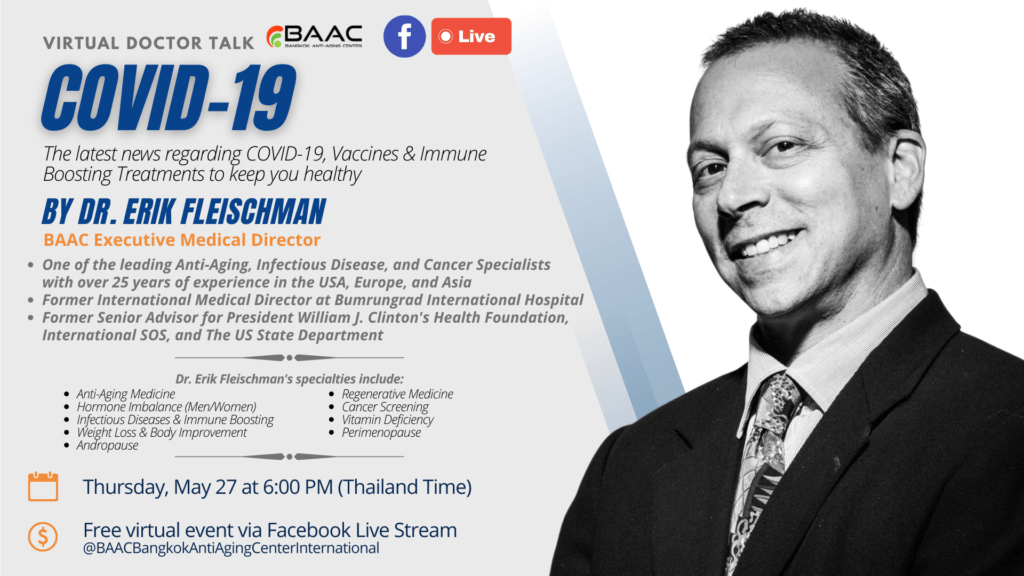 𝗦𝗮𝘃𝗲 𝗧𝗵𝗲 𝗗𝗮𝘁𝗲: 𝗠𝗮𝘆 𝟮𝟳 @ 𝟲:𝟬𝟬𝗣𝗠 𝗧𝗵𝗮𝗶𝗹𝗮𝗻𝗱 𝗧𝗶𝗺𝗲.
𝗙𝗿𝗲𝗲 𝗦𝗲𝗺𝗶𝗻𝗮𝗿 𝗼𝗻 𝗖𝗢𝗩𝗜𝗗-𝟭𝟵, 𝗩𝗮𝗰𝗰𝗶𝗻𝗲𝘀, 𝗜𝗺𝗺𝘂𝗻𝗲 𝗕𝗼𝗼𝘀𝘁𝗶𝗻𝗴 𝗧𝗿𝗲𝗮𝘁𝗺𝗲𝗻𝘁𝘀 𝘁𝗼 𝗸𝗲𝗲𝗽 𝘆𝗼𝘂 𝗮𝗻𝗱 𝘆𝗼𝘂𝗿 𝗹𝗼𝘃𝗲𝗱 𝗼𝗻𝗲𝘀 𝗵𝗲𝗮𝗹𝘁𝗵𝘆, 𝗮𝗻𝗱 𝗠𝗼𝗿𝗲.
Please join us Thursday, May 27th at 6PM Thailand Time, for a Special Virtual Evening with Dr. Erik Fleischman, where he will share and discuss the latest news regarding COVID-19, Vaccines, Immune Boosting Treatments to keep you and your loved ones healthy, and More. Dr. Erik is a specialist in Infectious Diseases, Cancer and Regenerative medicine for over 25 years. He is an American Physician and Surgeon who has been based in Asia for over 15 years.

Dr. Erik has been on the front lines as a first responder during some of the worst outbreaks of the past 30 years including 𝗛𝗜𝗩/𝗔𝗜𝗗𝗦, 𝗦𝗔𝗥𝗦, 𝗠𝗘𝗥𝗦, 𝗛𝟭𝗡𝟭 and most recently 𝗘𝗯𝗼𝗹𝗮: https://www.bangkokpost.com/…/on-the-front-line-against….His insights into these infectious diseases, how they operate, how they spread and what you can do to prevent infection continue to prove invaluable throughout these past 18 months of COVID-19.

———————————
Date: May 27
Time : 18:00 Thailand Time
Place: Facebook Live Stream @BAACBangkokAntiAgingCenterInternational
**FREE EVENT