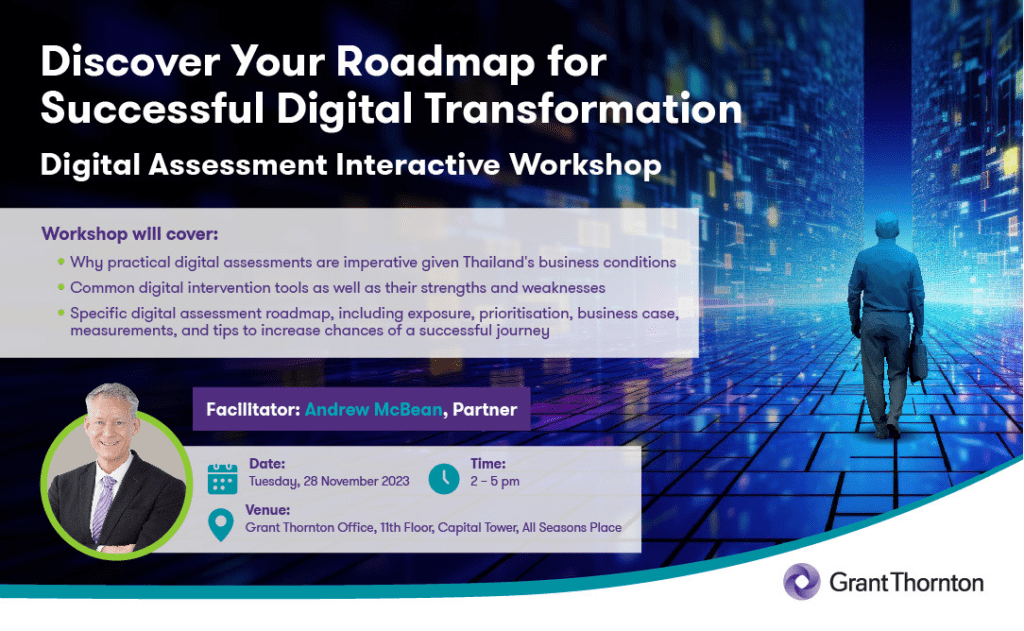 Very few companies in Thailand will carry out Digital Transformation successfully at an enterprise-wide scale. Even if they did, they are typically powered by huge budgets, dedicated teams and multi-year timelines. All other companies must inject "digital" into their processes using a more pragmatic and tactical approach. When done properly this can rapidly unlock cost savings and create new and lucrative opportunities for revenue creation. Yet companies struggle either to start this journey or turn it in to demonstratable success.
We would like to invite you, or relevant members of your team, to attend and participate in our Practical Digital Assessment Workshop to be held on Tuesday 28 November 2023 at Grant Thornton's office, starting at 2 pm. The presentation will be in English, but interaction is invited in English or Thai. Our 3-hour interactive workshop on Practical Digital Assessment will cover:
1. Business conditions in Thailand making digital assessment imperative.
2. Practical digital intervention tools that are available.
3. A specific action plan for a practical digital assessment and on-going management.
Aimed at executives or senior managers, together we will unlock the answers. We encourage active participation from attendees, gaining additional value from everyone's collective wisdom and experience. For this reason, the event will be only in-person and it will begin promptly at 2 pm. There will be a refreshment break halfway through.
To confirm your attendance, please click the Register button below. We would appreciate if you can confirm your attendance by 24 November 2023.