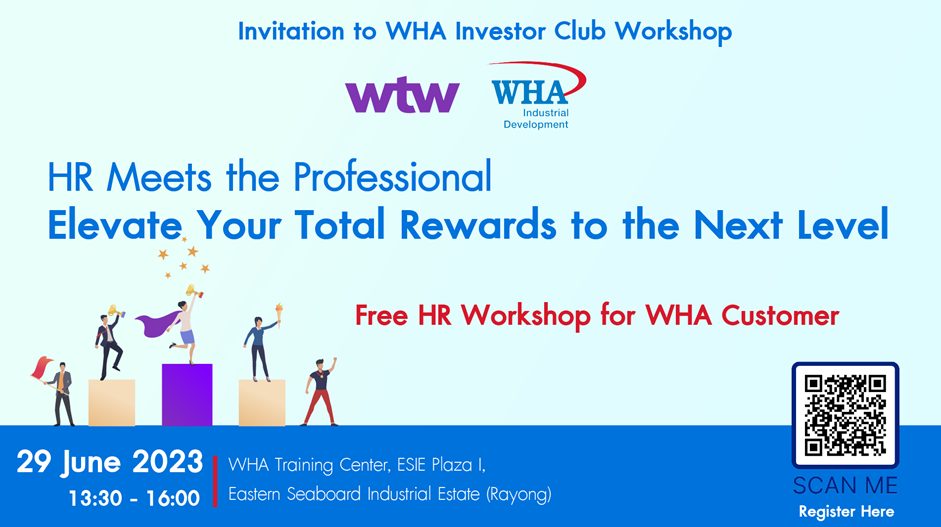 You are invited to join our complimentary workshop on the topic of  HR Meets the Professional – Elevate Your Total Rewards to the Next Level by WTW which will be held on 29th June 2023 during 13:30 – 16:00 at WHA Training Center, ESIE Plaza I, Eastern Seaboard Industrial Estate (Rayong). 
 
Seminar Brief:
• Get to know Total Rewards framework and put into practice.
• Understand HR challenges and learn from real life cases.
• Understand how FlexBen (Flexible Benefits) can boost employees satisfaction.
• Best practice to manage provident fund to promote your competitiveness.
Suitable for: Head of HR, HR Manager, Compensation and Benefits Manager
Language: Thai Language
Venue: WHA Training Center, ESIE Plaza I, Eastern Seaboard Industrial Estate (Rayong)
Expense: Free for WHA's customer
Agenda:
13.30 – 14.00 Registration
14.00 – 14.05 Welcome remark by WHA Group
14.05 – 14.20 Put Total Rewards framework into practice.
14:20 – 14:50 Overcome compensation challenges for HR.
14:50 – 15:00 Break
15:00 – 15:25 Power up your employee benefits with FlexBen (Flexible Benefits)
15.25 – 15.50 Learn how to set up/optimize your Provident Fund
15.50 – 16.00 Q&A