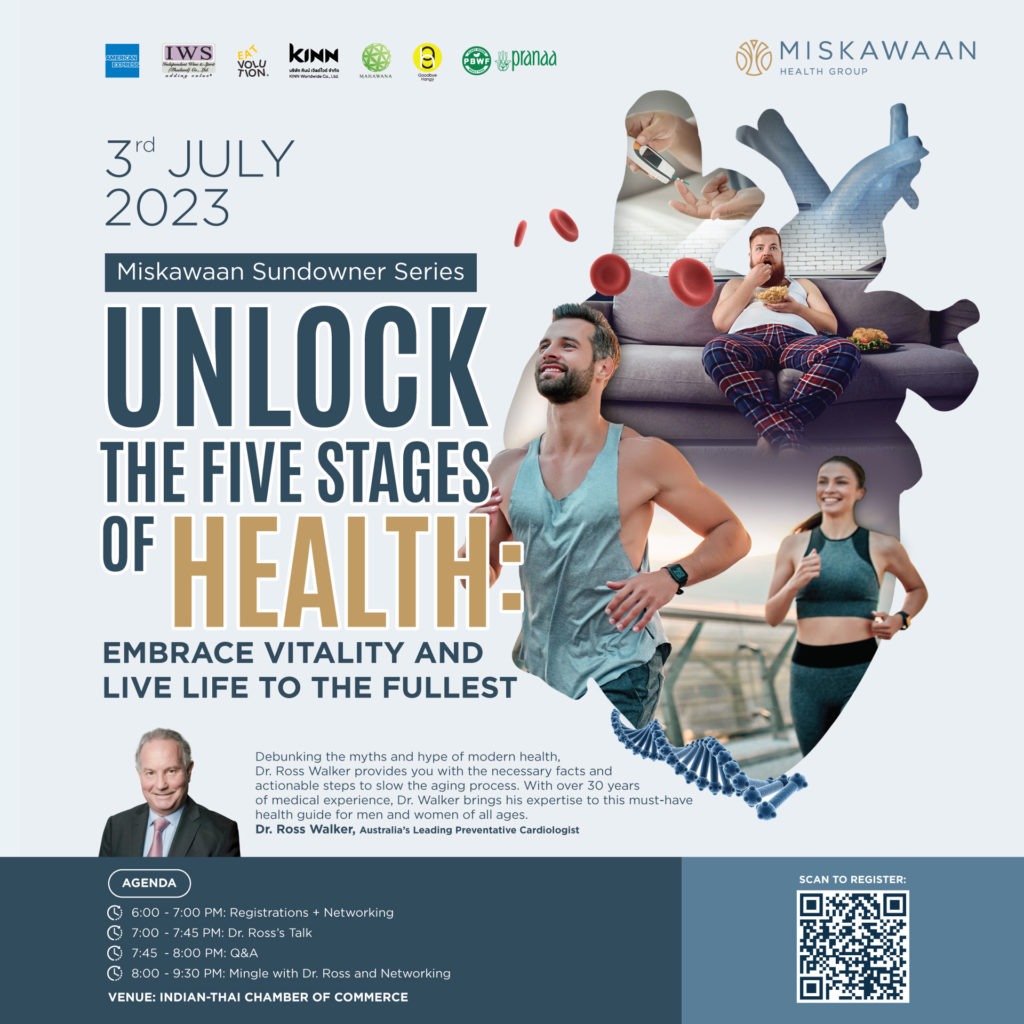 TALK TOPIC: Unlock the Five Stages of Health: Embrace Vitality & Live Life to the Fullest
GUEST SPEAKER: Doctor Ross Walker (www.drrosswalker.com)
DATE OF EVENT: Monday 3 July 2023
TIME: 6:00 PM-9:30 PM
·6:00-7:00 PM: Registrations + Networking
·7:00-7:45 PM: Dr. Ross's Talk
·7:45-8:00 PM: Q&A
·8:00-9:30 PM: Mingle with Dr. Ross and Networking
VENUE OF EVENT: Thai-Indian Chamber of Commerce
NOTE:
-There will be comfort food and beverages provided
-Parking space available at '123 PARKING' Building
FOR MORE INFORMATION, PLEASE CONTACT: [email protected] / 0969635664
TO REGISTER: Scan QR or clink the link here https://bit.ly/3qAPmWu
EVENT BRIEF:
How many of us have constant niggles, maybe a chronic complaint, can't lose weight, feel persistently tired and often stressed? Tick any of these boxes and there is something in The Five Stages of Health for you. Dr. Ross Walker debunks the myths and hype of modern health and gives you the facts you need. You'll get the truth about the real modern killers, what you can really do to slow the aging process, what vitamins and supplements can make a difference, and what you need to be doing to be healthy in each decade of your life. An eminent cardiologist, Dr. Walker brings over 30 years of medical experience to this must-have health resource for men and women of all ages.

This event is for every individual who wants to live their best life, free from the shackles of cardiovascular issues. You'll leave with a newfound understanding and practical strategies to enhance your approach to preventative cardiology.

Don't miss this extraordinary opportunity to join Dr. Ross Walker. Mark your calendars, grab your friends, and get ready to be inspired. Reserve your spot now for an evening that promises to transform the way you think about your heart health.


***Note: Limited seats are available. Register early to secure your place at this life-changing event!***