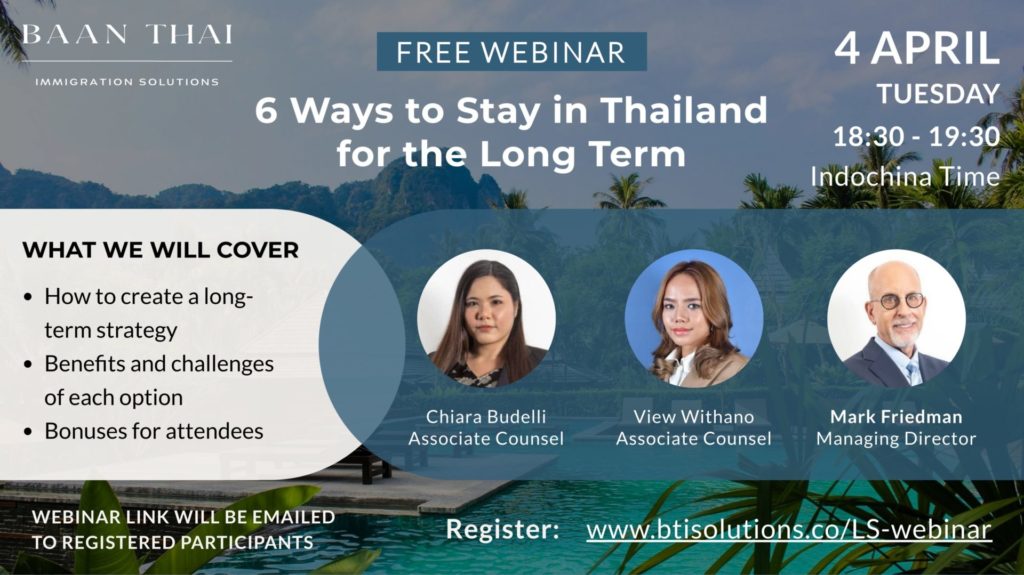 .
Do you love Thailand? Do you want to stay here for the long term? Perhaps you've already built a life here but are tired of doing 90-day reporting.
In this webinar, we'll explain your long-term stay immigration options so you can make an informed decision based on your situation and goals.
The actions you take now may have long-term implications. Having an immigration strategy will put you on the pathway to success.
Date: Tuesday, 4 April 2023
Time: 6:30 PM – 7:30 PM
Hosted by: Baan Thai Immigration Solutions
Speakers:
Chiara Budelli, Associate Counsel
Supanitta "View" Withano, Associate Counsel
Mark Friedman, Managing Director
Cost:
Free of charge for AustCham members
Free of charge for non-members
Location: Online (meeting link will be provided to registrants)
Please note: Baan Thai is recording this webinar session and will make the recorded version of the webinar (including all audio and visual elements) accessible to all registrants. Attendees will receive FREE bonus offers.