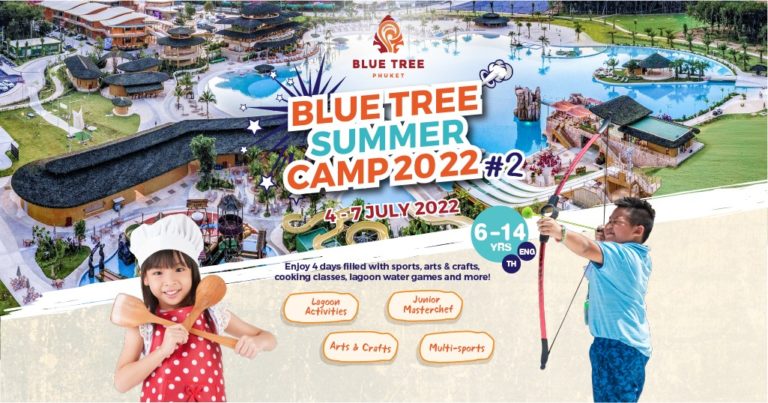 𝗕𝗹𝘂𝗲 𝗧𝗿𝗲𝗲 𝗦𝗨𝗠𝗠𝗘𝗥 𝗖𝗮𝗺𝗽 𝟮𝟬𝟮𝟮 #𝟸
𝘊𝘶𝘭𝘵𝘶𝘳𝘢𝘭 𝘓𝘦𝘢𝘳𝘯𝘪𝘯𝘨 𝘈𝘥𝘷𝘦𝘯𝘵𝘶𝘳𝘦 𝘗𝘭𝘢𝘺
Join our kids Summer Camp
Explore this amazing experience with us!
Enjoy 4 days filled with sports & games,
Art & Crafts, Cooking Classes, Lagoon Water Games and more of what Blue Tree has to offer for your children!
𝗖𝗔𝗠𝗣 𝗗𝗔𝗧𝗘: 4-7 July 2022
Time: 8:30 AM – 4.30 PM
𝗔𝗰𝘁𝗶𝘃𝗶𝘁𝗶𝗲𝘀: Multi-Sports, Junior Master Chef, Arts & Crafts, Traditional Thai Games, Lagoon Water Fun Games, Hunting Games, Magic Day, Fun Science and more!
 Age Range: 𝟔-𝟭𝟰 𝗬𝗲𝗮𝗿𝘀 old | No skill required, all levels are welcome
𝗣𝗥𝗜𝗖𝗘:

 4 Full Days = 5,400 THB

 1 Full Day = 1,350 THB

 Half Day ( Morning ) = 750 THB

 Half Day ( Afternoon ) = 850 THB
𝗪𝗵𝗮𝘁 𝘁𝗼 𝗯𝗿𝗶𝗻𝗴:
– Comfortable, loose clothing & extra changes
– Towels – two or more for longer camps
– Sunscreen & cap
– Refillable water bottle
– Sports shoes
– Sandals
– Backpack & mesh bag
– Insect repellant
𝗧𝗲𝗿𝗺𝘀 & 𝗰𝗼𝗻𝗱𝗶𝘁𝗶𝗼𝗻𝘀:
• 3 days advance reservation is required
• Full payment is required on reservation
• Cancellation is accepted 1 day before camp date (50% refund)
• Full charges will be applied for a no-show
• Price is including 7% vat & 10% service charge
• Discount 10% for Blue Tree Membership
𝗥𝗲𝘀𝗲𝗿𝘃𝗮𝘁𝗶𝗼𝗻:
Tel: 097-951-9628
Email: tarikad@bluetree.fun