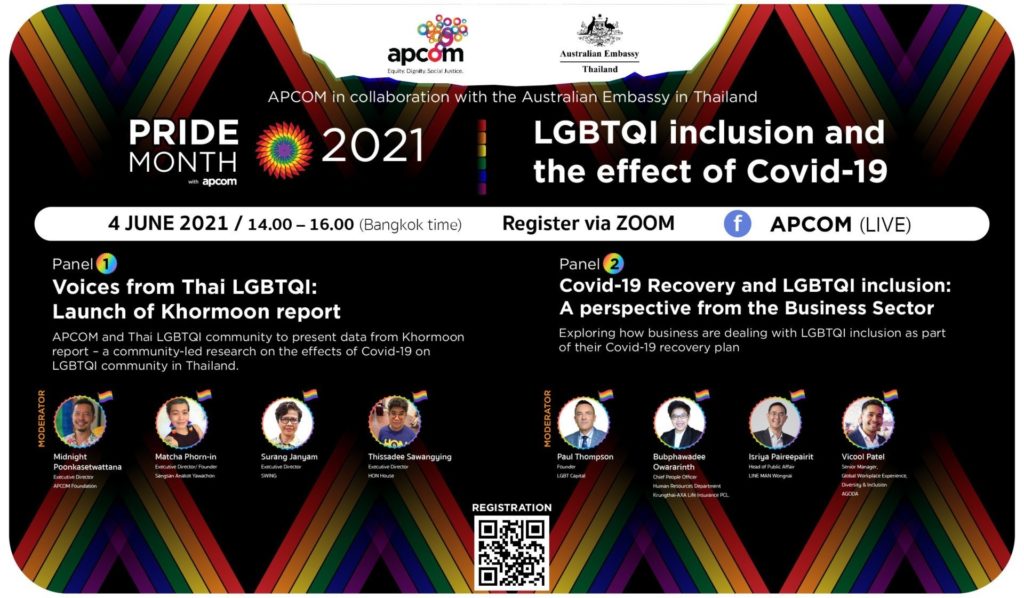 Every year, during the month of June, LGBTQI cross the globe conduct various events during this special month as a way of ensure visibility, representation, recognising the influence LGBTQI people have had around the world, and highlighting challenges still to overcome.
APCOM and the Poz Home Center have been coordinating with 15 non-profit organizations working on LGBTQI human rights all over Thailand since the beginning of the pandemic, and despite many challenges, non-profit LGBTQI organisations are reaching and saving lives of the most marginalized and most vulnerable within their community. However, the non-profit organisations alone cannot overcome the challenges that have been amplified with the effect of Covid-19.
Join us for the launch of Pride Month, and take part in discussion with two panels; launching the community-led research, 'Khormoon', on the challenges faced by LGBTQI during Covid-19, and a discussion with the private sector on their role to promote and support LGBTQI inclusion for Covid-19 recovery.
#APCOM, #PRIDEMONTH, #LGBTQI, #australianembassythailand, #diversityandinclusion, #COVID
Date: Friday 4 June 2021
Time: 14:00 – 16:00
Venue: Online
Register in advance for this meeting: https://zoom.us/meeting/register/tJIucuyrrD0sHtwDqj9cy-ivWGOILAKvZwQG

After registering, you will receive a confirmation email containing information about joining the meeting.

Panel 1: Voices from Thai LGBTQI: Launch of Khormoon report APCOM and Thai LGBTQI community to present data from Khormoon report – a community-led research on the effects of Covid-19 on LGBTQI community in Thailand.

Panel 2: Covid-19 Recovery and LGBTQI inclusion: A perspective from the Business Sector Exploring how business are dealing with LGBTQI inclusion as part of their Covid-19 recovery plan