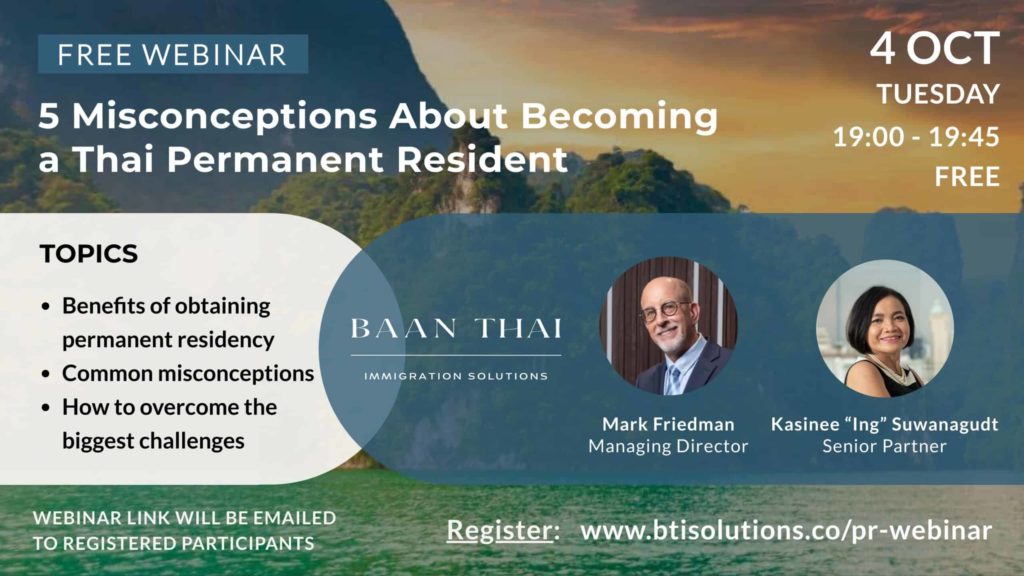 Have you ever considered applying for Thai Permanent Residency? Perhaps you heard that only 100 people get approved per year, or that it would require fluency in Thai.
There's a lot of misinformation online. It's time to clear up some of the most common misconceptions so you can find out if permanent residency is an option you may want to consider.
Date: Tuesday 4 October 2022
Time: 7:00 PM – 7:45 PM
Hosted by: Baan Thai Immigration Solutions
Speakers:
Mark Friedman, Managing Director
Kasinee "Ing" Suwanagudt, Partner
Cost:
Free of charge for AustCham members
Free of charge for non-members
Location: Online (meeting link will be provided to registrants)
To register in advance for this webinar:
Please note: Baan Thai Immigration is recording this webinar session and will make the recorded version of the webinar (including all audio and visual elements) accessible to all registrants. Attendees will receive several FREE special bonuses (no strings attached).