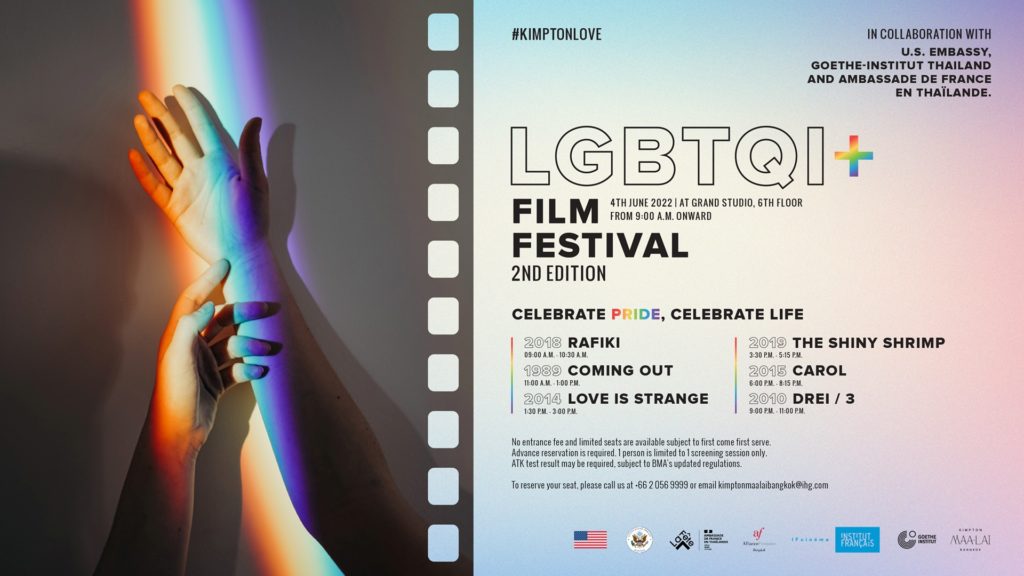 (13th May 2022 – Bangkok, Thailand) – With such a tremendous success in 2021, Kimpton Maa-Lai Bangkok is hosting the LGBTQI+ Film Festival again this June, showcasing more classic LGBTQI+ films as part of an exclusive screening in collaboration with U.S. Embassy, Goethe Institute and Alliance Française Bangkok. 
"Proud and Loud. It's how we've always been when it comes to Pride. It's not just a day or a month, it's woven into the very fiber of who we are at Kimpton Maa-Lai Bangkok, but more than this: we celebrate being yourself,"  
"We celebrate our LGBTQI+ community always and this film festival is something that we wish to continue each year to engage with LGBTQI+ community. PRIDE is a celebration of rights, equality and life, and at the hotel, we want to wave that (rainbow) flag for all to see." 
Patrick Both, Area General Manager Luxury & Lifestyle – an IHG Thailand. 
The private screening will showcase SIX films that have been part of the LGBTQI+ movement, and take place on Saturday, 4th June 2022, at Grand Studio, 6th floor at Kimpton Maa-Lai Bangkok from 9:00 a.m. onwards. All films will feature English subtitles.  
Showtime: 
"Rafiki" (2018) from 09:00 a.m. – 10:30 a.m. 
"Coming Out" (1989) from 11:00 a.m. – 1:00 p.m. 
"Love Is Strange" (2014) from 1:30 p.m. – 3:00 p.m. 
"The Shiny Shrimp" (2019) from 3:30 p.m. – 5:15 p.m. 
"Carol" (2015) from 6:00 p.m. – 8:15 p.m. 
"Drei / 3" (2010) from 9:00 p.m. – 11:00 p.m. 
The entry to the film festival is free of charge, and there will be Kimpton Maa-Lai Bangkok's signature food and (soft) beverages available to purchase on site during the screening. ATK test result may be required, subject to BMA's updated regulations. 
Limited seats are available on a first-come-first-serve basis.
Advance reservation is required. 1 person is limited to 1 screening session only.  
To reserve your seat, please call us at +66 2 056 9999 or email [email protected] 
Online Channel 
Website: https://www.kimptonmaalaibangkok.com/   
Facebook: https://www.facebook.com/kimptonmaalaibangkok/