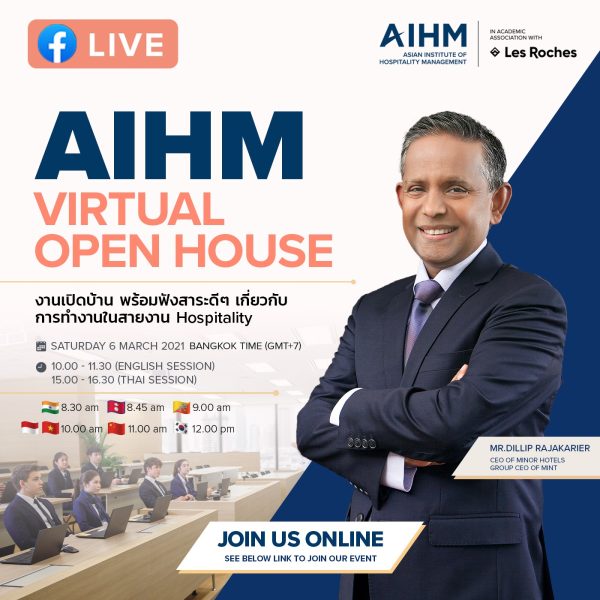 Follow the Facebook event: https://fb.me/e/19viL2a0f 
Join us this Saturday as we hold our very first online Open House.
Hosted on Facebook, you'll get the chance to listen to some amazing speakers, and ask any questions you might have about our Bachelor of Business Administration in Global Hospitality Management.
Tune in to hear Mr. Dillip Rajakarier, CEO of Minor Hotels and Group CEO of MINT, deliver a seminar on the future of hospitality and careers within the industry.
We'll also hear from Les Roches alumnus about the benefits of a Swiss education, and the network and opportunities available to alumni upon graduation.
Asian Institute of Hospitality Management Open House: "Be the Best, Learn with the Best".
Saturday 6 March 2021
10.00 – 11.30 (English session)
– Welcome by Tim Bulow, COO of Minor Education
– Programme structure by Warren Stanworth, Academic Dean
– "The Future of Hospitality & Careers" by Mr. Dillip Rajakarier, CEO of Minor Hotels and Group CEO of MINT
– "The Benefits of a Swiss Education" by Les Roches alumnus Mr. Anthony Kranepuhl, Director of Operations Support & Hotel Openings, ONYX Hospitality Group
– Q & A
15.00 – 16.30 (Thai session)
– Meet the Admissions team
– "The Benefits of a Swiss Education" by Les Roches alumnus Mr. Napat Suvidejkosol, Business Development Manager, GoWabi
– Q & A
For more information : https://fb.me/e/19viL2a0f