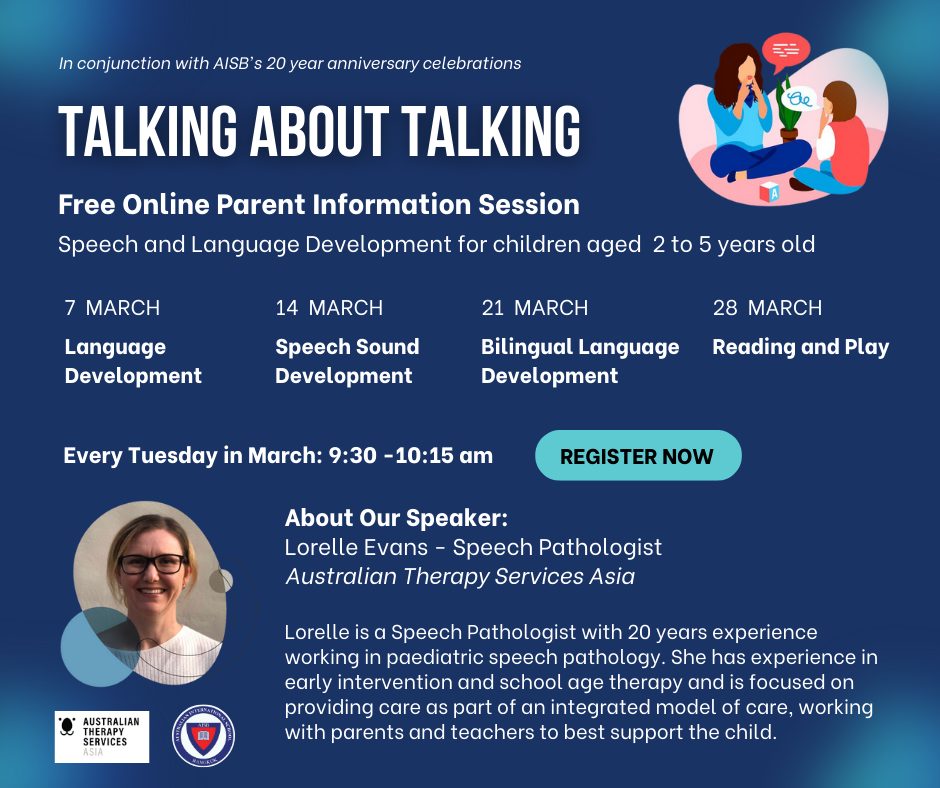 Free Online Information Sessions
Speech and Language Development from 2 to 5 years
The Australian International School Bangkok, in conjunction with Australian Therapy Services Asia, is pleased to present a series of online talks on speech and language development in young children. The talks will be of interest to parents of children 2 to 5 years old.
The Presenter:
The presenter is Lorelle Evans, from Australian Therapy Services Asia. Lorelle is a speech pathologist with over 20 years' experience in working with children. She provides telehealth support for children with difficulties in speech and language in international schools in Thailand.
The Content:
The talks, delivered via Zoom, will be held over a four – week period in March; they will cover communication development in children from 2 to 5 five years. The talks will help to inform parents and carers on that to expect from young children as they begin to talk and how to support their communication development at home. They are specifically designed for parents of children attending, or about to attend, international schools in Thailand.
Parents are encouraged to attend all 4 sessions.
Dates:
Each session will be held at 9.30am to 10.15am Bangkok Time on each Tuesday in March from Tuesday 7th March and each Tuesday following to the 28th March.

Link to register:

Registration is free and is open to all parents in Bangkok.