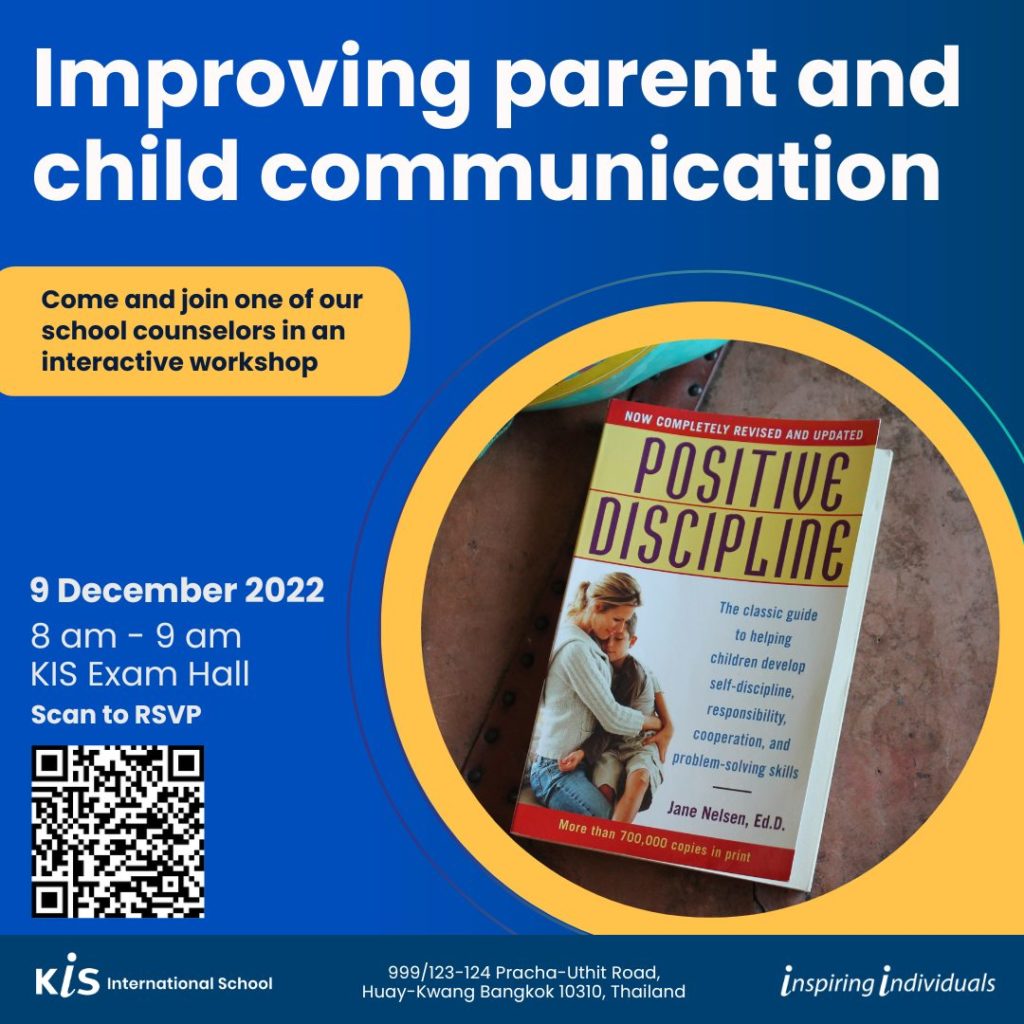 Do you ever struggle getting your kids to bed at night?
Have you ever wondered how to best communicate as a family?
Come and join one of our school counselors in an interactive workshop based on strategies and approaches inspired by the KIS Parent book club and their reading of Positive Discipline by Dr. Jane Nelsen.
Recent research tells us that children are hardwired from birth to connect with others, and that children who feel a sense of safety and connection to their community, family, and school are less likely to misbehave.
Based on the best-selling Positive Discipline parenting books by child psychologist Dr. Jane Nelsen, our workshop aims to teach strategies and skills in a manner that is deeply respectful and encouraging for both children and parents.
Parents have offered to share their understanding of the philosophy and will facilitate mother-tongue groups in Thai, English, and Mandarin. Come and learn parenting communication strategies and skills based on the understanding that the key to positive parenting is not punishment, but mutual respect.
Some goals of the workshop include:
· How do you get on the same side?
· Setting family meetings to cultivate better communication
· Scheduling time with your kids to develop mutual respect
Join us to learn together! RSVP today – https://admissions.kis.ac.th/positive-discipline-workshop/
KIS International School is a K – 12 IB World School. We are the only school in Bangkok to offer all four International Baccalaureate Programmes (IB Primary Years, IB Middle Years, IB Diploma and IB Career-Related Programmes) for all ages, from 3 years old until graduation.
KIS International is a welcoming and vibrant community. The lush campus sits on more than 25,000 square meters, spread across six buildings. Its distinguished architecture is home to 750 students from 52 nationalities, all of whom are welcomed, valued and respected.

Our curriculum is full continuum IB including PYP, MYP and DP. Our IB exam results are consistently strong, with students scoring well above the global average. This is thanks to a challenging, well-balanced and differentiated learning experience that students receive in our intentionally mid-sized school. Students grow through experiential learning, whether that means composting and planting banana trees in the early years, swimming in one of three pools during PE, or delivering a business proposal in the DP program.
The community at KIS is one of the school's great strengths. Our spacious green campus near the city centre features three pools, an indoor gymnasium, design and technology labs, sound-proof music studios, fields and much more.