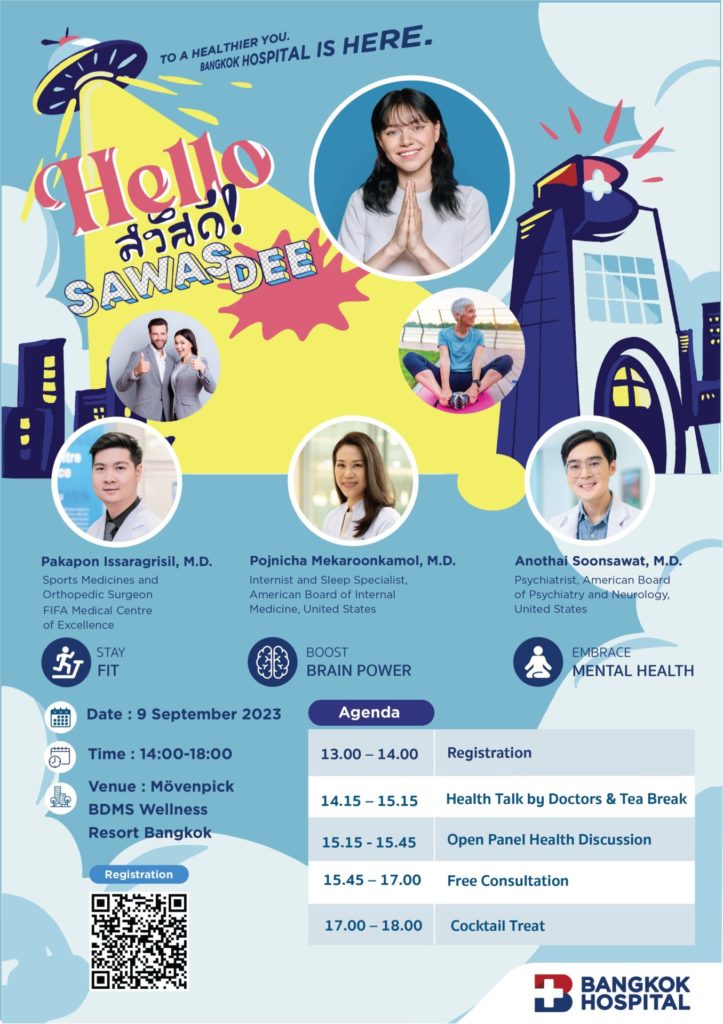 Bangkok Hospital is hosting the remarkable event of health and wellbeing for Expatriats living in Thailand on 9 September,2023 at Mövenpick BDMS Wellness Resort Bangkok.
We are delighted to provide you with a brief overview of the upcoming health event, "Hello Sawasdee! To a healthier you. Bangkok Hospital is here" .
The event is a gathering of health enthusiasts, medical professionals, and individuals seeking to enhance their physical, mental, and emotional well-being. Our aim is to inspire, educate, and empower attendees to make informed choices and lead healthier lives.
To give you a taste of what's in store, here are some key highlights of the event:
Health Talk (Mental Health, Sleep Quality, Sports Injuries)
Panel Health Discussion
Free consultation
Special package offer
Cocktail Treat
𝗘𝘃𝗲𝗻𝘁 𝗱𝗲𝘁𝗮𝗶𝗹𝘀
Venue: Mövenpick BDMS Wellness Resort Bangkok.
Date : September 9, 2023
Time : 2 pm – 6 pm (open for registration 1 pm)
Map : https://goo.gl/maps/CTv8RXm7DfwJjwyp7
Book your ticket now, Free of Charge >> https://docs.google.com/forms/d/e/1FAIpQLSf4Yyt6DwXV00XmmQOAVPhZmknJk-sgJaEXhDcbnR53955Usg/viewform?usp=sf_link
For more information in regards to this event, please contact me or Khun Ralf:
Mr. Ralf Krewer (Business Development Director, Bangkok Hospital Headquarters)
Email: [email protected]
Tel: 02-755-1696