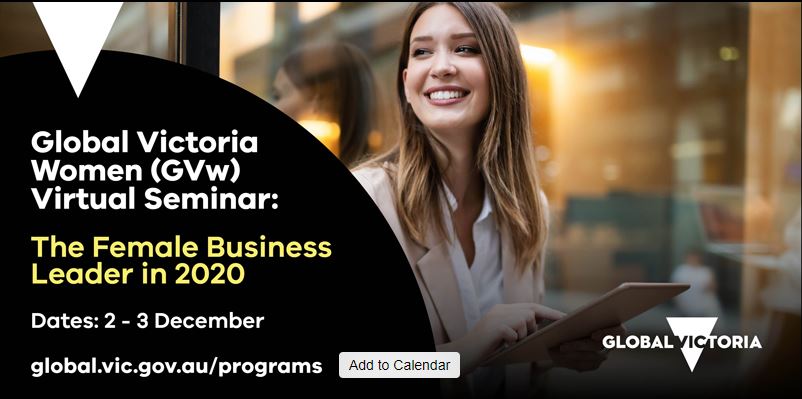 Global Victoria is delighted to invite you to participate in the GVw Virtual Seminar:
The Female Business Leader in 2020.
Global Victoria has brought together an incredible line up of speakers for a free virtual seminar being held over two half days on 2-3 December 2020.
The GVw Female Business Leader in 2020 virtual seminar will inspire and support your export journey by providing you with firsthand insights into how leading women representing multiple sectors, diverse perspectives and businesses of all sizes have been agile during a period of uncertainty.
Hear from experts about how to be adaptive and resilient in front and beyond the screen, in addition to learning how to bring your best self to the virtual workplace.
Join us to reflect, learn and gain tools to grow and succeed in 2021 and beyond.
For more information about support provided by Global Victoria please visit: global.vic.gov.au/programs and for any questions related to the GVw Virtual Seminar please contact daniela.masci@global.vic.gov.au.
**Note that the event is open to all – men as well