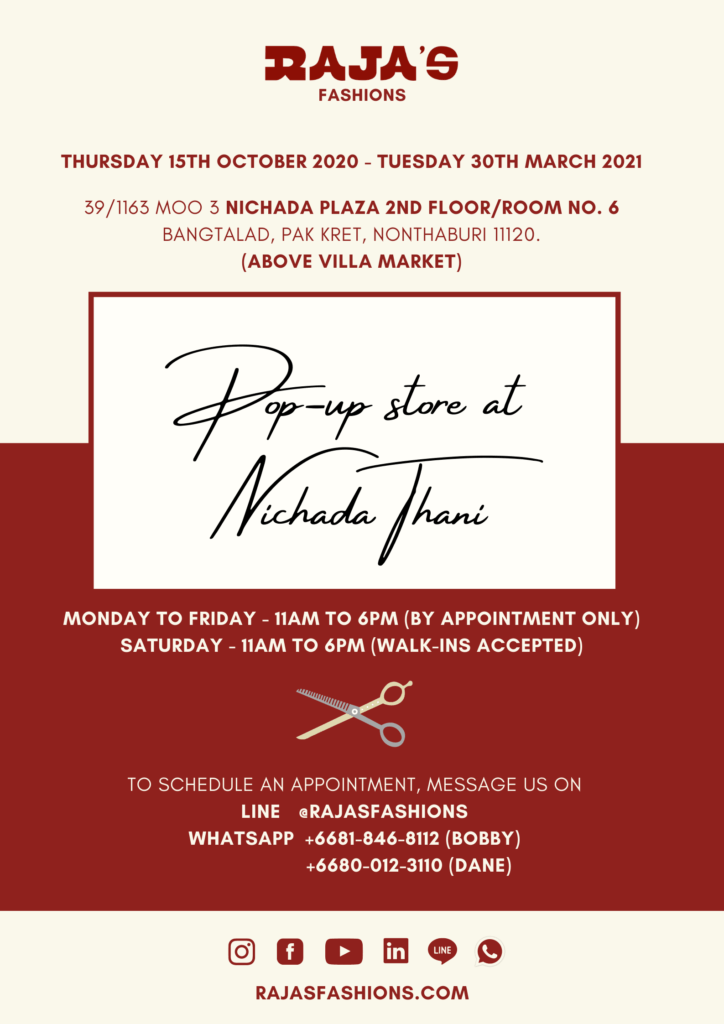 We're excited to announce our latest venture: Raja's Fashions Pop-up Store at Nichada Thani starting Thursday 15th October 2020 till Tuesday 30th March 2021
After serving our clients in the heart of Bangkok for the past 56 years, we've been given an opportunity to join in the community where a lot of our friends are based. We will be offering new specials in celebration of our new launch! Stay tuned…
Our Pop-up Store hours are:
Monday – Friday: 11am to 6pm (By Appointment Only)
Saturday – From 11am to 6pm (Walk-ins accepted)
Please note all appointments need to be made 1 day prior.
To make an appointment, please call us or drop a message on our Official Line Account @rajasfashions
or WhatsApp at +6681-846-8112 (Bobby) or +6680-012-3110 (Dane)
Our flagship store in Sukhumvit (Soi 8) will remain open as per our updated COVID hours, Monday, Wednesday, Friday and Saturday from 11am to 4pm.
We look forward to welcoming you to our new store!
Dress Sharp | Look Sharp | Feel Sharp