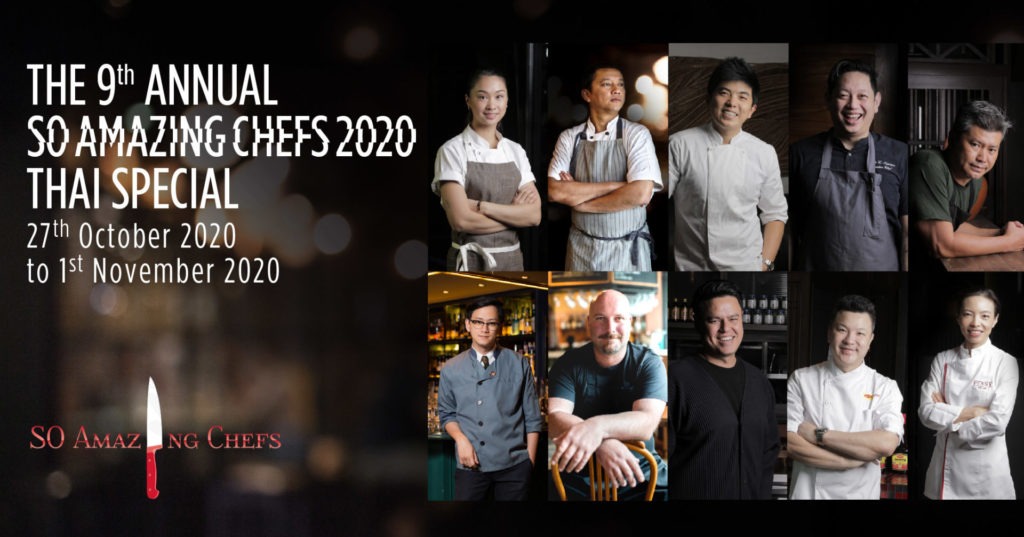 SO Bangkok and the 9th Annual SO Amazing Chefs 2020 presents eight of the Kingdom's brightest culinary stars from 27th October to 1st November 2020, for six days of special epicurean events, including cooking and cocktail classes, a cheese and wine night, and exclusive fine dining evenings, all of which are open to in house guests and local residents alike.
This spectacular food fiesta will conclude with two SO Amazing Weekend Brunches, which will allow diners to see our celebrated chefs in action!
Chef Chalee Kader of 100 Mahaseth and the leader in Thai E Sarn and French cuisine has achieved a series of prestigious awards, including Michelin Bib Gourmand honors in 2019 and 2020. He will be working alongside Kamol Chobdee ngam (Chef Gigg) of Lerdtip, Winner of Iron Chef who specializes in modern Thai Chinese cuisine. Chef Prin Polsuk of Samrub Samrub Thai previously worked at Nahm, the highly acclaimed Thai restaurants in London and Bangkok, and now champions traditional Thai ingredients and recipes, while Thitid Tassanakajohn (Chef Ton the owner/chef of many restaurants including Le Du the Michelin starred restaurant Baan, Nusara, and Mayrai who is one of the world's leading experts in modern Thai cuisine.
Chudaree Debhakam (Chef Tam) the first winner of Top Chef Thailand is passionate about farm to table cuisine, which she demonstrates to perfection at Baan Tepa, her family home and garden restaurant in Bangkok. Working alongside her will be Weerawat Triyasenawat (Chef Num) who heads the famous Samuay Sons restaurant in Udon Thani and focuses on contemporary Isaan cuisine. Finally, Chef Randy Noprapa of Fillets is an award winning sushi chef and one of Thailand's foremost Japanese cuisine experts.
SO Amazing Chefs 2020 starts on Tuesday 27 th October, with an exclusive Dessert Cooking Class hosted by Chef Penny Jirayuwatana better known as "Penny the Chef", who has worked at 3 Michelin starred restaurant, Gordon Ramsay at Royal Hospital Road and Dominique Ansel Bakery Chef Penny is also appeared as a judge on Top Chef Dessert MasterChef Thailand. Under her expert tutelage, up to 30 lucky guests will learn how to create world class sweet treats from 14:00 to 16:30 hrs at MIXO This unmissable occasion is priced at THB 2,500++ per person.
On Wednesday 28 th October, SO/ Bangkok will feature the finest cheeses, cold cuts and wines at MIXO. Another special edition o f the popular Cheese at SO this gourmet gathering is priced at THB 1,200++ per person, or THB 1,700++ including free flow wine from 19:00 21:00 hrs.
Then on Thursday 29 th October, HI S O Rooftop Bar will be hosting a Mixology Night, featuring breath taking cocktails from a classically handsome and brilliant mixologist and Group Bar Manager of Vesper,1919 Bar, Il Fumo, La Dotta, 8020 Bangkok, Palm, Supawit Mut tarattana All cocktails are specially priced at only THB 350 per glass. This special mixologist night starts from 18:00 hr onwards.
SO Amazing Chefs will then reach its pinnacle of creativity for three dramatic days Thursday 29th, Friday 30th and Saturday 31st October with a trio of collaborative fine dining evenings at MIXO These extraordinary eight course dinners will allow up to 60 diners to enter a whimsical world of epicurean excellence, showcasing talent and imagination of Thailand's finest chefs. With inspiring dishes that look as amazing as they taste, this is pure dining perfection like you've never experienced before!
On Thursday 29th October, Chef Chalee and Chef Gigg will come together to craft a vibrant contemporary Thai and Chinese menu (THB 3,800++ or THB 5,200++ paired with wine). Then on Friday 29th October, Chef Prin and Chef Tonn will team up to treat gourmands to an incredible eight course meal that blends an Past, Present and Future of Thai Cuisine concept (THB 4,500++ or THB 5,900++ paired with wine). Finally, on Saturday 30 th October, Chef Tam and Chef Num will pair up for a delectable Farm to Table Medicinal Cuisine fine dining evening that focuses on sustainable produce (THB 4,500++ or THB 5,900++ paired with wine).
This culinary extravaganza comes to a conclusion on Saturday 31st October and Sunday 1st November 2020, with two bountiful brunches at Red Oven featuring live stations hosted by our guest chefs! SO Amazing Chef Saturday Brunch (THB 1,900++ or THB 3,200++ with free flow wine) will see Chef Randy handcraft Japanese delights, while Chef Gigg will create Chinese treats, Chef Chalee will focus on French cuisine, and Chef Prin will put his own t wist on ancient Thai recipes, in front of diners' eyes.
The SO Amazing Chef Sunday Brunch (THB 2,500++ or THB 3,800++ with free flow wine) will then bring together six of our skilled chefs, with Chef Prin (ancient Thai), Chef Ton (modern Asian), Chef Gigg (Chinese), Chef Chalee (French), Chef Tam (Farm-to-Table) and chef Randy (Japanese) all taking over the live stations and delighting diners with their amazing creations
To view more details of SO Amazing Chefs 2020 – Thai Chefs Special, scan for the E-Booklet below or click here
All programs are now available for sale on Shop at SO/.
10% discount for AUSTCHAM members on selected programs includes:
SO Amazing Chefs Saturday Brunch
Royal Wedding Cake Workshop
Cheese at SO/ – SO Amazing Chefs edition
For more information about The 9th Annual SO Amazing Chefs 2020 and to book your place at the hottesttables in town, please give us a buzz at 02 624 0000, email h6835 fb3 @sofitel.com or visit www.sobangkokdining.com