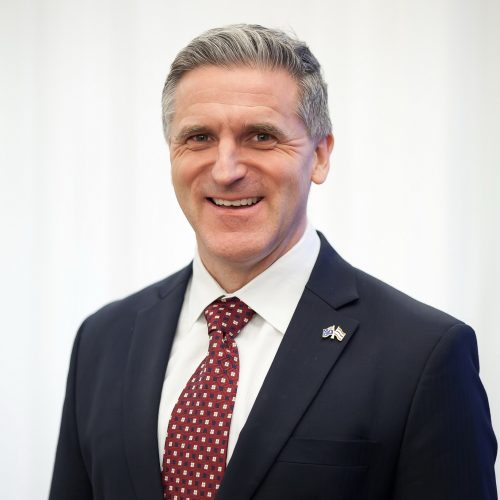 "Dear Austcham Members and Friends,
I am excited and honored to be elected President of the Australian-Thai Chamber of Commerce (AustCham) and I look forward to serving our members over the coming year.
I wanted to start by thanking Khun M.L. Laksasubha Kridakon, the previous President of AustCham, for her time as President and for her incredible service to the Chamber over 15 years.  Khun Lak has contributed to the Chamber in many capacities – as a member, sponsor, Director and most recently as Chamber President. Khun Lak is known for her commitment to the Chamber and her tireless work to advance Thai-Australian relations.   I'm sure we will continue to see Khun Lak at future AustCham events.
2022 was a "recovery" year for many of our members as the Thai economy and the business climate improved after 2 very challenging years.  Those of you who attended the AustCham AGM in March will have seen it was also a year of recovery for the Chamber.  I'm grateful for the support of our members, sponsors, and the Board.  Your Chamber is at its strongest position ever with rising membership levels to what is now the highest membership level in 10 years coupled with a strong financial position.  Importantly, in 2022 the Chamber started events in new communities such as Hua Hin, Chiang Mai, and Issan.
With a solid foundation and continued business recovery I couldn't be more excited about the year ahead.  When talking to our members I'm hearing optimism about the business environment and impressive investment plans in the Kingdom over the next 12-18 months.
Your Chamber is also set for another very strong year.  The newly elected Board members bring incredible energy and new perspectives to the Chamber.  We have already had our first Board meeting and the conversations generated from both the new Board members and the Board members continuing in position was exciting and energizing.
Earlier in the month, I was thrilled to announce the appointment of our new Executive Director, Sam Hanna.  Sam brings an incredible breadth of experience from leading organizations across Thailand and Australia.  Most of all, Sam brings a boundless energy and passion to make the Chamber stronger and even more responsive to the needs of each of you, our members.
Finally, I encourage all of you to get involved and engage with your Chamber.  The best way to do this is through sub-committees.  If you want to know how, please do reach out to any of the Board members to find a way you can contribute and make a positive difference to the Chamber and our members.
2023 has got off to a great start with rising tourist numbers, economic recovery in Thailand and significant optimism.  I hope it is a great year for all of you and I look forward to working with our Board of Directors to deliver a fantastic year for your Chamber.
Andrew Norton
President of AustCham Thailand