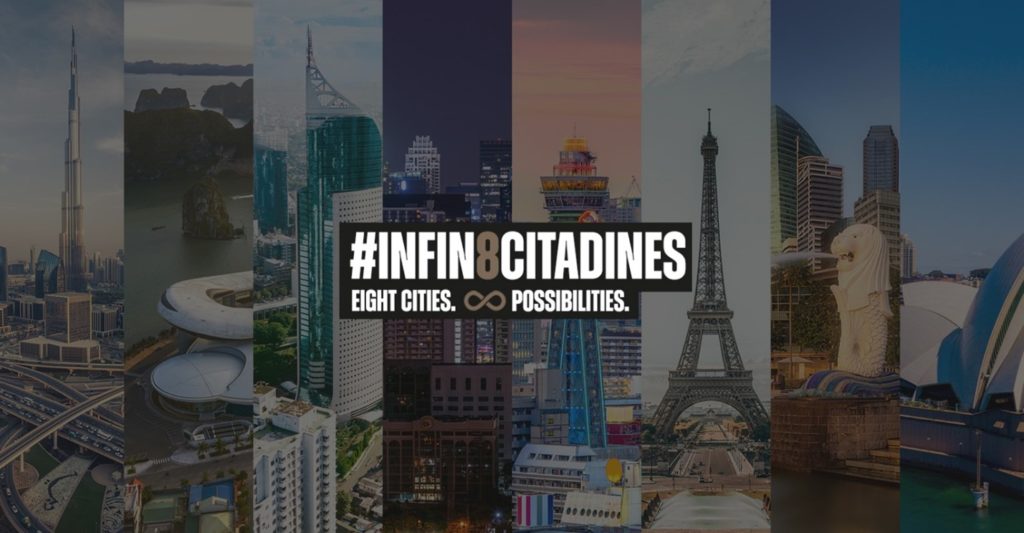 Singapore, 28 September 2022 – CapitaLand Investment Limited's (CLI) wholly owned lodging business unit, The Ascott Limited (Ascott), has launched a global TikTok campaign – the #Infin8Citadines Global TikTokers' Challenge. The challenge will see eight TikTok influencers from different countries including Australia, France, Indonesia, Japan, Philippines, Singapore, the UAE and Vietnam, create weekly-themed content to compete for a grand prize – a 24-night stay at Citadines properties across eight different cities. In celebration of Citadines' 'For The Love of Cities' brand refresh, the challenge will also extend weekly giveaways to TikTok fans, with over two million points for Ascott's loyalty programme – Ascott Star Rewards (ASR) available for the redemption of complimentary stays and more. The campaign will feature prominently on Ascott's newly activated TikTok channel (@discoverasr).
How the challenge works
During the month-long challenge, eight selected TikTok influencers* from around the world will be hosted at participating Citadines properties** for a stay. During which, they will capture content around Citadines' brand signature programmes and the infinite possibilities for guests to live, work and play at and around the properties in the cities they each represent. From promoting active lifestyles and dishing out insider tips as part of activ∞, to introducing local coffee cultures and the latest cafes to bring out the brand's passion for coffee; content will be posted on the TikTok influencers' respective channels and on @discoverasr every week.
TikTok followers who comment on and like the #Infin8Citadines content produced by these eight influencers over three weeks, will stand a chance to win 80,000 ASR points to redeem complimentary stays (nine winners per week). To qualify for the weekly giveaways, followers will need to be an ASR member, follow Ascott's TikTok account (@discoverasr), comment and like any of the influencers' videos reposted on the @discoverasr channel.
In the final week of the #Infin8Citadines Global TikTokers' Challenge, the most 'influential' TikTok influencer amongst the eight, will win the grand prize – a 24-night stay at Citadines properties across eight different cities. The grand prize winner will be selected based on the highest level of engagement achieved with their content and the most sign-ups for the ASR loyalty programme across the campaign period.
Tan Bee Leng, Ascott's Managing Director for Brand & Marketing said: "Ascott is thrilled to kick-off our first-ever TikTok challenge in partnership with some of the most creative content creators on TikTok. Collectively, these eight TikTokers from around the world have garnered more than 600,000 fans and over 8.2 million likes for their videos to date. We look forward to seeing fresh engaging content which will enable travellers to discover what Citadines has to offer, alongside the many benefits of our ASR programme; and most importantly help our guests gain different ideas to best live, work and play in each city.
TikTok was the most-downloaded app across Asia Pacific in 2021[1]. From city hacks and destination offers to accommodation reviews, travel-related content has proven to be one of the most engaging on TikTok. With the platform growing in popularity as a source of travel inspiration, Ascott is excited to launch our @discoverasr TikTok channel to connect with this growing demographic of next-generation travellers."
With the ASR programme, guests can enjoy priority check-ins, birthday discount e-vouchers, brand-specific arrival experiences and welcome amenities or signature gifts that are customised across Ascott's suite of brands. Guests can sign up here: https://www.discoverasr.com/en/sign-up
*Participating TikTok influencers in #Infin8Citadines Global TikTokers' Challenge:
@casey.jra – Australia (www.tiktok.com/@casey.jra)
@orgerby – France (www.tiktok.com/@orgerby)
@laissti – Indonesia (www.tiktok.com/@laissti)
@wheresarya – Japan (www.tiktok.com/@wheresarya)
@chelseamaey – Philippines (www.tiktok.com/@chelseamaey)
@shuutravels – Singapore (www.tiktok.com/@shuutravels)
@touringonabudget – UAE (www.tiktok.com/@touringonabudget)
@phantheanh88 – Vietnam (https://www.tiktok.com/@phantheanh88)
**Participating Citadines properties in the #Infin8Citadines Global TikTokers' Challenge:
Citadines Connect Sydney Airport (Australia)
Citadines Tour Eiffel Paris (France)
Citadines Sudirman Jakarta (Indonesia)
Citadines Namba Osaka (Japan)
Citadines Bay City Manila (Philippines)
Citadines Raffles Place Singapore (Singapore)
Citadines Culture Village Dubai (UAE)
Citadines Marina Halong (Vietnam)
For more information on the #Infin8Citadines Global TikTokers' Challenge, please visit https://www.discoverasr.com/en/infin8citadines.