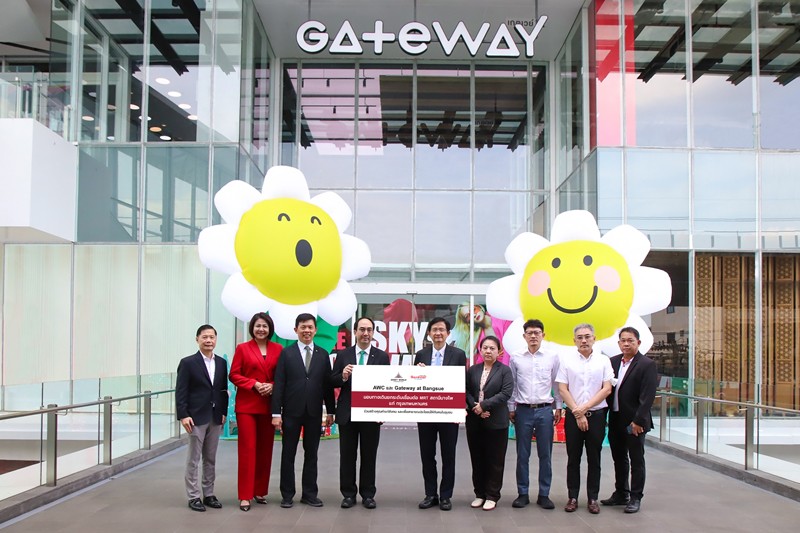 .
15th December 2022 – Asset World Corp Public Company Limited (AWC), Thailand's leading integrated lifestyle real estate group, and Gateway at Bangsue, AWC's affiliated shopping center, reinforced their commitment to "Building a Better Future" and creating value for society by handing over the new "Skywalk Gateway to Bangsue" to the Bangkok Metropolitan Administration (BMA) for public use. The ceremony for the Skywalk, which connects the shopping center to Bang Pho MRT Station, was held on the occasion of 4th anniversary of Gateway at Bangsue, which is evolving towards the concept of Ultimate Fun & Family Experience, a center of integrated shops and services to create the best experience for all family members.
Mr. Bhima Liwlom, Chief of Retail & Wholesale Group Officer, Asset World Corp Public Company Limited, said that, "AWC is committed to creating value for all stakeholders, including the community, society, and the environment, corresponding with its mission of "Building a Better Future". AWC always considers the living standards and convenience of people in the surrounding areas where the company operates. Therefore, we constructed the Skywalk Gateway at Bangsue, connecting Gateway at Bangsue Shopping Center with the MRT Bang Pho Station, for the safety and convenience of people who commute between two sides of Pracharat Sai 2 Road and the Bang Pho MRT station, including travelers. On the occasion that Gateway at Bangsue celebrates its 4th Anniversary, we would like to hand over the Skywalk to the Bangkok Metropolitan Administration (BMA) to deliver benefits to the public and create value for a sustainable society."
The 270-meter-long Skywalk Gateway at Bangsue, the first skywalk in Bang Pho district, is located in the middle of Pracharat Sai 2 Road. The Skywalk was constructed on 25th November 2020 and opened fully to the public in September 2022.
"Over the years, Gateway at Bangsue has enhanced the quality of life and engaged with the Bangsue community through many social activities, such as restoring and donating items to the temples in Bangsue communities and neighboring areas. This Skywalk is a joint effort of the private sector, the government sector, and the community to create value for society, and to support the government's energy saving directive of using public transportation instead of driving cars to reduce traffic congestion at Bang Pho intersection and Bangsue District, as well as develop Gateway at Bangsue into a shopping center that provides comprehensive convenience for everyone," Mr. Bhima added.
Gateway at Bangsue is a lifestyle shopping center that provides a wide variety of products and services under the concept of Ultimate Fun & Family Experience, offering happy moments for every family member with unique highlights including:
The Best ALL Day Lifestyle Market and The Best Night-time Lifestyle Hangout, enjoy the best all day experience, highlighted by the 'Ploen Park' outdoor recreation area with playpark and pet-friendly area that allows you to bring your lovely pet, while at the 'Ploen Cloud' rooftop open-air hangout area enjoy a panoramic view of the city and sunset in a chilled out atmosphere. All in one place to meet the needs of all consumers.
Eat & Dining Destination, a destination for delicious food in Bangsue district, including several restaurant and café chains with a comfortable mood and tone and homey style decoration, delivering the feel of having a special meal with your family at home.
The Best Kids & Family Experience, every day is full of smiles and happiness for the family with a large indoor theme park, packed with playground equipment, as well as stores and services specially created for learning-age family members.
With its strength of being a comprehensive shopping center with an area of over 95,000 square meters, located in a prime location with a transportation and business hub in one of the top areas in Bangkok, Gateway at Bangsue is ideally connected in the heart of Bangsue, Pracharat Sai 2 Road in close proximity to Bang Sue Grand Station, Bang Pho and Tao Poon MRT Stations, and accessible to Bang Pho Pier. Moreover, Gateway at Bangsue received the Tourism Authority of Thailand's Amazing Thailand Safety & Healthy Administration (SHA) certification.
AWC's retail portfolio consists of 9 projects including, Tawanna Bangkapi, Pantip Plaza in Chiangmai, Pantip Plaza at Ngamwongwan, Asiatique The Riverfront, Lasalle's Avenue 1 and 2, Gateway at Bangsue, Gateway Ekamai and The Lhong 1919 Riverside Heritage Destination.