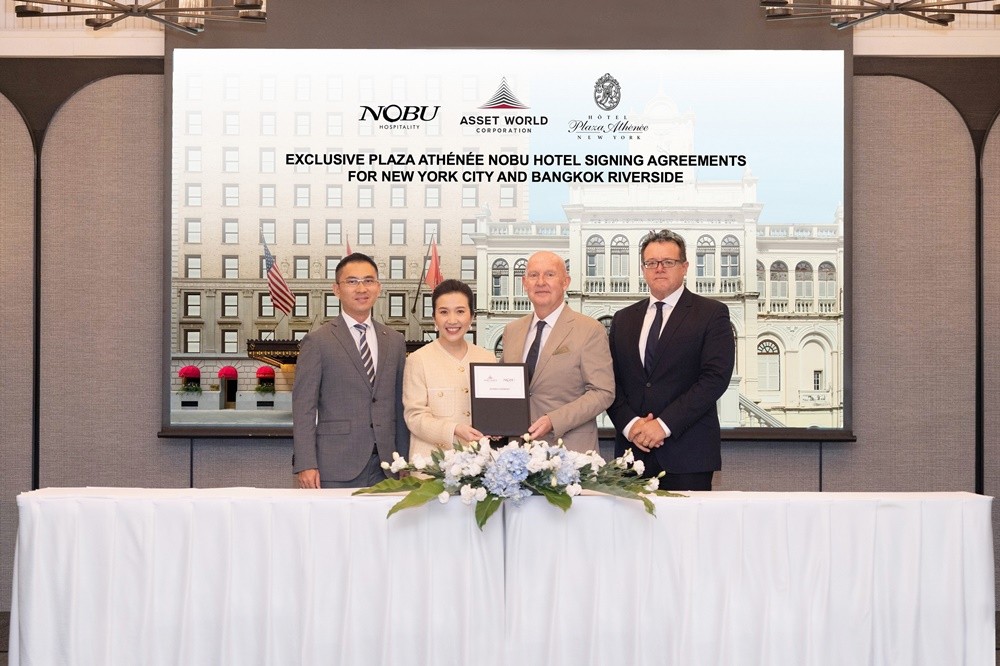 AWC strengthens long-term partnership with world-renowned Nobu Hospitality to launch two iconic Plaza Athénée Hotels in top global destinations New York and Bangkok, setting a new benchmark for ultra-luxury hospitality
Plaza Athenee Nobu Hotel and Spa New York is situated in the city's most luxurious location in the Upper East Side on 64th Street and Park Avenue
The Plaza Athenee Nobu Hotel and Spa Bangkok will be located in the EAC (East Asiatic Company) Heritage Building, the best location by the Chao Phraya River
The developments leverage the strong luxury brand of Plaza Athenee and lifestyle experience expertise of Nobu Hospitality, strengthen the long-term strategic partnership between AWC and Nobu Hospitality
AWC's investment in Hotel Plaza Athenee New York is through AWC growth-led strategy, utilizing strength in development and partnership and targeting top quality projects that promote continuous and sustainable growth
15 June 2023, Bangkok, Thailand – Asset World Corp Public Company Limited or AWC, Thailand's leading integrated lifestyle real estate group, strengthens its long-term partnership with Nobu Hospitality, the globally iconic and fastest growing luxury lifestyle brand, to develop Plaza Athenee hotels in New York and Bangkok, bringing the new level of ultra-luxury to iconic heritage buildings in two of the world's most visited cities. Under the collaboration, AWC and Nobu will partner to launch the world's most remarkable hotels in the best strategic locations in New York and Bangkok under the Plaza Athenee brand. Leveraging AWC's strength in real estate development and hospitality, the two partners will develop these two heritage buildings, each with their own rich history – Hotel Plaza Athénée New York known as one of the most famous and luxury hotels in Manhattan, and another special EAC building recognized as one of the most beautiful building at the best location by Chao Phraya River in Bangkok, – synergize two flagship properties in AWC's growing portfolio.
Mrs. Wallapa Traisorat, Chief Executive Officer and President, Asset World Corp Public Company Limited or AWC, states, "AWC is delighted to expand our collaboration with Nobu Hospitality as it marks another important milestone for our partnership. With our shared vision in creating unique experience to customers and developing sustainable values to all stakeholders, AWC has found the ideal partner for our special flagship projects. We are very excited about the development of these two unique projects, the Hotel Plaza Athénée in New York, an award-winning property and one of the best hotels in New York for many consecutive years. A freehold prime asset, the building is located at Upper East Side on 64th Street between Park Avenue and Madison Avenue, one of the most sought-after luxury neighborhoods in New York, and will be developed into Plaza Athenee Nobu Hotel and Spa New York. In Thailand, the heritage EAC building by the Chao Phraya River, will be developed into The Plaza Athenee Nobu Hotel and Spa Bangkok. These hotels will offer the ultra-luxury experience of the Plaza Athenee brand and the modern luxury with minimal Japanese tradition from Nobu, the world's most renowned lifestyle brand."
"AWC's investment for Hotel Plaza Athenee New York with the values of THB 7,789 Million, is based on AWC growth-led strategy, which will lay the foundation for continuous and sustainable growth. This unique and special investment has been supported by the Board of Directors of the company and is in the approval process from the shareholders. We believe that the investment in this flagship project in New York can unlock further growth for AWC, while broadening the company's strategic positioning and customer base."
Mr. Trevor Horwell, Chief Executive Officer, Nobu Hospitality, said that "We are profoundly grateful that AWC has entrusted us with the development of two of their most valuable properties, in the most iconic buildings and historic areas of two exceptional cities. We are privileged to collaborate closely with the AWC team, led by visionary CEO, Khun Wallapa Traisorat, who is spearheading an exciting and innovative approach to the hospitality industry. The Plaza Athenee Nobu Hotel and Spa Bangkok and the Plaza Athenee Nobu Hotel and Spa New York will redefine the standards of luxury and sophistication not only in Thailand but also in the U.S. This partnership allows us to embark upon an extraordinary journey together."
AWC and Nobu will transform two iconic heritage buildings in New York and Bangkok to the Plaza Athénée Hotel located in the historical Upper East Side near Central Park, museums, consulates, and high-end shopping, and an iconic building located in the best location by the Chao Phraya River in Bangkok. The Plaza Athenee and Nobu brands will combine the ultra-luxury experience of Plaza Athenee and the world-renowned modern luxury lifestyle brand of Nobu, with both hotels featuring a classical design that brings modern simplicity and European classic architecture together. Both hotels are scheduled to open in 2026.
Set in a building that's almost a century old, the Plaza Athenee Nobu & Spa New York will represent Nobu's inaugural hotel in New York and will offer 145 room keys under a soothing visual style and uncluttered comfort. The suites will be unique with indoor and outdoor glassed terraces and gazebos, a unique townhouse with exclusive service serving as a private sanctuary for the discerning traveler, along with a traditional Japanese Onsen, spa, and wellness center. The hotel will offer a Nobu omakase experience as well as a bar and lounge crafted to draw locals and guests alike, and a rooftop area for private parties with a panoramic view of New York City. AWC will oversee overall project development along with the concept and design.
In Bangkok, the Plaza Athenee Nobu Hotel and Spa Bangkok will offer luxury hospitality and a unique world-class F&B experience, with AWC and Nobu developing the East meet West concept, integrated under the River Journey concept. Registered as a historical site, the EAC building was founded in 1884 by Captain Hans Niels Andersen, a Danish mariner and entrepreneur who founded East Asiatic Company. The hotel will further elevate luxury travel in Thailand connecting to other AWC projects along the Chao Phraya River, creating a unique riverfront experience for both Thai people and international visitors.
AWC and Nobu will showcase the recreation of the iconic riverfront heritage buildings, offering a unique hospitality experience, including other curated dining offerings. By preserving the original structures of the buildings and the inherent art, we aim to instill pride in this historic area, thereby creating long-term, sustainable value for the surrounding communities. The Plaza Athenee Nobu Hotel and Spa Bangkok will also include a special Nobu cruise boat for bespoke private functions, with each journey customizable for guests.
"The development of these remarkable hotels in two major global destinations with Nobu Hospitality will also strengthen the long-standing Plaza Athénée brand together with the uniquely modern luxury lifestyle of Nobu brand to offer best-in-class products and services to global travelers. Through this strategic partnership of AWC and Nobu Hospitality, we believe to build the new benchmark and create long-term sustainable value for the industry," Mrs. Wallapa added.
Today's announcement follows an exclusive agreement AWC signed with Nobu Hospitality in July 2022 to open the first Nobu restaurant in Thailand by 2023 on the top floor of The Empire, AWC's flagship lifestyle mixed-use office complex located in the bustling central business district of Bangkok.