BNH Hospital has opened a medical cannabis clinic, another alternative medicine that uses "cannabis" to treat a variety of ailments and diseases, with safety standards applied by a team of doctors from Bloom Up, a BNH certified training in the use of medical cannabis by the Department of Medicine, Ministry of Public Health, and has been registered by the Food and Drug Administration, Ministry of Public Health, to properly prescribe medical cannabis.

Treatment planning, symptom monitoring, and control of the use of cannabis extracts, or medical cannabis, under the supervision of a medical professionals, combine the science on treatment of both modern medicine, Thai traditional medicine, and Chinese medicine, with consultation and treatment aimed at improving the chances of curing the disease for those who are suffering from severe, chronic or unresponsive diseases.

BNH Hospital recognizes the benefits of cannabis plants as a medical innovation that can help alleviate pain and suffering, to provide patients with the best benefits safely, in good health, toward enjoying life to its fullest potential.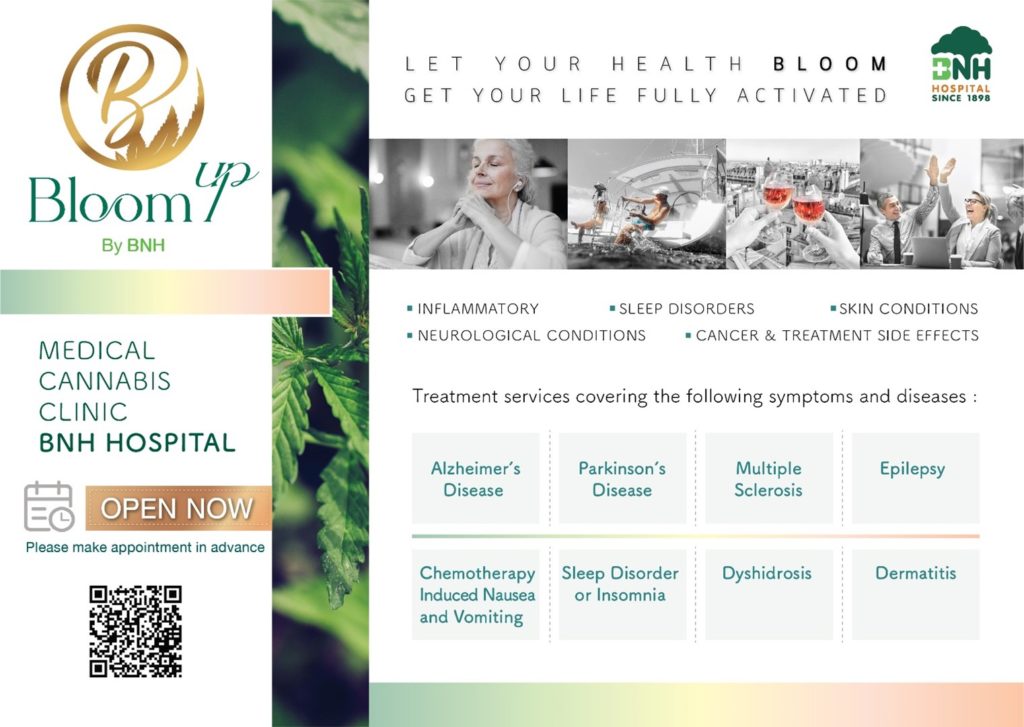 Medical Cannabis Clinic at BNH Hospital provides treatment services covering the following groups of diseases and conditions:
Alzheimer's Disease
Parkinson's Disease
Multiple Sclerosis
Chemotherapy induced nausea and vomiting
Sleep Disorders or Insomnia
Epilepsy
Dyshidrosis
Dermatitis
Benefits of THC and CBD in Cannabis
THC has psychotropic effects, relaxes muscles, aids sleep, relieves chronic pain, muscle spasms, appetite stimulant in AIDS and cancer patients, used in chemotherapy-induced nausea and vomiting and neuropathic pain.
CBD has the effects of reducing inflammation, relieves pain, spasms, relieves the symptoms of difficult to treat epilepsy, helps to calm, relax and prevent the degeneration of nerve cells.
For more information or appointment, please contact info@bnh.co.th or Line ID @BNHhospital