Congratulations to the Class of 2022, as Brighton Pupils Graduate to Attend Some of the Best Universities in the World
Brighton College Bangkok recently hosted a Graduation Ceremony for the departing Class of 2022, a celebration of the Year 13 pupils achievements, shared with their families and friends.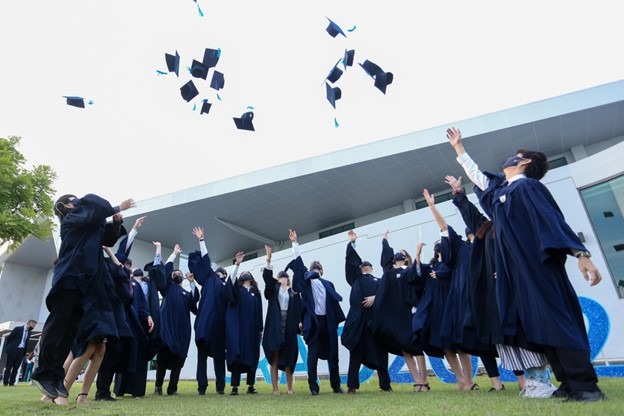 A formal ceremony in the Theatre was opened by Head Master, Mr Walton, with speeches from our Chair of Governors, Khun Nusara Banyatpiyaphod, our Head of Sixth Form, Mr Whitehead and Head of Senior School Mrs Barber. They had much to say about a group of pupils who
have worked tremendously hard, and acted as wonderful role models during their time at Brighton. These pupils have made great progress in what Khun Nusara described as VUCA (Volatile, Uncertain, Complex and Ambiguous) conditions.
We are proud to watch this group head to top universities all over the world, with dozens of offers to study in the UK, the USA, Australia and beyond.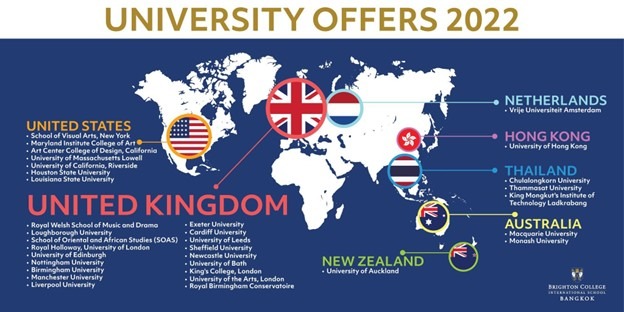 Head Master, Mr Walton said about this year's graduates:
"Each cohort of pupils has its own character.  This group has worked extremely hard, not only in overcoming the challenges of the pandemic, but also in being excellent role models to our younger pupils.  I want to thank them all.  They have taken the return to formal examinations in their stride, we wish them every success and happiness in the future."
Head of Senior School, Carly Barber shared:
"For me, what has stood out about this year group is their real individuality, they know what they want, what their passion is and are clear to follow it. Throughout their time at Brighton they have been encouraged to be the best version of themselves and we are proud to see them ready to enter the world beyond our gates, supported by the guidance and support of their teachers and parents. The last two years have taught us that the path won't always be easy, but they have shown that it will not deter them from working hard, finding joy and exploring their passions."
Head of Sixth Form, Mr Whitehead added:
"It has been a pleasure to work with this wonderful group of young people. They have put their own stamp on our school and made a considerable contribution to our community. The past two years brought many challenges and throughout it all, the group were resolute and unwavering in their determination to succeed and be the best that they could be, not only in an academic sense but also when working with others in extracurricular activities and events. They have been superb ambassadors for Brighton and everything it stands for and I wish them every success as they embark on the next, exciting stage of their lives. It has been a privilege to share this stage of their journey with them. "
Khun Nusara (Assakul) Banyatpiyaphod, Chair of the Board of Governors of Brighton College Bangkok gave this message to the graduates:
"In this volatile, uncertain, complex and ambiguous world you will need to be agile. You will need to adapt quickly and be daring. Don't be afraid to fail, as failing is simply a lesson learned. The education you have received at Brighton has taught you to be curious, to question things around you. I hope that you continue to develop this critical thinking and become the best version of yourself."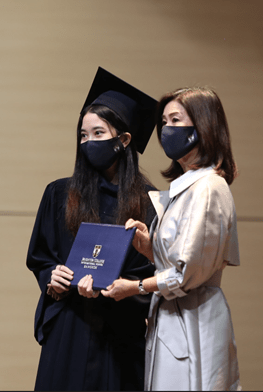 Yunus, Head Pupil of Year 13 also addressed his peers, saying:
Interpersonal connections are incredibly important in living a meaningful life and we have made a lot of them here at Brighton College Bangkok. It was fascinating to observe all of us from such diverse backgrounds come together under one roof and form a community that is incomparable to another. Out in the wider world, we are expected to simultaneously 'be our authentic selves' and to meet the expectations of our society, which is a heavy responsibility to carry. I am confident that we will all become the independent scholars that we desire to be, not only financially independent but ideologically and emotionally too. There is no doubt that the culture of tolerance we built here has helped us through all the hard work. Huge thanks to all my teachers who not only assisted me through my academic life but also taught me about life and what to expect from it.
YouTube link: https://youtu.be/HMmj5KvF5Sc